Altamar Site:
Starter List
Altamar Fakedex
Promotions:
First Come, First Serve
Contests:
Create Your Own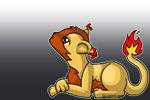 Welcome to Altamar RPG!
RPG News Fuuu-- It seems that the Flying Pokemon in the Region are acting up, they're all acting irrational and attacking eachother. You get caught in the middle of a battle between two Flying Pokemon, run as far as you can and hope you're lucky.
NOTICE: Mass Ponyta - Route 13.
Site News A 24 Hour Promo is now up and running.
Affiliates:
---
---