Title: 1964 CJ3B Stock restoration
Description: A do it your self kit
captjoe - December 12, 2011 12:51 PM (GMT)
This will be the sixth Jeep that I have owned but my 1st 3B. It's also the first one I ever bought disassembled. I'll post more later when I get the file size of the pictures reduced
This is how it looked the first time I saw it.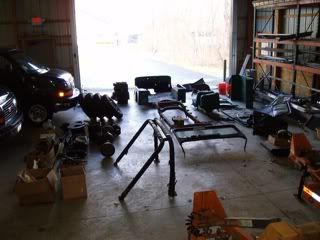 To be continued... <_<
captjoe - December 13, 2011 01:46 AM (GMT)
So this adventure began with me saying to my wife,"I think I want an old Jeep again." Again being after not having one for about 15 years. She of course said, "What for?" She now looks forward to riding around in it. So there was some looking around and talking to folks and a couple of weeks went by. An ebay purchase was made and a trip to Toledo, OH in the snow with truck and box trailer was set. This is what my new project Jeep looked like when it arrived at my shop in NC.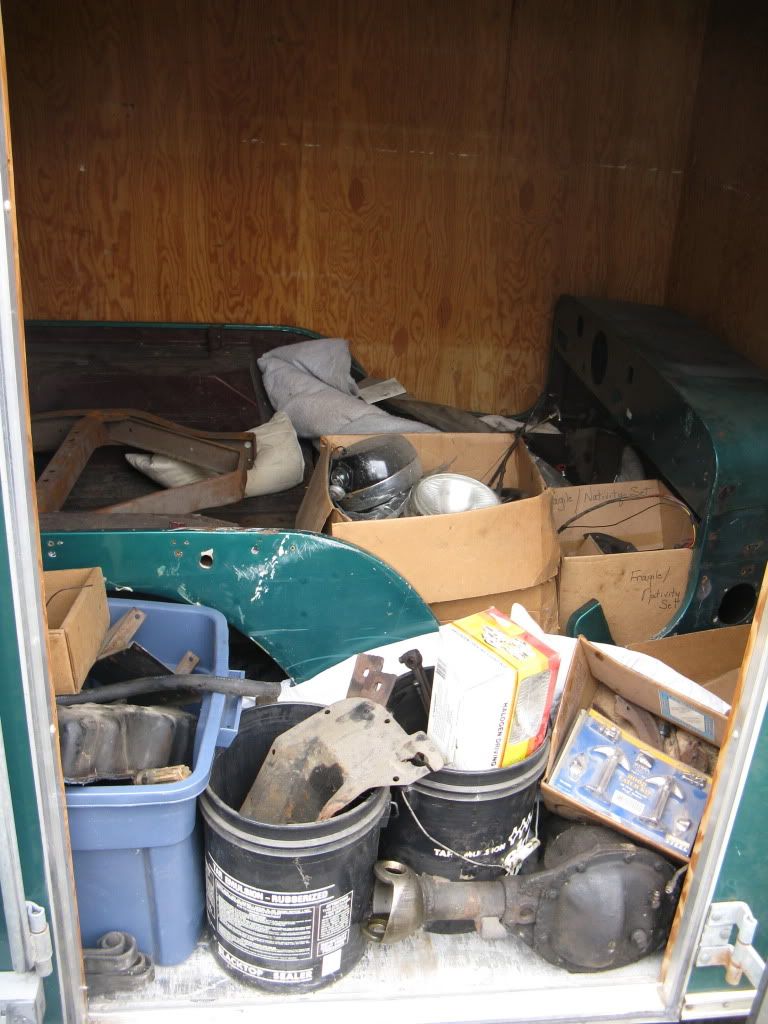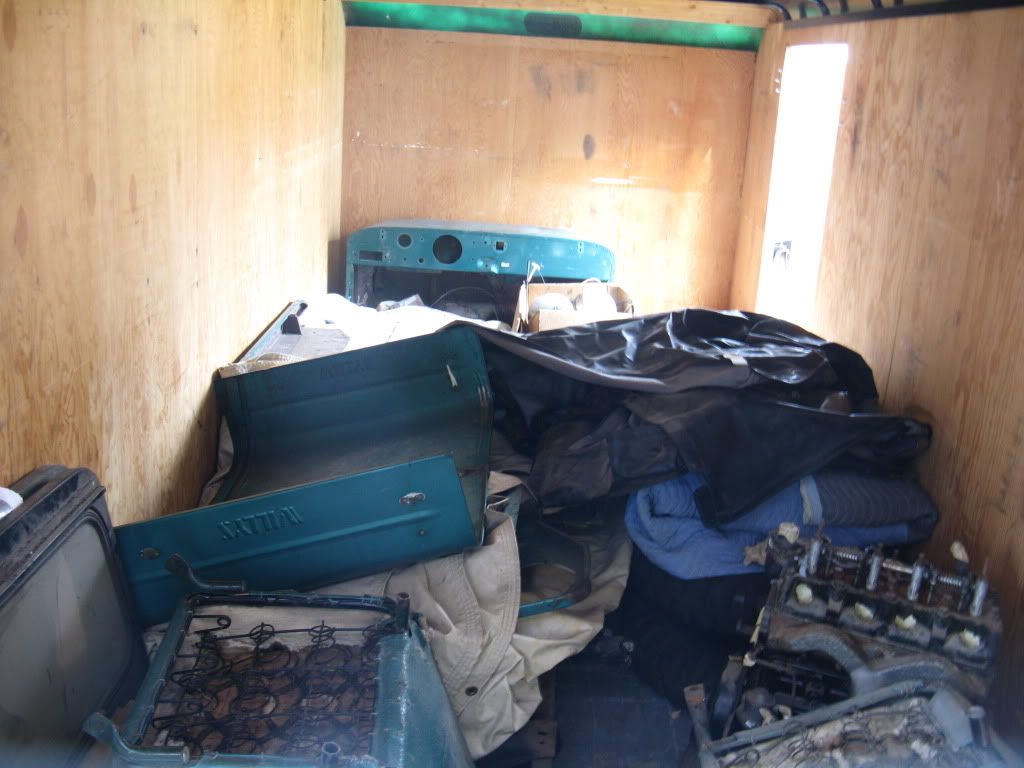 Instant Jeep in a box, just add labor, (and a few more parts!)
to be continued :rolleyes:
sasquach - December 13, 2011 03:52 AM (GMT)
Looks like a great start, I like the nice original looking seats! They seam to be gone in most cases.
Keep us posted.
captjoe - December 13, 2011 01:15 PM (GMT)
Thanks, the seats were in pretty good shape. I had to do a little repair on the metal ring band around the driver's seat and replace one spring. I then blasted, primed and painted them with black Centari enamel. The've been off to the auto upholstery shop to be covered for some time now. I ordered some of the tan canvas from Beachwood for them. I don't think it's specifically a stock replacement, but I think it will have an original look. I have their top bow set fit on the replacement body with original style replacement sockets from Walck's. An original style tan canvas top from Beachwood will be one of the finishing touches.
Regards,
Capt. Joe
:D
Pictures soon of the finished seats if I can hound my buddy to finish them.
:o
captjoe - December 16, 2011 10:51 AM (GMT)
The PO had disassembled the Jeep and bought a lot of parts. He even had the engine overhauled by a reputable shop.
My first goal was to get a rolling chassis with brakes and steering. I sorted and inventoried all the parts and pieces and made a list of needed items for brakes, suspension, steering, etc. I sand blasted the frame and some misc. small parts but I used a wire wheel on the front and rear axles to keep the sand away. Every thing looked good in the rear, so I just replaced the outer seals and the differential gasket. The front needed a king pin bearing and race. I got everything back together and all painted black.
After sandblasting the frame and painting everything individually, I put it all together. This is it below ready for a couple of additional coats on the whole rolling chassis.
Here are a couple views of it with final paint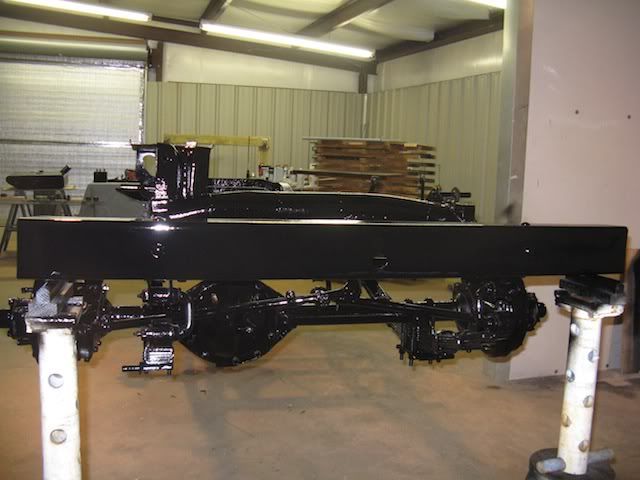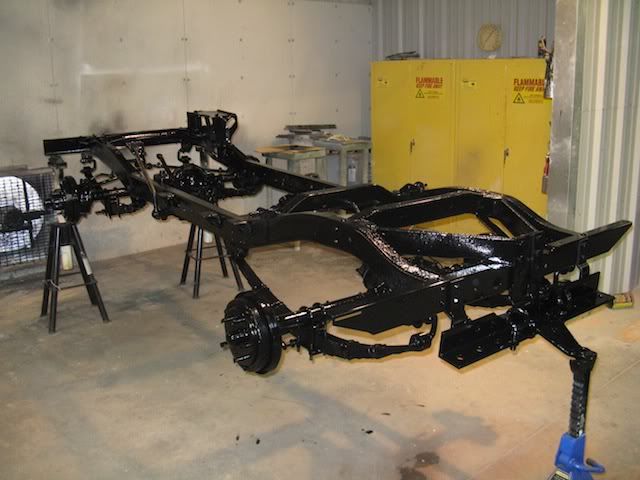 Next to the transmission and transfer case...
Larry (TX) - December 20, 2011 12:15 AM (GMT)
Wow Joe, I'm very impressed with what you have to start with. Glad the title thing is working out for you also!
captjoe - December 20, 2011 12:25 AM (GMT)
I hadn't had a transmission or transfercase apart for quite a few years, but I wanted to go through both of them thoroughly since I plan to drive this Jeep regularly. I got the rebuild kits, bearings and gaskets and got them torn down. The only thing that looked like it needed replacing that wasn't in the kits was second gear. the "biting edge" of the gear that helps it stay in gear under load was worn down.
I used the guides listed below (from the Willys Truck Tech site) to supplement the shop manual. They were much more helpful than "Assemble in reverse order". The homemade tools shown in them worked great for dealing with the needle bearings. The pictures were helpful also.
http://www.willystech.com/wt/T90RebuildGuide/T90rebuild.htm
http://www.willystech.com/wt/Model18TCase/...ansferCase.html
Here are pictures of my T-90 & Dana 18 all done and waiting for the Jeep to be ready for them.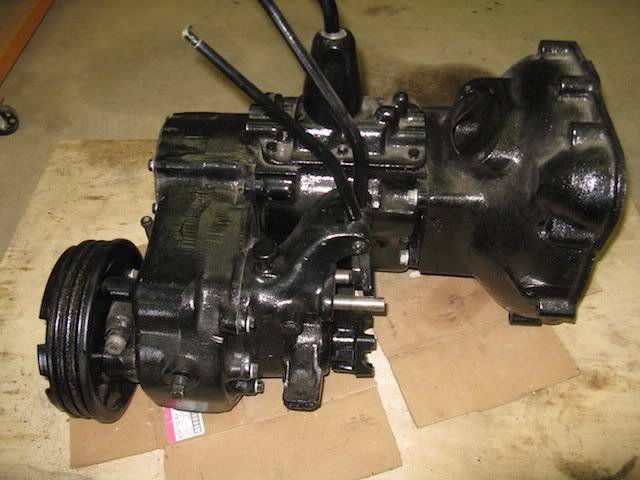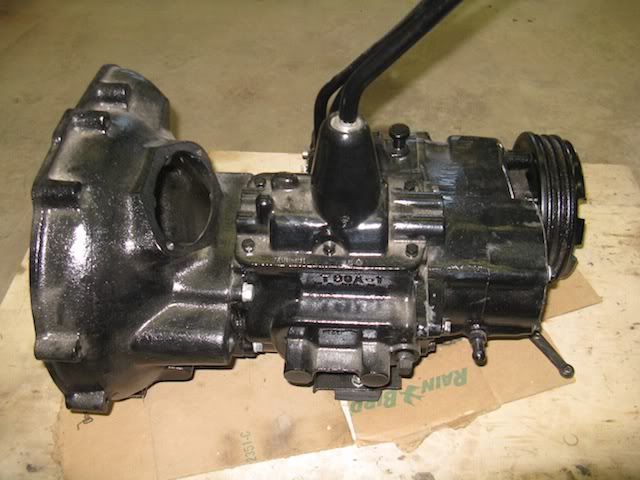 Regards to all,
Capt. Joe
captjoe - December 20, 2011 02:49 AM (GMT)
My Jeep body was very usable, but since I wanted to make the finished vehicle as close to "like new" looking as possible, it would take a pretty good bit of body work. I was lucky to find an MD Jaun 3B body ten years old, still in the crate, for about half the current price. I only had to drive 15 miles to get it! That was an easy decision. It was a fairly good bit of work to locate, cut, and drill all the holes. I sat the two bodies side by side and went to measuring from every angle. They weren't identical, but close enough to figure it out. Before I would cut a hole I checked the actual part like seat, heater, gas tank, etc. to make sure I was locating it correctly. I did most of it before I set the body on the frame. Because of some small variation between the firewall to dash distances the location of the fresh air intake for the heater varied some on the outside of the body. I then assembled the entire body on the frame and lined every thing up measuring from all directions for alignment. The only thing I had to fight with a little was the fenders to body tub attachment. When I pulled the body off for blasting and painting I drilled two 3/16" holes on each side for realignment when I reattach them after painting. The most involved part to fit was the windshield frame. I had to heat the arms with a torch and work them to the right position to align the windshield to the right position. I had help with the correct measurements from Beachwood Canvas. More on altering the windshield in a later post. I also had to fabricate the brackets that attach the body to the side of the frame below the fire wall. I drilled and bolted them in place and then welded them to the body.
Here's some pictures of the body fitted to the frame and some things test mounted.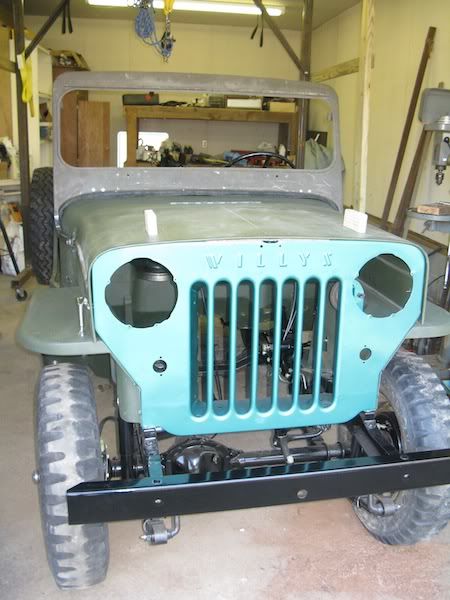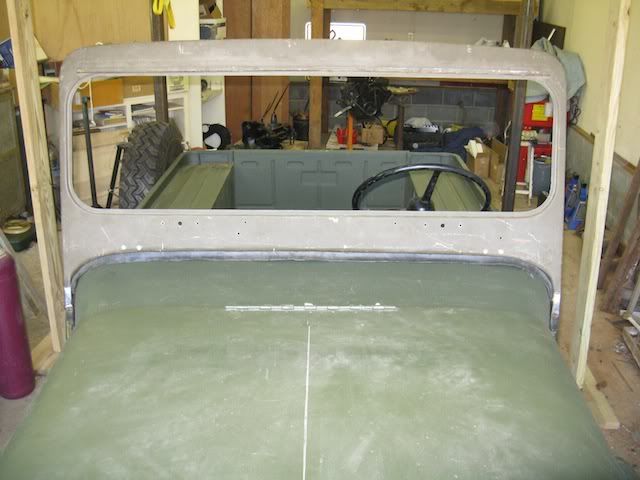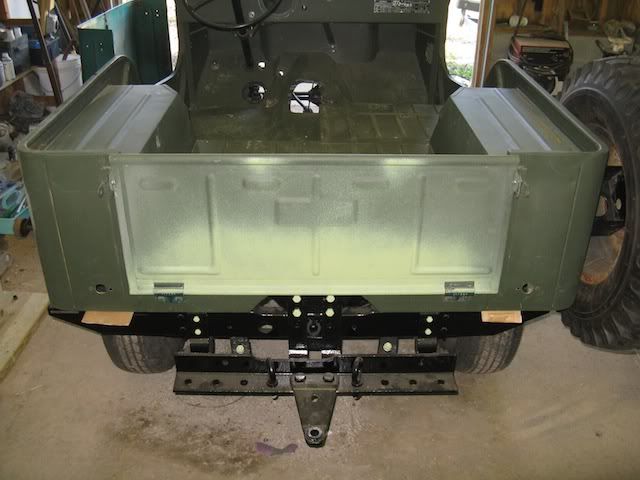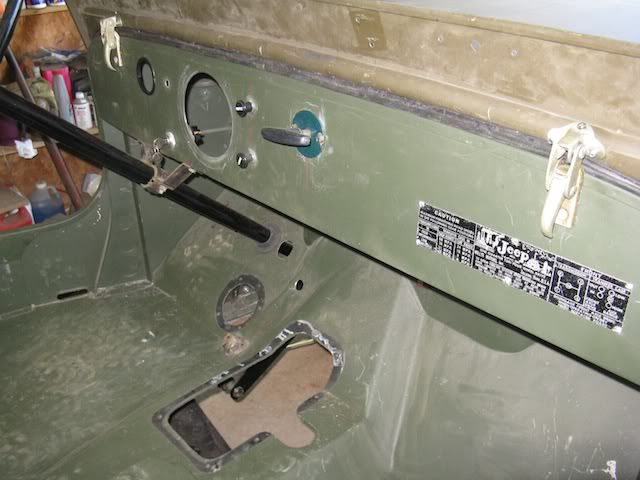 captjoe - December 21, 2011 02:44 AM (GMT)
Here's mys windshield story.
I ended up with three windshield frames to choose from. Two came with the Jeep when I purchased it, one original, one MD Juan. The original had good glass but some rotten metal.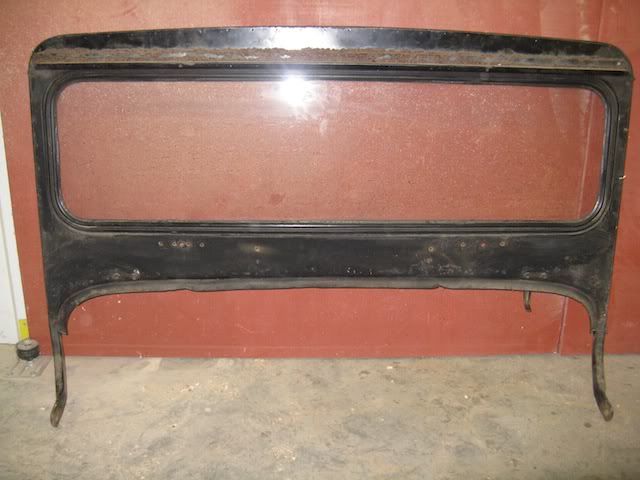 When I got the replacement body it added a third choice. The two replacement frames were about the same, but one seemed to come closer to fitting. Either one was going to require some "massaging" of the arms to get alignment. This involved a torch, hammer, and a really big adjustable wrench. The other thing it needed was to replace the bracket on the top left and right to accept the original style top frame. It was nice to have the original frame and the bow set from Beachwood.
Here it is after alteration and blasting:
Here it is painted and with the glass from the original frame installed:
image coming soon!
:D
captjoe - January 4, 2012 02:54 AM (GMT)
The last few days that I have worked on the Jeep have been a major mile stone in the making. That would be getting the engine, transmission and transfercase set in the frame.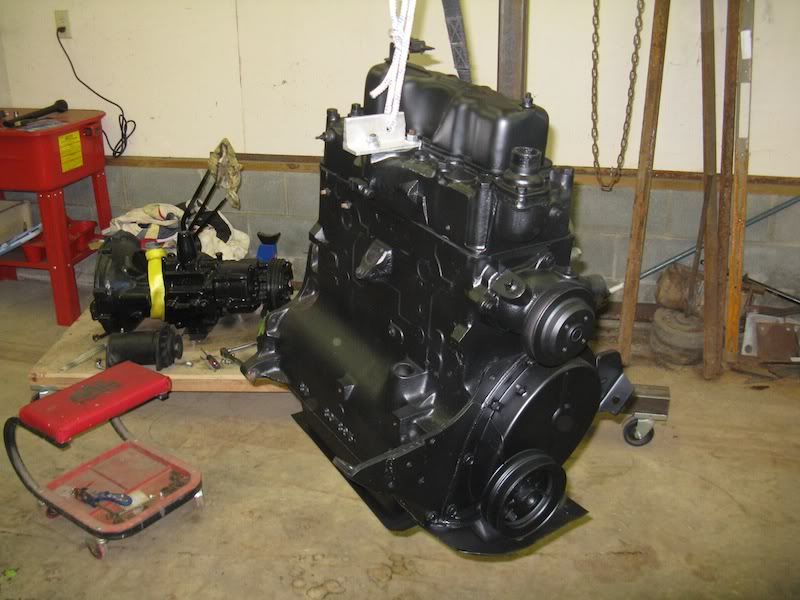 They are looking coyly away from each other, but you can see them wanting to get together!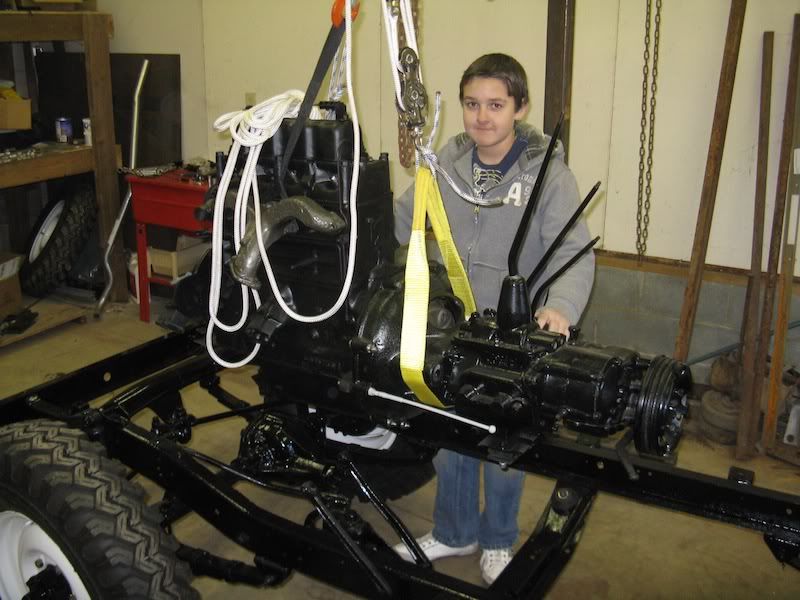 My neighbor friend, Jake, steadys the unit as it is lowered in to position.
Today I got some equipment installed on the engine and turned it over with the starter. I was happy to see it made good oil flow.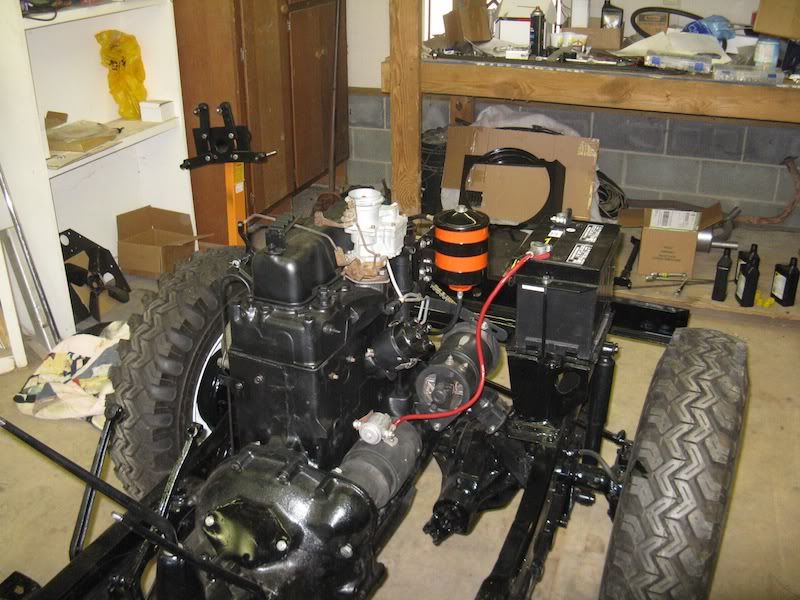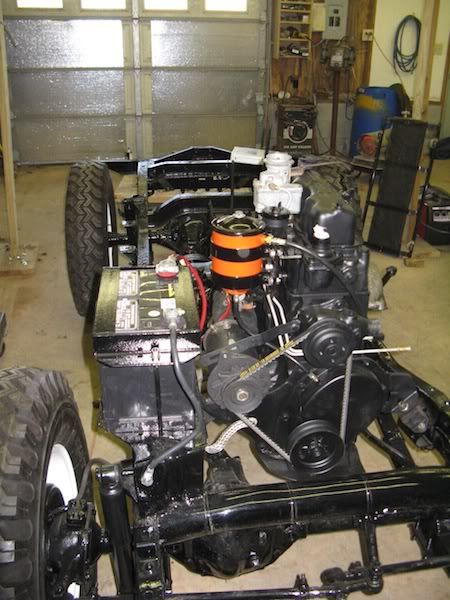 I'm waiting on a new fuel pump. Maybe she'll run by the weekend.
To be continued...
Capt. Joe
:D :D
jeepcj3b - January 4, 2012 10:53 PM (GMT)
Wow the pictuires are great. I can't see them when I'm at work, but I just got a decent computer up and running here at home and it's so much better seeing everyones projects.
You and I are at just about the same stage, but I think you've gone into a little more detail. Looks great.

Larry (TX) - January 4, 2012 11:47 PM (GMT)
Joe, looking really good there buddy. I read your ordeal above regarding fitting the Juan tub, and certainly sympathize with you. The last restoration I performed, on a '44 Willys MB, it too came with a ten year old tub that had yet to be mounted nad like you said, it took quite a bit of work to get that tub to fit, then fitting the fenders was another chore, particularly the rifgt side fender. When finished however, the old MV looked very nice. You know, for a vendor like Juan, who has all but cornered the market on repro jeep tubs, one would think he'd have better quality control. There hasn't been that much change in his parts from ten years back however as the new parts he produces today also have a number of flaws.

Hey, keep the photos coming as I'm sure that others want to see and enjoy the progress as much as I.
captjoe - January 9, 2012 04:04 AM (GMT)
I took the Jeep on it's first "field trip". Here's a picture of us loaded and ready to go to the muffler shop.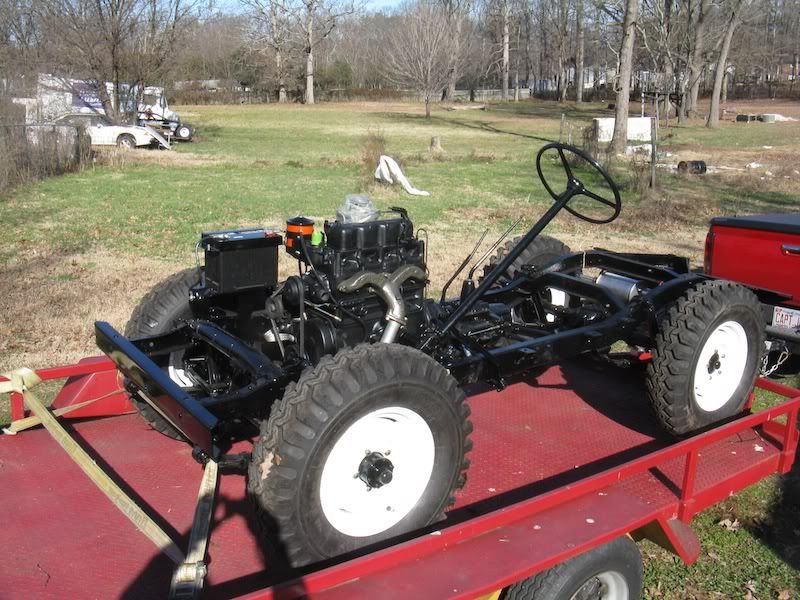 I had purchased an exhaust kit from Kiser-Willys some while back. When I went to install it, it didn't fit correctly where the down pipe from the exhaust manifold was supposed to meet the long pipe going aft. I also couldn't get the muffler and tailpipe to sit right compared with the pictures of stock installations. I called Kiser-Willys to question if I had the right parts from them. They said, "Oh, we get this call all the time. Just loosen the bolts from the down tube to the manifold and mate the pipes together and then tighten the bolts back up. It will work fine. It's just tight in that area." I told them it was too far off and if I could get it together it would be putting it in to too much of a bind.
When my exhaust guy at the shop looked at it he said that the problem at the back was that the long pipe was not long enough and it had the "hump" that was supposed to be over the axle too far forward. He did some re-bending and added a section of pipe in at the connection by the master cylinder. I was pleased with the way it turned out. I have used this guy a number of times over the last 30 years, but I purchased the "Jeep replacement parts" thinking I would keep an original look. I probably would have been better off letting him make it from scratch.
Final results: note the added section ( about 4'' or so)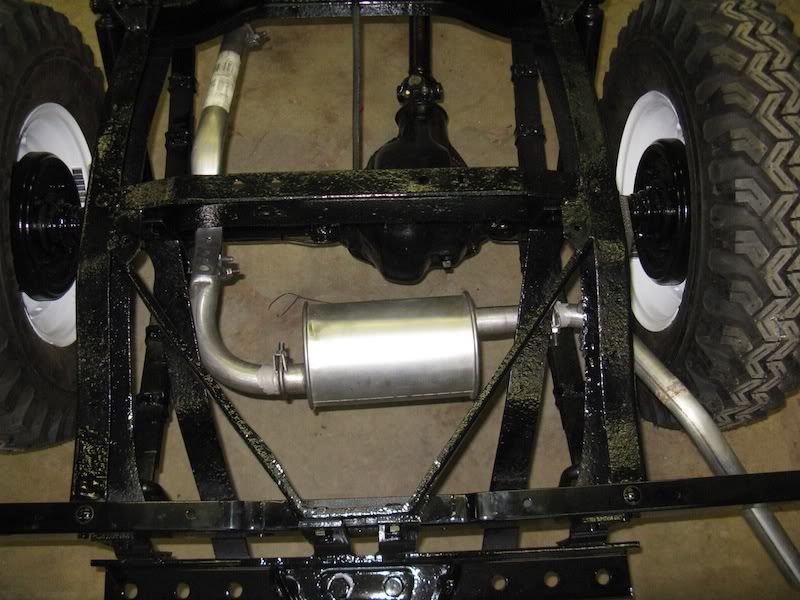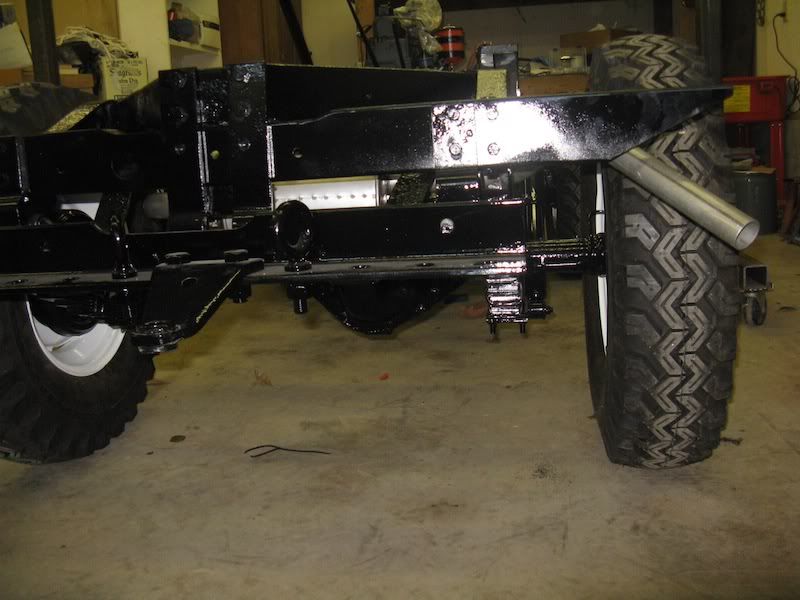 Regards,
Capt. Joe
captjoe - January 9, 2012 04:21 AM (GMT)
Well, my new fuel/vacuum pump hasn't arrived yet, so I think I'll take the one from my other engine and give the motor a test run tomorrow. Here's some pictures of it pretty much together except for the fuel pump.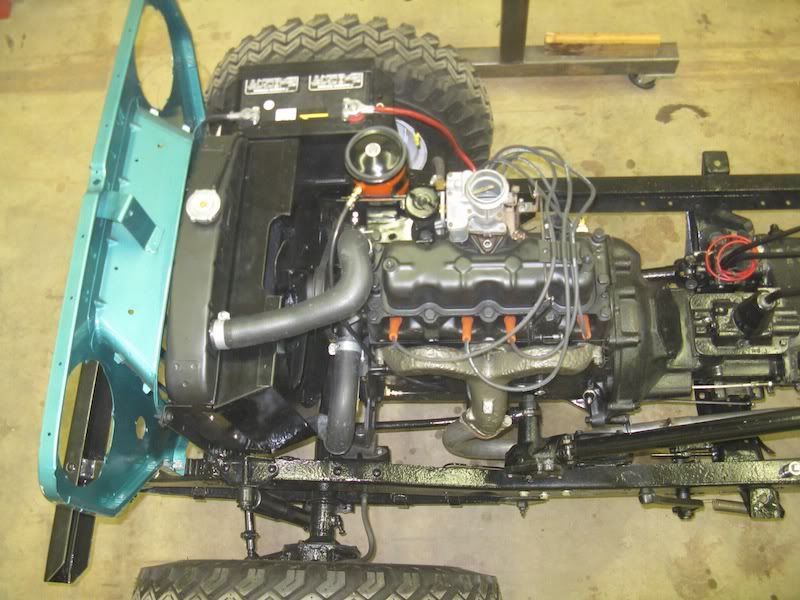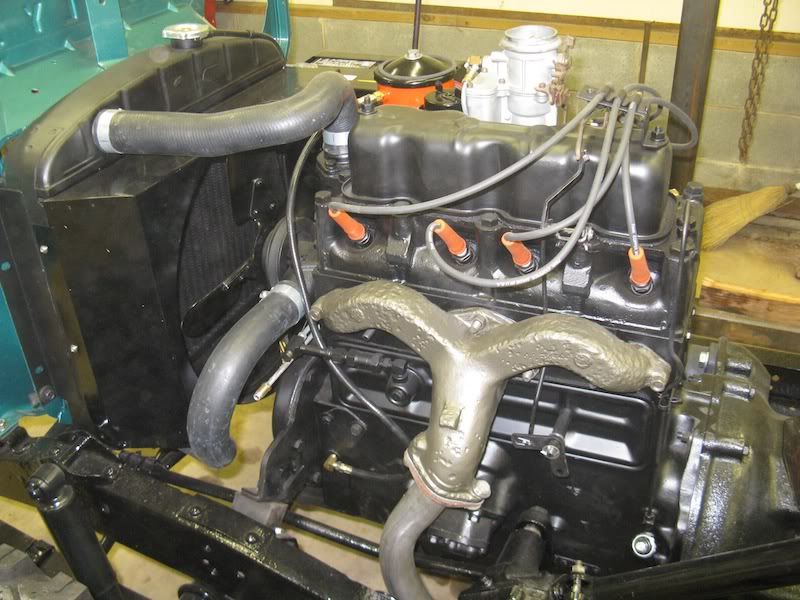 Regards,
Capt. Joe
jeepcj3b - January 10, 2012 01:02 AM (GMT)
captjoe - January 26, 2012 02:39 AM (GMT)
I installed the fuel pump off of my spare motor and she fired right up pretty darn quick off my static settings. A little skill maybe, a lot of luck maybe. A few tinkering adjustments later and she is running pretty good. I would like to get the idle down a little lower and a little smoother.

It has a couple of small exhaust leaks and a couple of small oil leaks.

Next the new fuel pump arrived, so on with it and a couple of new gaskets later, all is good. Along with that I changed the exhaust manifold to one from my spare engine. I had it "deck surfaced" before installing it and all is good now with that, no exhaust leaks.
:D

captjoe - February 27, 2012 11:18 AM (GMT)
I've been kind of busy with boats so I haven't been able to work on the 3B as much as I would like. That's especially tough since I'm getting kind of close to being done after a little over 2 years working on the restoration.
I did reach a mile stone the other day though, I got the body tub blasted, etch primed and primed. Here are a few pictures. :D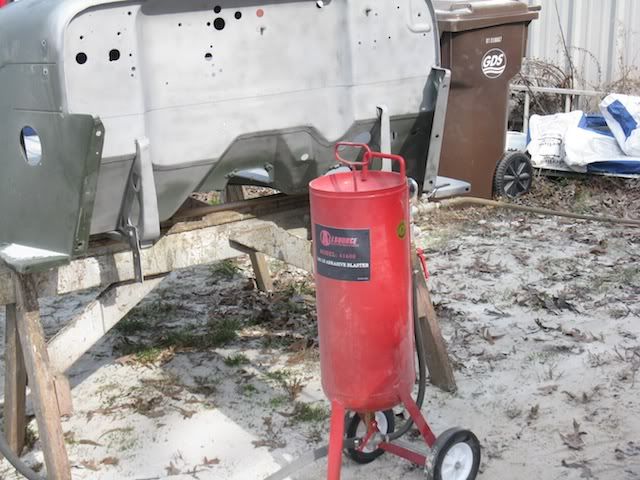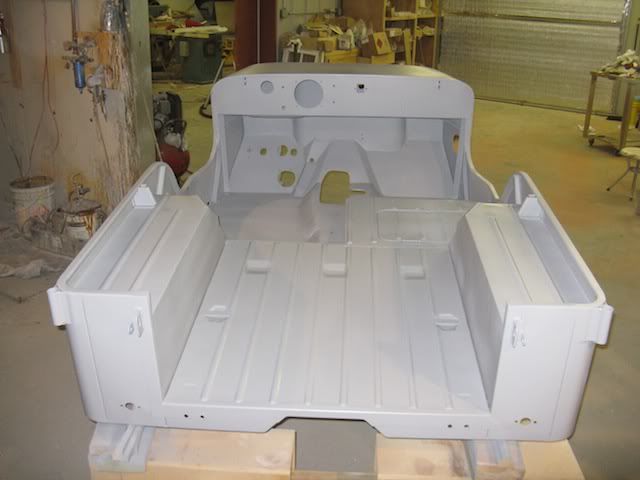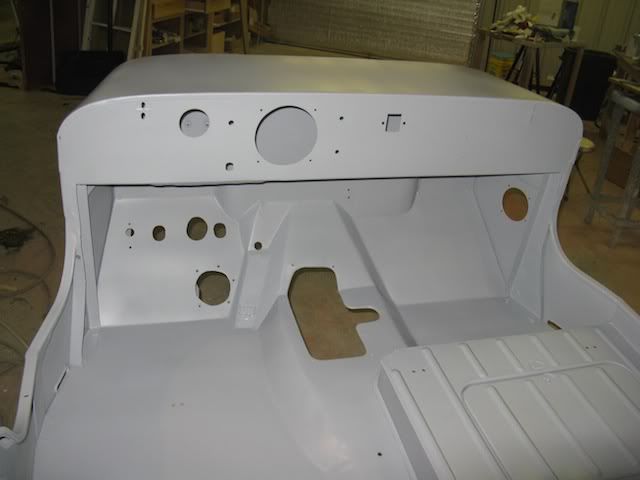 Now to decide as I do a little body work how much to try to "pretty up" the manufacturing tracks of MD Juan. I don't want to keep it from looking like an original Jeep, but I think the MD Juan body is just a little "cruder". Is that even a word?
Any thoughts from your restoration experiences. Anything you left showing through the paint that you wish you had worked out?
Regards,
Capt. Joe
B)
Bob - February 27, 2012 02:18 PM (GMT)
Capt. Joe, looks like you're doing a great job. I agree, the MD Juan bodies kinda suck, but being the only game in town you kinda have to take what they give.

Anyway, yes, they are a bit more crude than factory jeep bodies in that they show spotwelds a lot more and such. I'd fix just the glaring stuff that looks wrong and leave the rest.
captjoe - November 3, 2012 03:02 PM (GMT)
Finally some more progress on the Jeep.
I got the final body preparation done for painting.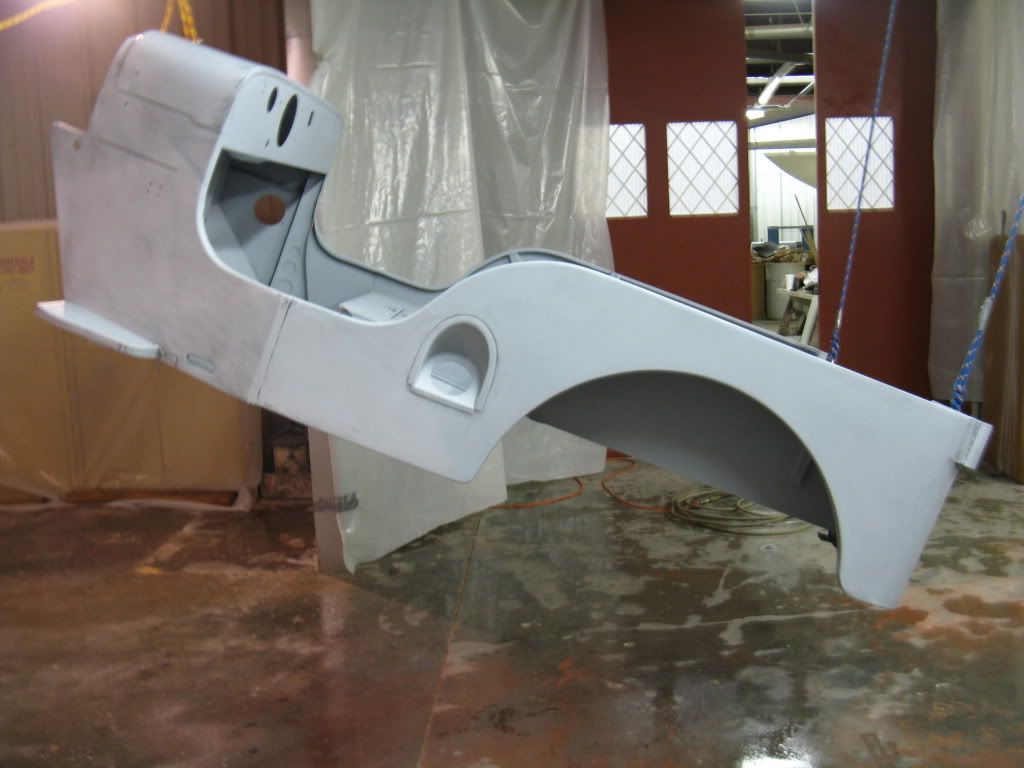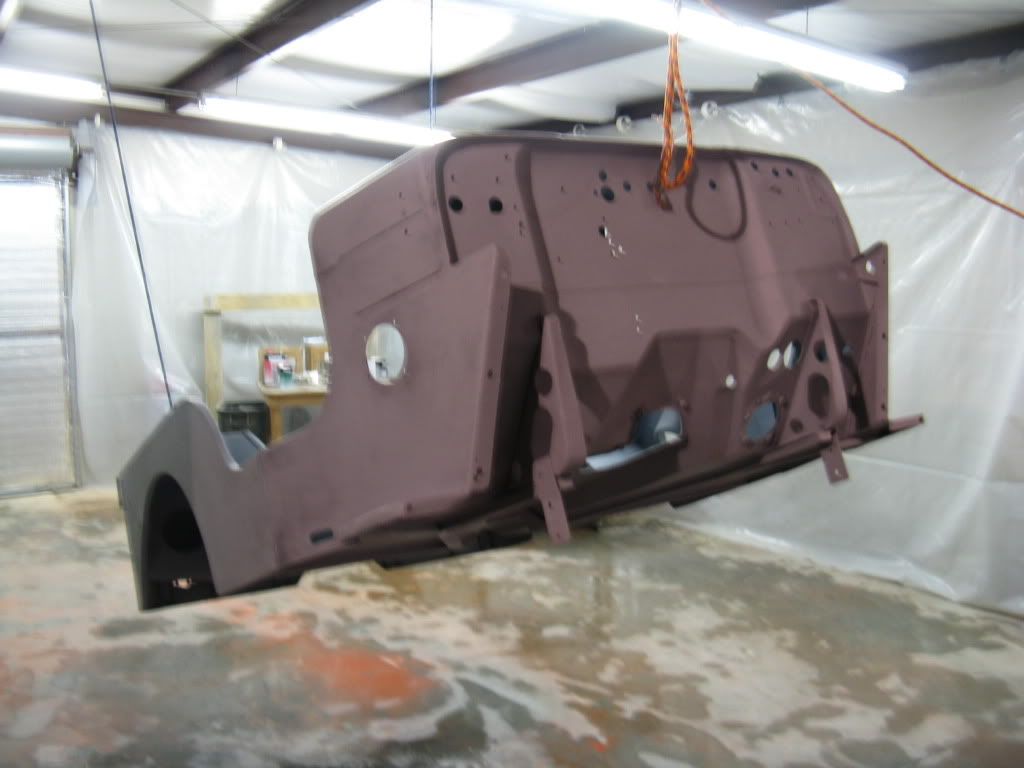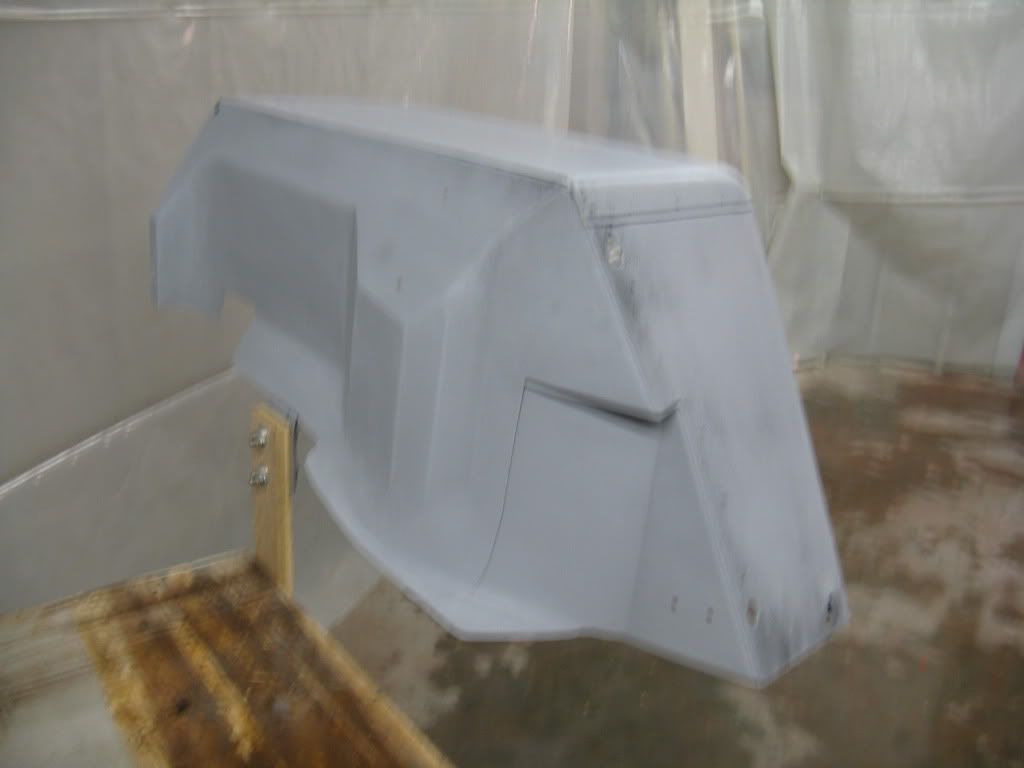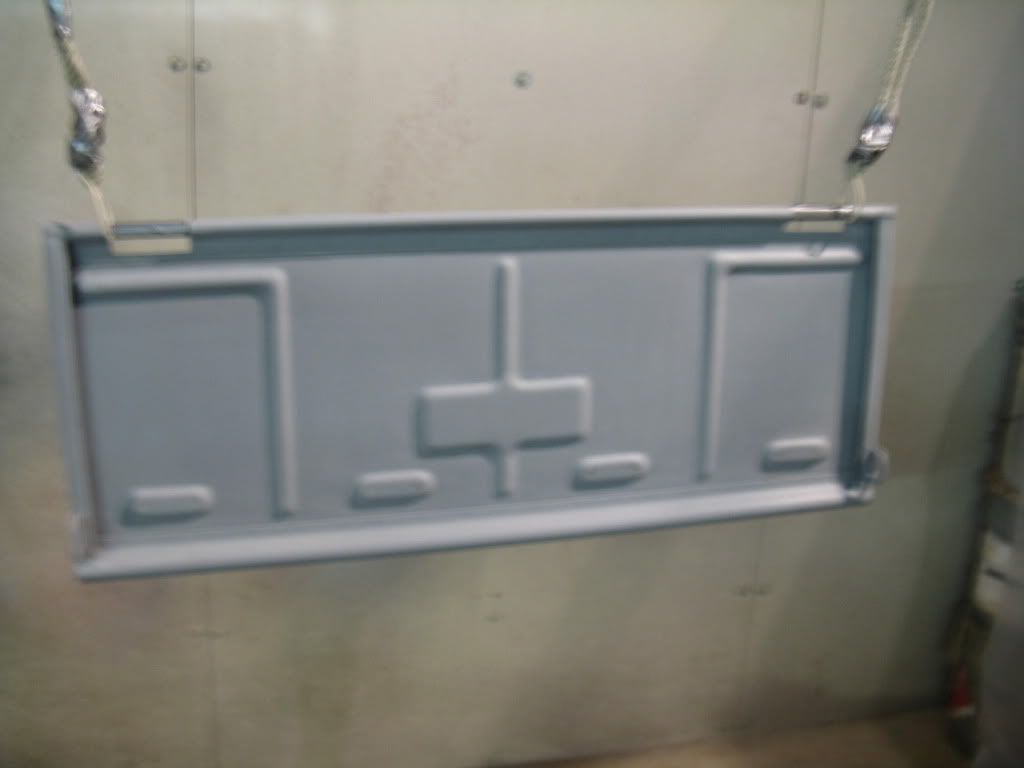 Here it is right before the green paint started to fly.
Regards,
Capt. Joe
:rolleyes:
captjoe - November 6, 2012 02:38 AM (GMT)
Well, finally, a Fountain Green Poly body!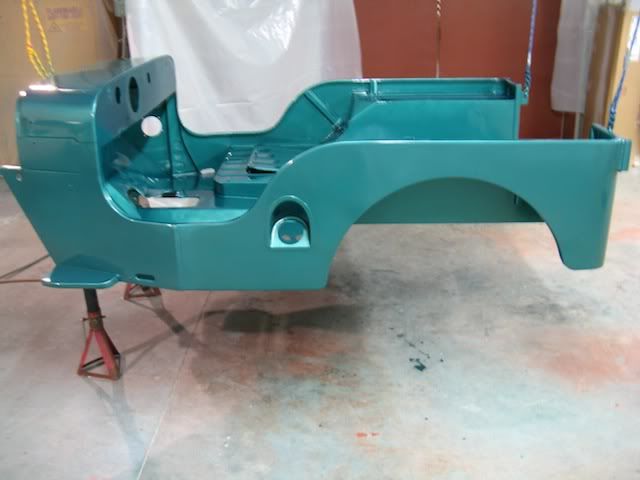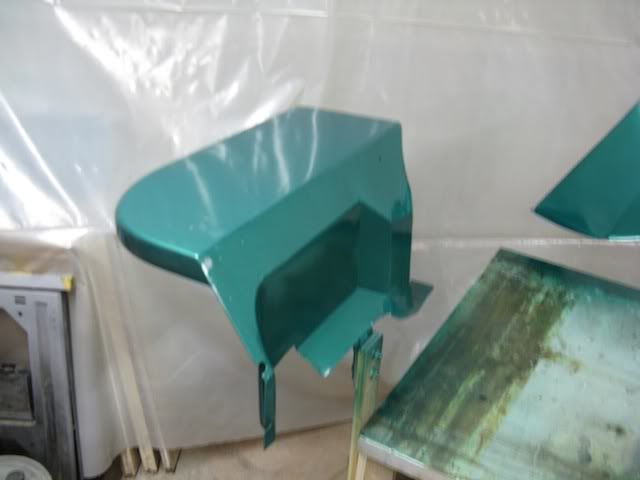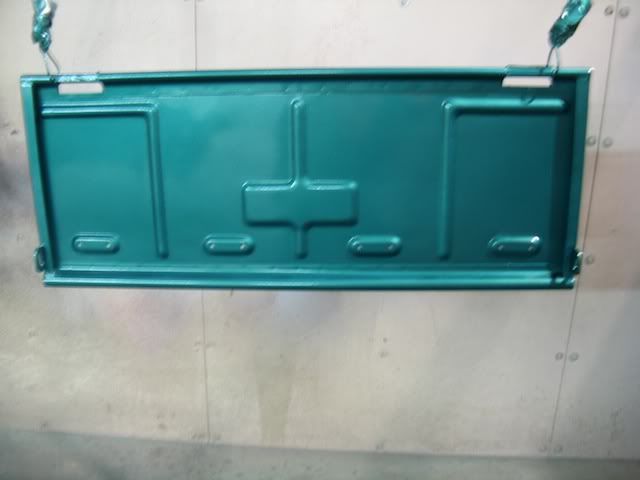 The paint is Nason 2K full urethane.
Coming soon: pictures with the body on the frame.
It feels great to be getting closer.
Regards,
Capt. Joe
:D
captjoe - November 21, 2012 03:37 AM (GMT)
Here is before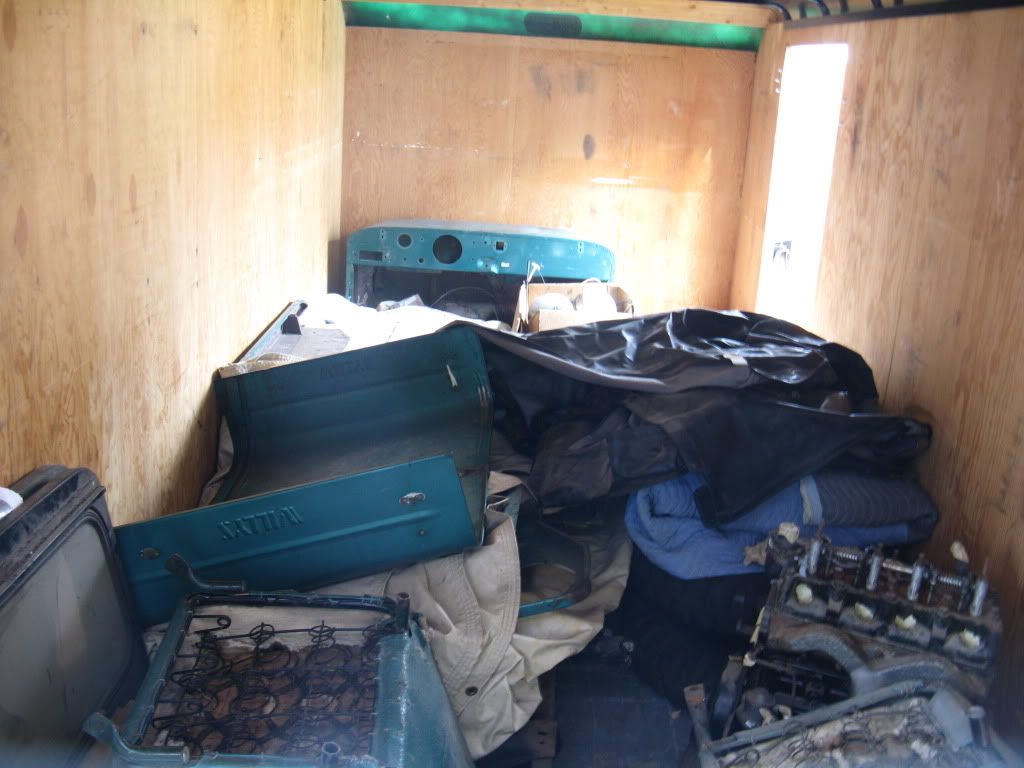 Here is after 2 years, 10 months and $8k!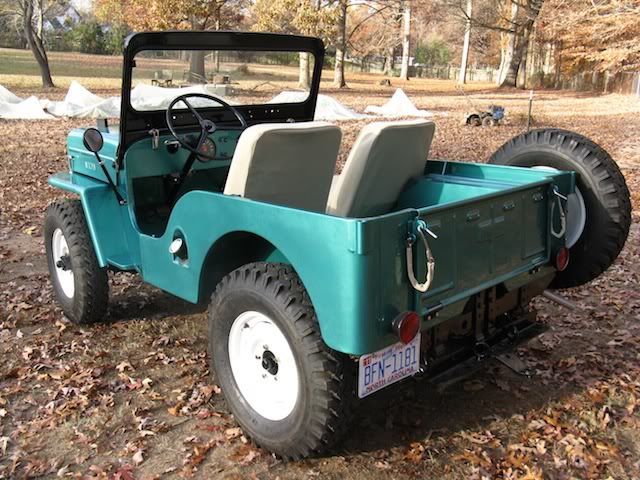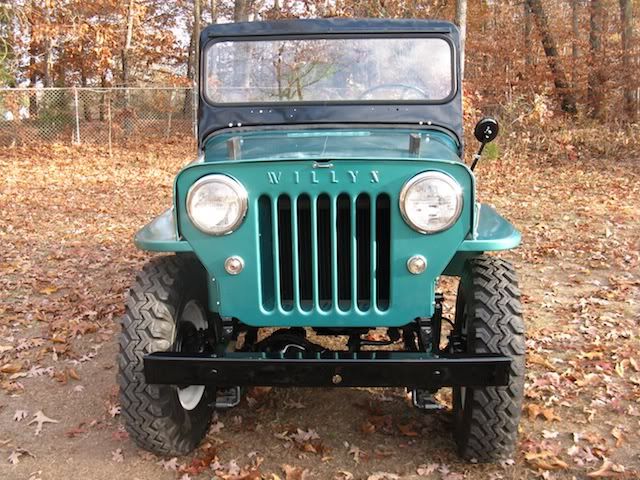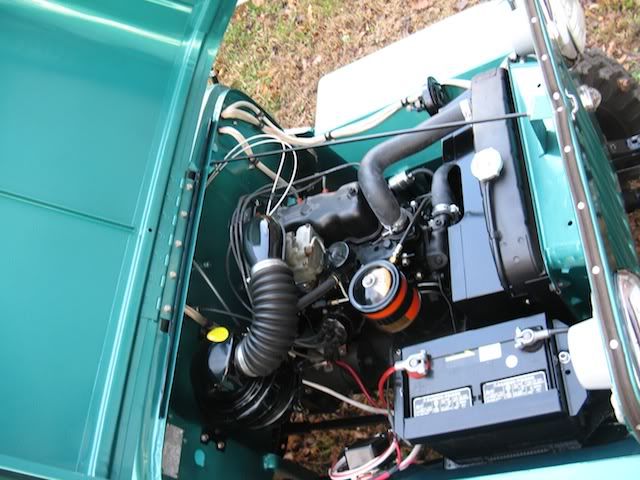 It was a happy day to drive it down the road. I don't think I could have turned more heads if I had a topless gal in the passenger seat, but then it's hard to be sure of that since I've never tried that. 'Ol well, another one for the bucket list!
Regards,
Capt. Joe
:D
Spacecrab - November 21, 2012 07:36 AM (GMT)
Goose - November 21, 2012 12:12 PM (GMT)
Wow, really nice resto captjoe. Are you running OEM springs and tire size? The stance is so nice, it looks a bit more aggressive than stock.
captjoe - November 21, 2012 12:58 PM (GMT)
Thanks Goose. The springs are stock but are the HD 11 leaf springs, and the tires are 16 x 7.5 which is one size larger than available stock on Jeeps. They used them on Jeep trucks. They just miss rubbing on the leaf springs at full turn. They might probably rub in aggressive off roading. I have some 1/4" spacers for the wheels but didn't have to install them. I'll wait and see how they do. It really makes the Jeep look bigger overall. I wanted it to look stock but a little "tuffer". Is that a word?
Regards,
Capt. Joe
:D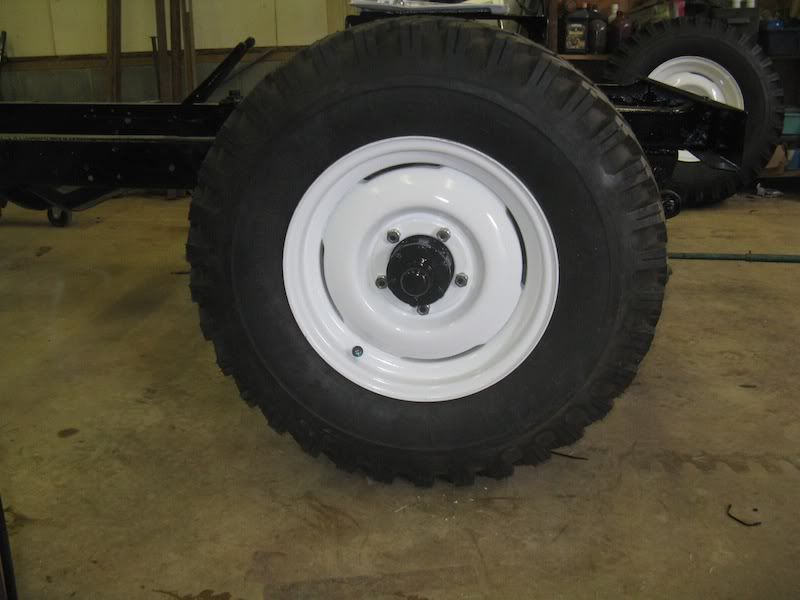 Bob - November 21, 2012 01:18 PM (GMT)
Very nice...I've always heard about the "jeep in a crate" but have never seen one! Which springs did you use and where did you get them? I want to move away from the standard springs as I have the front counterweight and the three point now.
Randyb - November 21, 2012 01:32 PM (GMT)
Now that's what I'm talking about!!! :-)
Larry (TX) - November 21, 2012 02:36 PM (GMT)
Exquisite job there Cap'n. Your's and Chet Couvillon's '64 could probably pass as twins!

In my opinion, there's a bounty of beauty in them thar high hoods!




Wishing you the best of the upcoming holidays.....................
Duffer - November 21, 2012 03:26 PM (GMT)
Very sharp. Congrats Capt Joe!!!

Ran into an early (53 to 56 someplace) 3B at one of the local 4x4 shops yesterday. Guy said it had sat since 1972 and they were going to see if they could get it running. Body wasn't too bad and it does have a full aluminum top on it so it didn't get full of water. May get some photos today.
Rus Curtis - November 21, 2012 04:08 PM (GMT)
captjoe,
Your before pic shows exactly what my jeep has looked like for years! It's just a puzzle waiting to be finished.

The after pics found me wiping a bit of drool off my keyboard! Very nice work!
binthere - November 22, 2012 12:06 AM (GMT)
captjoe
A thing of beauty, and spleandor!! You have to be extreemly proud of the job you have done!! The only thing left to do now, is to enjoy, enjoy, enjoy!! ;)
bob in NC - November 22, 2012 09:57 PM (GMT)
Don - November 23, 2012 02:02 PM (GMT)
WOW !!!

Show Off !!!! And just because of this auspicious display, you can't drive my olde ragged, spray can painted '53 the next time you swing by. But we can still go get hot dogs at Paul's Place.

All kidding aside,, that is some nice work you have done. The lines look straight and even. The engine is a beautiful sight. If you get a chance, post a few more pictures.

Chet - November 23, 2012 04:26 PM (GMT)
Outstanding job Capt! Yep, Larry is right...twins. :D
captjoe - November 24, 2012 02:20 AM (GMT)
Thanks guys! And Chet, I kept a picture of your Jeep in my shop for inspiration, because I thought it looked the most like I expected mine to turn out looking like.
You can believe that the guys here on the 3B page were on my list of things to be thankful for this year. The information and encouragement have been huge along the way and greatly helped to improve my enjoyment and results.
I'm sure something will go wrong with it or give trouble now that it is on the road so that I'll be right back here with questions.
Regards,
Capt. Joe
B)

Bob - November 24, 2012 03:07 AM (GMT)
Hey capt. Where did you get the 11 leaf springs?
captjoe - November 24, 2012 02:38 PM (GMT)
I bought the front springs from White Owl in Kinston, NC. (252-522-2586) no web site, no catalog, but very knowledgeable
The rear I got with the Jeep as parts. White Owl has or can get both front and back springs, standard or HD.
Regards,
Capt. Joe
:D
Bob - November 24, 2012 03:00 PM (GMT)
Thanks Capt. I found a guy in S.C. that has 11 leaf fronts and 14 rears, but shipping is $200!
HOGHEAD - November 27, 2012 11:30 AM (GMT)
Looking very nice Capt... Very Nice,,,