Title: Ian Fleming
Description: Bond.....James Bond
coach2709 - November 11, 2008 02:56 AM (GMT)
Since we got a new board about other authors I thought I would start off a new thread.

I have seen every James Bond movie and then I decided to actually sit down and read the books. I have two observations just from the first 34 pages

1) All the books are really small - I would say on average each book is about 210 - 220 pages

2) The first one - Casino Royale - stinks big time. I can't stand it because it too descriptive.

I'm going to keep plugging along and hopefully it will get better but right now it might be the worst book I have ever read in my life.
Trainbuff - November 11, 2008 06:09 AM (GMT)
I read somewhere that CC's first books were influenced by Fleming. Please tell us if you agree.
Owen Ruger - November 11, 2008 03:38 PM (GMT)
I agree, I've tried to read a couple of Fleming's books. Both were too descriptive for me and a little slow on the action... I'm not sure if its because I grew up on the movies (which are great classics) or if his writing is just too rough for me. cop:
coach2709 - November 12, 2008 12:01 AM (GMT)
Train I honestly can't answer that because I am still stuck on page 34. I am finding reasons not to read the book. I have seen/heard/read that Fleming was an inspiration to Cussler but I haven't gotten far enough to see any kind of inspiration or connection.

Owen they are some really great movies. This might be the only case where the movies are better than the books.

I was also surprised at how few stories there were on James Bond.
tonym5 - November 12, 2008 02:20 AM (GMT)
I have been watching the James Bond movies since I was a little kid and have been thinking about reading Ian's books to learn more about the stories and the differences between the movies and the books. Now I am wondering if I should after reading this topic. bok
Andy in West Oz - November 12, 2008 02:38 AM (GMT)
Check out Fleming's wartime career and you'll perhaps get an idea as to his inspiration. Haven't read any of his books so am disappointed to hear they are a struggle.
http://www.klast.net/bond/flem_bio.html
http://ww2chat.com/forums/news-articles/34...rman-codes.html
coach2709 - February 24, 2009 01:53 AM (GMT)
Thought I would add an update on my attempt to read Ian Fleming...........I quit not that long after I made the post. Oh well at least I tried......I guess.
Perlmutter Twin - March 2, 2009 11:18 AM (GMT)
I haven't read a Bond book for decades so I'm going by old memories, but the books always seemed heavy on atmosphere and short on action. I did read most of them at the time. They were short by today's standards but typical for the time: late 50s, early 60s. Other popular books at the time, such as Nero Wolf and Perry Mason paperbacks, had a similar length. Some were just longish short stories or novellas. I have a vague memory of "The Spy Who Loved Me" and "Octopussy" published in the same book. Some of the American popularity for the books came about when it was learned that President Kennedy was a big fan. That was a huge deal in 1961.

The movies and books had little in common except for some basic plot points, character names and sexual perversion (for the time) by the villain. Rosa Kleb in From Russia With Love was a lesbian. There is a hint of that in the movie. The Spy Who Loved Me took the title from the book and nothing else. The book was just a short story, told from the woman's point of view, and Bond's name is not used at all IIRC. It has basically 2 characters and almost no action. But the title was known to the public, so they used it and just wrote their own story.

I much preferred the Matt Helm series by the late Donald Hamilton. When it came to spying, adventure, assasination, etc, the Matt Helm books were much better than the Bond stories. Ignore the Matt Helm movies, which were played more or less for laughs, and read the books. I started reading them around 1965 and never missed a new one until the last came out in the 90s. (Come to think of it, that's what I've been doing with Clive's books since I discovered Raise The Titanic in hardcover.)

Jeff
Erskine - April 26, 2009 09:52 PM (GMT)
I found for me that John Gardner's 007 novels were better reads than Fleming.
If you still want to check out literary Bond I suggest giving them a try. det:
BamesJond007 - December 21, 2010 06:08 AM (GMT)
I am a massive James Bond literary fan. Ian Fleming's are a little tedious at first, but they always get better. I've read close to 40 different James Bond novels and i recommend John Gardner to those who find Fleming to be a bit old fashioned.
I definitely see a resemblance between Clive and Ian, they both base their books around the same kind of Villains and action scenes and whatnot.
Heres my collection. This pics about 2 years old, my collection has almost doubled since then.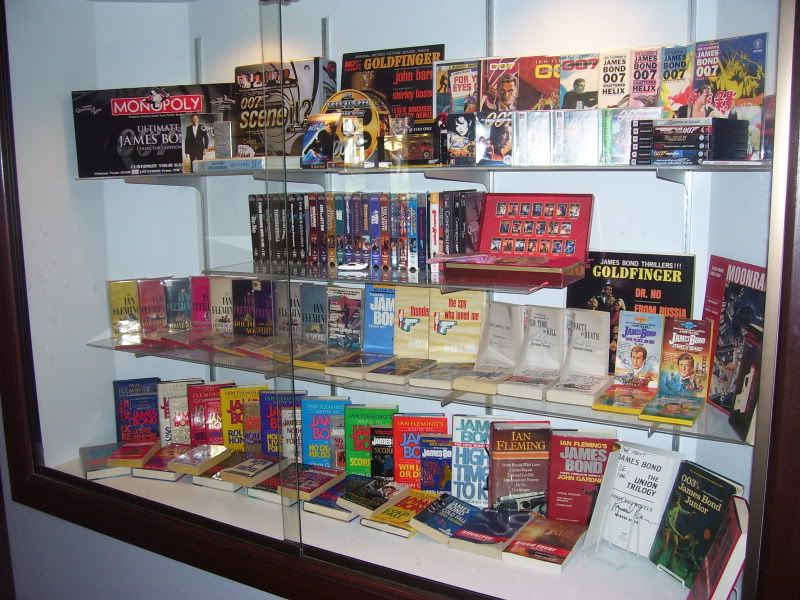 Nick Kismet - December 21, 2010 07:24 AM (GMT)
Excellent collection. I've enjoyed several of Fleming's Bond novels (and I thought a couple weren't so good). I agree that Gardner was the best of the post-Fleming Bond writers. I really didn't care for Raymond Benson at all, and that opinion carries over into his other, non-Bond works.
BamesJond007 - January 2, 2011 05:55 AM (GMT)
I don't mind Raymond Benson really at all. He's just not that great of a novelist... his plot and stuff are pretty good.