Title: Let's Play a game
Description: you may not have heard of.
Spriteless Girl - January 26, 2012 01:57 AM (GMT)
I like 2 kinds of Let's Plays best: the kind where I learn about a game I never have and never will play, and the kind where I revel in nostalgiagasms. I thought I could give you guys the first while indulging in the second. But what to play? Hey! This is the first choice in the thread! Here are three games I have played to death and beaten, which you probably never did either of. These all have both choices for you, and strategy for me to share with you.

Option 1: Gemfire. I owned this game for both NES and SNES. I have beaten it in every scenario, but that was years- wait, over a decade ago! It has rad peppy music. It is a Koei strategy RPG, so it may be of interest to those of you who wonder just what Pokemon Nobunga's Ambition will be about. Someone on these forums has already done a Gemfire Let's Play, but he did easy mode. I do not play easy mode ever.

Option 2: Ultima III: Exodus. I played the hell out of this one as a kid, and beat it kind of recently on an emulator. It is a primitive RPG with a leveling system that makes FF2J's and Final Fantasy Legends' seem coherent! Also it has warp zones like Mario or Zelda and food like Mystery Dungeon or Nethack, while predating all of them.

Option 3: Megaman Battle Network 3. It is an action RPG card game, with . It is the last one with a coherent before they nerfed the combo system, and therefore the best. Actually I have only played 3 and a little of 4. 3 was about digital live versus real life and I was not lost in the story skipping the first 2. 4 is about a tournament and meteor lasers and a new game + that kicks you in the shins. I don't want to play it again.

Either first vote wins, or I'll tally them up if there are multiple votes within 24 hours.
Grandmaster Jogurt - January 26, 2012 02:12 AM (GMT)
Ultima III, because I remember Ultima Underworld being a big part of my middle school years even though I was the only one who had it and I didn't play it much.
TrekTek - January 26, 2012 02:20 AM (GMT)
aturtledoesbite - January 26, 2012 02:29 AM (GMT)
MMBN3, if only because that's the only one of those I've played.
Algasir - January 26, 2012 04:07 AM (GMT)
Blackdeathdraco - January 26, 2012 06:13 AM (GMT)
I vote Ultima 3, I love those Ultima games.
Just Jon - January 26, 2012 07:08 AM (GMT)
I'd vote Ultima but those have been played somewhat to death. And I have no idea what gemfire is, so that gets my vote.
Iyestorm - January 26, 2012 07:29 AM (GMT)
Nifar - January 26, 2012 07:39 AM (GMT)
Throwing my hat in for Gemfire.
mordain - January 26, 2012 07:52 AM (GMT)
I gotta go with Gemfire too, mostly 'cause I know absolutely nothing about it except what you've said here.
Ou des - January 26, 2012 07:58 AM (GMT)
Zap Rowsdower - January 26, 2012 04:45 PM (GMT)
Another vote on the pile for "Gemfire because I've never heard about it".
Immolation - January 26, 2012 07:16 PM (GMT)
Honestly, gemfire sounds pretty interesting, so it gets my vote.
Notty - January 26, 2012 11:56 PM (GMT)
Spriteless Girl - January 27, 2012 02:50 AM (GMT)
Gemfire holds a dear place in my heart that is like a mix of fairy tale, cartoon, and video game. It is one of the NES games I played when I could barely read, so I added a lot of my own imagination to the story.
This is the introduction
I first grew up with. Skulryck is a creepy guy, with his skull magic huh? Later I got
this one
too. They retranslated some of the text in the instructions booklet and moved it into the game itself. Pluvis was always about using magic for everything, and Chylla about their seperate tasks. I think that having multiple translations of one game early on affected my tastes forever. Like, I will collect multiple translations of animes I like and watch them back to back.
Here is the original msx intro
,
here is the closest english translation movie of that
, and
here is the genesis intro
.
So the story gleaned from those contradicting opening cartoons is: Ishmeria was a great place that was filled with magic creatures! When an evil firedragon threatened the land, 6 magicians and also maybe the water dragon Pastha fought it, and either used themselves to seal the dragon, or were cursed and sealed after sealing the dragon. Anyways, a crown was made of the 7 gems that had the power sealed within it. After a lot of time is implied to have passed, King Elsred went mad with the power of the crown. His daughter Robyn broke the crown, possibly at the behest of Pastha. She threw 6 of the gems into the night sky before she was caught. The 6 wizards flew to 6 different noble families in Ishmeria, and one family must unite the crown.
Elsred still has the dragon, and locked Robyn up. :o
Choose who I play as!
This scenario has a lot of little factions and it is pretty easy to let them fight each other most of the time. I suppose since Erin of Blanch has a lion crest, he and his are analogous to Richard Lionheart, and Lyle of Ander with the unicorn crest are to Scotland. Well I'm not playing Erin or Ander! They have a lot of land and the best gems available for players. They are easy mode!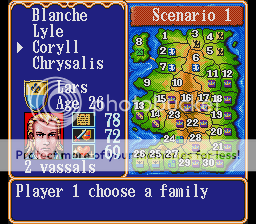 Those Fleur de Lis suggest that Coryll is a French colony. It is ruled by Lars. He has a gem with an OK magician. It is a nice middle of the road path.
Chrysalis is like if Ireland was even more weak compared to the main island, and Garth's stats make this game hard mode. It is at least defensible, though. He has the gem with the weakest sorcerer.
I can be a guy trapped in a corner with noone but King Elsred "I King Elsred have a dragon and will speak in the third person" It is a bit of a different game when their is noone for my neighbors to go after but me.
Molbrew, however, has a different problem in that everyone has access to him, and any land taken will be at risk of being taken right back or taken again by a third party. Still, I'd get the creepy necromancer poison guy.
I start next to 2 unclaimed territories, which means I have the option of spreading myself terribly thin for great gains. Hmm gambling.
Start as the only female ruler, loved by her people but crappy at fighting, no gem wizard, in a spot less defensible than fake Ireland up there. She is the true hard mode.
Oh, the prince has come to help out his little sister. How quaint. Wait why is he using Fleur de Lis when he is Elsred's son? In his scenario, it is harder to unite the families that have made their own stake for power than it is to put your dad away. Erin and Ander are quite formidible by now.
Start in the middle of a cluster of powerful families, all sides open with no gem wizard, hard mode etc etc I'm getting tired of hearing me whine. He's an effective general, he'll need it.
You also get to choose my advisor! Your choices are crazy rhyming guy, girl who speaks in a straightforward manner, guy who speaks in a testosterone having manner, old guy who speaks in a condenscending manner. They will tell me what the computer would do in my shoes, which means they will tell me to be shortsighted and stop turtling.
Edit: Edited for readability. Also, I should update tomorrow with an explanation of whatever you have decided for me means.
aturtledoesbite - January 27, 2012 02:59 AM (GMT)
QUOTE (Spriteless)
She is the true hard mode.

Ford the river!

...I mean, choose her.

EDIT: Oh yeah, advisor dude. Yeah, I'll second Zap and go with the testosterone-having dude.
Zap Rowsdower - January 27, 2012 03:02 AM (GMT)
Gweyn and the testosterone adviser!
mordain - January 27, 2012 03:17 AM (GMT)
Chrysalis and the straightforward girl because the match amuses me.
Knight - January 27, 2012 03:19 AM (GMT)
Garth and testosterone dude. Fighting Irish!
Nifar - January 27, 2012 03:42 AM (GMT)
QUOTE (Knight @ Jan 26 2012, 10:19 PM)
Garth and testosterone dude. Fighting Irish!

This.
Cyrus - January 27, 2012 03:47 AM (GMT)
Because I'm amused by both ideas, I'm gonna' force it into a tie by voting for gweyn.

(and testosterone dude as the advisor)
Notty - January 27, 2012 04:13 AM (GMT)
True Hard Mode is the only way to go!

Gweyn and testosterone guy!
Immolation - January 27, 2012 05:26 AM (GMT)
Just Jon - January 27, 2012 06:02 AM (GMT)
Gweyn and straightforward girl. Lady power!
Grandmaster Jogurt - January 27, 2012 07:04 AM (GMT)
Erik looks so happy to be king. Play as him!

Rhyming minister is the only choice.
Spriteless Girl - February 9, 2012 02:27 AM (GMT)
QUOTE (Grandmaster Jogurt @ Jan 27 2012, 01:04 AM)
Erik looks so happy to be king. Play as him!

Rhyming minister is the only choice.
GJ what game are you playing there are lots of choices.
Text is sparse enough that I will screencap any bit of it, and everything outside the screenshots is my own commentary or fanficting.
Learnedness: 76
This scroll icon thing is a measure of how good you are at preventing sabotage and plunder, so I guess it is like Ankh Morpork where nobles learn cloak and dagger at the assasins guild? It is also how good at sowing crops and building walls your people are, so
martial skill: 58
This swordy skill makes solders better fighters, causing them to die less. I, uh, will have a hard time in fights I suppose.
Heart: 82
This makes people love you faster when you give them food. When people love you more all the other commands work better, and you will get more food and money, so you can share it with people, so they will love you more, so you will get more food and money. It is a virtuous cycle.
I am going to have to play now, only got regen the genesis emulator to work. This is actually the only technical difficulty I had, the rest is my being lazy.
My sidekicks! The two guys talking strategy are those nobles who threw their lot in with me when I rebelled from, and the easy guy is my advisor.
The game opens with some NPCs being violent to each other. WAIT MY CAPITAL IS NUMBER 30!
We have equal troops, he has brought less food than I have so I could theoretically turtle it, and he is 1/4 again as inspiring a general as me. I am more inspiring than in my stat block up there because everyone gains experience in January! Before their turn starts! I am learning already!
First question: What do I do?
Fight means I have to defend myself and will explain combat. It seems even, at least it should to you who don't know the game. I expect I will have to use my, er, Zorax's cunning ability to think further ahead than the AI of an MSX video game.
Retreat means going to my neigboring province, which is 29 on the map. 29 will then become my new capital and I will demote the vassal I have there.
Surrendering from the capital is game over, because I am Gwenn, who lives in the capital and I have no heir to become the main character after me.
Second question: There is a great potential for randomness abuse in this game. Once it is actually my turn, I would be able to save and reload as much as I wanted to in a console, so it's kind of fuzzy area, morally. I want to know if you want me to reload for awesome luck, or to stick it out.
Edited to put in music:
Soothing character select screen
Starting gameplay and getting attacked before first turn.
Did you know Youtube does not allow avis without video data, and that I don't know how to do more than 'ffmpeg -i infile.wav outfile.avi' ?
aturtledoesbite - February 9, 2012 03:12 AM (GMT)
KILL THEM ALL! Show them to not pick on the "weak" woman ruler! It'll be just like Queen Elizabeth I! ...Wait, she only had a good navy. Oh well, you're screwed. Still, let's...

FIGHT IT OUT!
Grandmaster Jogurt - February 9, 2012 03:18 AM (GMT)
No save scumming. Surrender at once!
TrekTek - February 9, 2012 12:00 PM (GMT)
Knight - February 9, 2012 04:07 PM (GMT)
I find LPs more interesting when you have a story to tell, instead of just blindly fording the river of crappy game mechanics. <.<
Spriteless Girl - February 11, 2012 02:45 PM (GMT)
A three way tie is what you give me?

As it stands I'm going to fight it out, and only abuse save and restart to get something interesting, and try to make in character talking.
Cyrus - February 11, 2012 05:02 PM (GMT)
I think I'll agree with knight here. Do what makes a good story.

Just... Don't tell us when you do it. :P

(also, assuming you haven't already, fight it out)
Spriteless Girl - March 5, 2012 02:06 AM (GMT)
Gweyn: Invasion! Well then we shall give them the good fight! Wait, they have 1 more guy than us. What is going on?
Zorax: Hubert has brought Elsred's dragon. That's bold, attacking a capital before it has had a chance to build up defenses with a unit 4x as strong as anything we could bring to the fight.
Gweyn: It's an unfair move!
Zorax: He's an evil dictator. He will press every unfair advantage he can. We're going to have to as well to get out of here uncaptured.
Gweyn: What advantages do we have?
Zorax: We're smarter than him. Most generals like to send in a single wave. We'll out manuver his troops, and take his base while they're trying to get past our walls.
Gweyn: Good. I'd rather take the invading general with a minimum of bloodshed.
Zorax: Yes, the soldiers always surrender when we've got their leader. The reverse also holds true, so we must make our defences strong!
Standard formation is 1/4 of troops are calvary, and 1/4 archers, with the remainder in two formations of infantry who can build fences. More on that later. Everyone but archers can only attack next to them, archers can only attack those 1 space removed from them. Calvary can move faster. There is no changing this formation.
A fifth unit brings its own strengths though. That dragon, besides being powerful, can attack anywhere within a 5x5 square with itself in the center.
For starters, lets have the infantry build fences around our
flag
home base, so Elsred's forces will waste time breaking them. Then lets move up around the edge of the battlefield to stop him.
Gweyn: He's left his archers on his own camp, to defend himself. You said they can't even attack someone right next to them, so they'll be defensless against our cavalry.
Zorax: Yes, we'll have to do something similar to slow down that dragon though.
Gweyn: What?
Zorax: Worry about that later, for now, lets just build more fences and keep going for his base.
Gweyn: That wasn't a what of not understanding, you know, I just was worried about sacrificing troops.
Zorax: They don't even care about the north path.
Hubert: I've got a dragon burning a hole in my pocket.
Gweyn: Oh my god! That's terrifying!
Zorax: Oh my god there was a survivor! That's incredible!
Spriteless Girl - March 5, 2012 02:10 AM (GMT)
FYI you can fail to build fences when weak.
Zorax: Time to attack Hubert himself
Gweyn: I lost 1 more soldier than they did!
Zorax: You don't inspire men to violence well. You can't delegate leadership of the capital to vassals, but if you use them as generals in other provences your men will fight better.
Gweyn: Though they may be better generals neither of my vassals are as good at inspiring loyalty from the common people.
Zorax: That fence bought us a lot of time.
Gweyn: Consistantly unfavorable casualties. >:(
... :C
Zorax: Truly a hero's death.
Gweyn: Hmm, the dragon spent 10% of its strength in this attack, just like the last attack.
Gweyn: No longer consistantly losing more. What does it mean?
Zorax: Almost there.
I concentrate my attacks on the bowmen, hoping to take them out before the dragon tears down the fences.
Hubert: Dragon smash fences!
Spriteless Girl - March 5, 2012 02:10 AM (GMT)
Gweyn: One guy. Turnabout has happened. Is this ironic?
Zorax: No, I don't think so.
Gweyn: Calvary, save yourselves. There's a chance one of you will be killed if you charge the archer. Our archers will attack next, they are safe from counterattack. Infantry, get out of the dragon's way. No need for you to die like the others when we'll have the invaders' camp soon enough.
Zorax: Their formations can't walk through other units.
Gweyn: He did that wrong. The dragon has smashed fences it was not next to before.
Zorax: Yeah, other people do things wrong. Count on it.
I take out the last guy, sent the calvary to
walk over the red flag
take down the invader's leadership. (I also fail to take a screenie of actually walking on the flag, and my last save is right the fight.)
Gweyn: I look like Joan of Ark here.
Zorax: They're driven off!
(I will never show an entire battle again. At least, not unless I get .avi conversion working)
FIRST TURN:
Zorax: We need a 5th unit. Elsred tried to massacre the capital so we'll want to go on the offensive.
Ervin: Yes, sir.
Ervin: Gargoyles or Orks. My choice is Angels of Hell, or barbarian brutes. May as well be hung for a sheep as for a lamb, I'll get the Hellions.
Demona: Accursed Human!
Ervin: Yeah, you're much classier about that than the Orks.
(This ends turn for the province)
[IMG]http://i318.photobucket.com/albums/mm436/SpritelessGirl/lets/GF_077.png
Gwenn: I'll just make sure I have enough troops to repel Elsred should he attack again.
(This ends turn for the province)
Gweyn: Sure, that's one less border to worry about for now.
TURN 2 THROUGH SOMETHING HAPPENING:
Gweyn: We can spend the rest of the season developing our provinces, and manipulating the stock market.
Zorax: Doing what to the stock market?
Gweyn: Selling food when the price is high, and buying it when the price is low. It does not take
turns
as much time as hiring troops does. Like you said, we've got to fight smart. Using economics right is smart.
Zorax:... Doing what to the stock market?
Gweyn: Are the other territories' lords as bad with numbers as you?
Zorax: Yes, you can count on it!
Gweyn: ... Wow...
(Next update, I show the results of developing land a lot. I'll try to keep updates simpler so I don't go mad and take forever.)
(I'd also be grateful for any input, but I understand that I may have killed interest here.)
aturtledoesbite - March 5, 2012 02:45 AM (GMT)
I'm still interested. Though, if I may mention, I see it better to use Imgur to host pictures. Photobucket seems to have fun randomly sniping pictures of LPs.