Title: QUINN, zack
Description: Lexis
Zack Quinn - July 29, 2008 02:01 PM (GMT)
QUINN, zachary
aka Lexis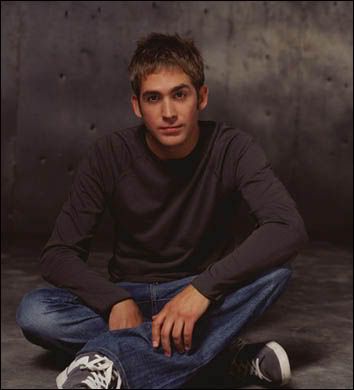 [*] Wanted to be a rock star

[*] Secretly likes the Backstreet Boys but will never admit it

[*] Never went for his High School prom because he was too young






I AM SUPERMAN WITH YOU

I guess you're my hero too


Your Name: Jo
Age: 23
Other Characters: Gale Matters; Leslie Lo.
How did you find us? *points to the left*
How can we contact you? PM.




YOU THOUGHT YOU WERE SAFE AND SOUND

but you need a hero now


Full Name: Zachary Matthias Quinn
Alias: Lexis
Age: 17
Power: Has absolutely no powers though he wishes. Zack was born a human just that he happens to be a prodigy and will be graduating from college in about a year.
Alignment: Hero
Occupation: Student; occasional tech advisor for the government as well as for the Heroes; pain in the butt.




WHERE'S THE STREET WISE HERCULES

to fight the rising odds


Appearance: Being a teenager, Zack's still pretty much growing though now he's already reaching 5"10'. Naturally, he has sandy blond hair though it'll be constantly changing between shades as much as does his hairdo. He's usually seen in his favourite rock band's t-shirts, jeans, and a variety of Converse shoes. Along with his trusty laptop and/or PDA, the other thing Zack is never seen without is his iPod.

Although a genius and technically a nerd, Zack has strived to avoid looking like one and hence has created a rocker-image. He has even taken up skate-boarding to classes and playing the electric quitar in order to not be tagged a complete loser.
Defining marks: Ever changing hairstyle
Costume: -
Play By: Eric Szmanda




I CAN'T DO THIS ALL ON MY OWN

no I know I'm no Superman


Personality: Wildy eccentric and little cocky, Zack loves rock and punk music, and making a complete fool of himself. This teen's also making up for lost time during his college years and just about flirting with any girl possible, though most just see him as a lost puppy and would humour him. Even though he's a genius, but because he was rushed through normal education, Zack was constantly seeking acceptance from his peers and since then, he'll go really far just to prove that he's capable and to gain everyone's approval.

He's also the kind of guy who'll be there for his friends and his family no matter what; extremely loyal though sometimes it's because he's just young and naive.
Strengths:
Optimistic
Energetic
Smart
Eccentric
Resourceful
Weaknesses:
Flirt
Short attention span
Naive
Smartass
Impatience
Likes:
Music
Sushi
Girls
Technology
Problems to be solved
Dislikes:
Waiting
Problems that can't be solved
Rules
Long queues
Being patronised
Fears:
Spiders
Not having the answer
Embarassment
IT'S GONNA TAKE A SUPERMAN

to sweep me off my feet


Parents: Andrew & Moira Quinn
Siblings: Alisha Quinn (Older sister)
Other Relatives: -
Significant Other: He wishes.


History: Zack was what his parents call an "accidental child". His older sister was already 10-years old when they had him and totally unplanned. But as he grew older, the family realised he was no ordinary child as was blowing through exams and tests. By the time he was 6-years old, Zack was pulling apart radios and other mechanical things and then putting them back together again into working order. As he reached seven, he discovered the world of computers and fully emersed his life into the technical jargon of ones and zeroes. Before they knew it, he was already programming software and putting together hardware as well as performing exceedingly well in academics.

Teachers and others noticed Zack's genius and fast forwarded him through junior school and high school before finally enrolling into college at 16. With one more year to go before earning his degree, Zack is already being called by the government on certain high-leveled operations as an advisor as well as working for the Heroes of Alexandria as Lexis, the resident tech genius. Those who know him well can contact him easily wherelse those who don't usually find him through his website and contact him through there.



Your full name: "The one and only amazing Zack-o."

Any names you prefer to go by?: "Ohh... just about anything that glorifies and ultimately worships me. Or else, Zack would do."

Describe yourself in 10 words or less: "Just really, really, really, really, really, really, really, really awesome."

What do others compliment about you?: "Seriously, when you've been a child prodigy all your life, all you hear ARE compliments."

What do you see as your best feature?: "Me head."

Name your worst flaw: "My appetite. I eat way too much but gain nothing... no muscles and not even fat. Ick."

Your biggest fear: "Not being able to figure out anything."

Your worst memory: "Being the youngest in all my schools and constantly picked on."

Your biggest secret: "*coughs*Iseriouslyhatespiders*coughs*"

The most important person in your life: "My sister Ali."

Anything else?: "Nope."




I'VE COME TO YOUR RESCUE

but you can't rescue me


Member Title: Resident Genius
Anything Else? -
Roleplay Sample: Admin Exempt

---
Thanks to cadillacula of white pages for this template.
* Hosted for free by InvisionFree