Title: Proof Republican's are fuckin retarded
Daiz - August 17, 2011 01:06 AM (GMT)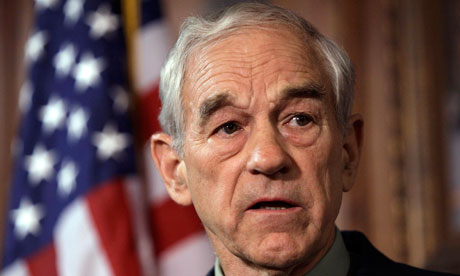 Don't be fooled by his crusty old man appearance, Ron Paul is prolly the only damn Republican that makes any sense and keeps it 100 and doesn't try to mislead and manipulate people with fear campaigns instead the TX Congressman has been running for president and killing these dumb ass cooks in every debate and if it came down to it I'd much rather have him run against obama than these other dumb fucks cuz if obama loses to him, I know we can benefit from his views being turned into action and if he loses Obama can scoup him up into his Cabinet. I like his views on foreign policy and fiances dude said we need to stop fighting all these dumb ass old conflicts and mind our own damn business and stop wasting money on stupid shit. Now heres the thing THIS IS A REPUBLICAN TELLING THE TRUTH! but lately it seems like every stupid ass politician running for the republican party is getting more props and media coverage than he is. They're dicklickin Bachman's dumb ass and Rick Perry who hasn't done jack shit for our state (trust me I know) so why the hatin?
fat_rob - August 23, 2011 10:28 AM (GMT)
Daiz - August 23, 2011 03:28 PM (GMT)
And I don't understand all the Rick Perry Support that nigga ain't done shit for our state if anything he's made it worse, ask that nigga about sacrificing children's education FIRST in the budget cuts, ask that nigga about the large percentage of unemployed and uninsured, ask that nigga about all the tax payer money being shifted towards shit they're not even using, ask that nigga about police fucking with minorities on a regular basis, ask that nigga about all the schemes they're pulling to bring in more money for the state, hes sitting up there like "Oh Texas is doing good we got jobs and a growing population Im gonna apply the same principles to the rest of the U.S." nigga the reason why our population is growing is cuz everything is cheaper down here and as for jobs it's only these rinky dink jobs that are coming down here, ain't no major industry booms going on. If Rick PErry gets in the white house it'll just be George Bush on Steroids straight up
Skorp - September 19, 2011 01:51 AM (GMT)
word. My brother put me onto Ron Paul.
Daiz - September 19, 2011 02:07 AM (GMT)
and we're still not hearing shit about him
Skorp - September 19, 2011 09:53 PM (GMT)
because the rich don't agree with him. I'm voting for him regardless