Title: First Tombking Unit!
Spookymancer - March 4, 2012 11:07 PM (GMT)
Hey guys, just finished my first unit of 20 archers and thought I would show you. Pictures are not the best but over all I am very happy with how the army is turning out.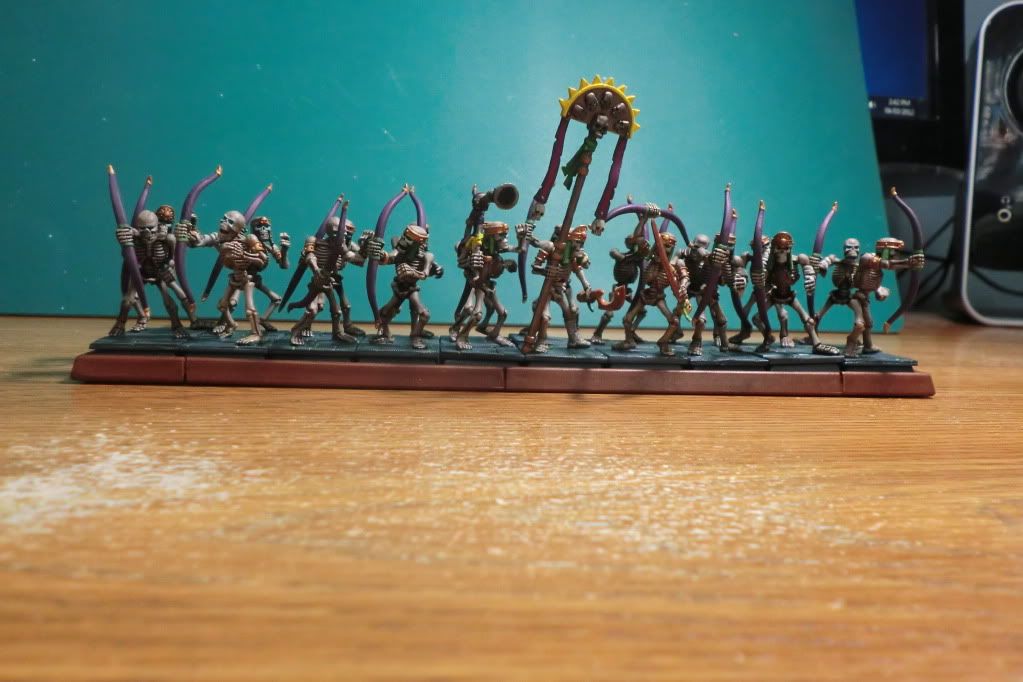 Jimmy - March 5, 2012 03:11 AM (GMT)
Looking good, great bases!
LevDaddy - March 5, 2012 04:40 PM (GMT)
You're off and running! You've got a nice and simply effective theme going.

Those bases are very cool and further enhance the theme. Well done.
Spookymancer - March 5, 2012 06:15 PM (GMT)
Thanks everyone , the theme I was going for was the black pyramid so hopefully the bases refect that. Hopefully more pics in the near future of the second unit of archers.

Spooky
Anubian Emissary - March 5, 2012 07:06 PM (GMT)
Purple! Yes! I love it!
I like your choice of using green to complement it. The glowy eyes are also very nice.
More please! :)
Spookymancer - March 29, 2012 10:09 PM (GMT)
Ok this is my first snake for my necopolis knights, I am really happy with how it turned out. Enjoy
Ben_S - March 29, 2012 10:51 PM (GMT)
I don't object to either purple or green, but I'm not keen on the combination on your skeletons. I think it might work better if at least one of them was darker, but it may look different in real life. Or it may just be me anyway. I do like the snake, but I can't put my finger on the difference.

The stone bases are a nice touch though. Can you tell us how you did them? Or were they bought?
Decadent_Puppeteer - March 30, 2012 04:57 PM (GMT)
+1 on the purple. It's a good start and I particularly like the snake.

One thing I'm not so sure on is the yellow on the standard. It just doesn't sit right to me. Purple and green is quite a bold combination to attempt and I don't know if the yellow goes with the scheme if I'm honest. At the very least, as you have given the skeletons such a worn appearance, it would seem appropriate to do the same on the banner too.

Other than that I think it's a stellar job. What really stands out are the bases, and of course: the eyes. How did you do them?
Spookymancer - March 31, 2012 12:43 AM (GMT)
Hey guys, thanks for the advice and the nice comments. The yellow is actually an accent color on the color wheel that I used so I thought it would suit things well in small doses.
The bases themselves are from a Uk model Train company, and I cut them to size. Here is the link for them
http://www.gascupboard.co.uk/walling-sheet...ne-ssmp228.html
Cheers
Zakttayr - March 31, 2012 09:34 AM (GMT)
I'm not entirely sold on the color scheme, but I can tell you've got some solid technique. There's alot of good blending and shading going on, and alot of detail being picked out and highlighted that most folks would be more than happy to leave the same color as the rest of the model. Keep up the good work!
Strange - March 31, 2012 01:38 PM (GMT)
I really like what you have done with the eye sockets
Spookymancer - March 31, 2012 07:16 PM (GMT)

Thanks !, the snake was a real challenge for me, as I have multiple Sclerosis and can only see out of one eye. But I do my best and really happy with how it turned out. I have figured out a way to magetize the riders which is really neat for transporting them and my sphinx crew are also magetized.
Vallah - March 31, 2012 11:58 PM (GMT)
Nice start, Spooky. :)

Will be interesting to see how you've magnetised the riders if you think about it next time you're taking some pics.

Keep up the good work bud!
Spookymancer - April 1, 2012 05:11 AM (GMT)
Thanks Vallah!, All I did really is glue a small rare earth magnet under neath the hood, and one on the riders foot, The magnetic pull is strong enough to hold him in place but not so strong I can't remove him very easy. I will post pictures of them when I am done

Spookymancer - April 23, 2012 06:51 PM (GMT)
Here is the first unit of necropolis knights in progress, I just need to finish the riders and its all set, the riders themselves are magnetizes for easy transport and storage. Enjoy!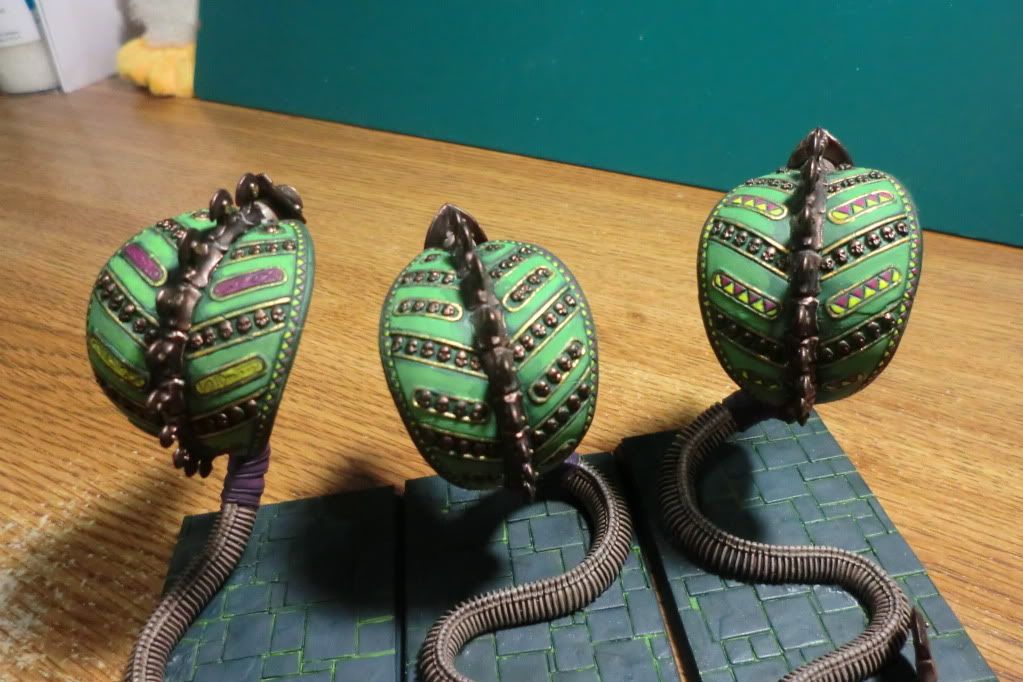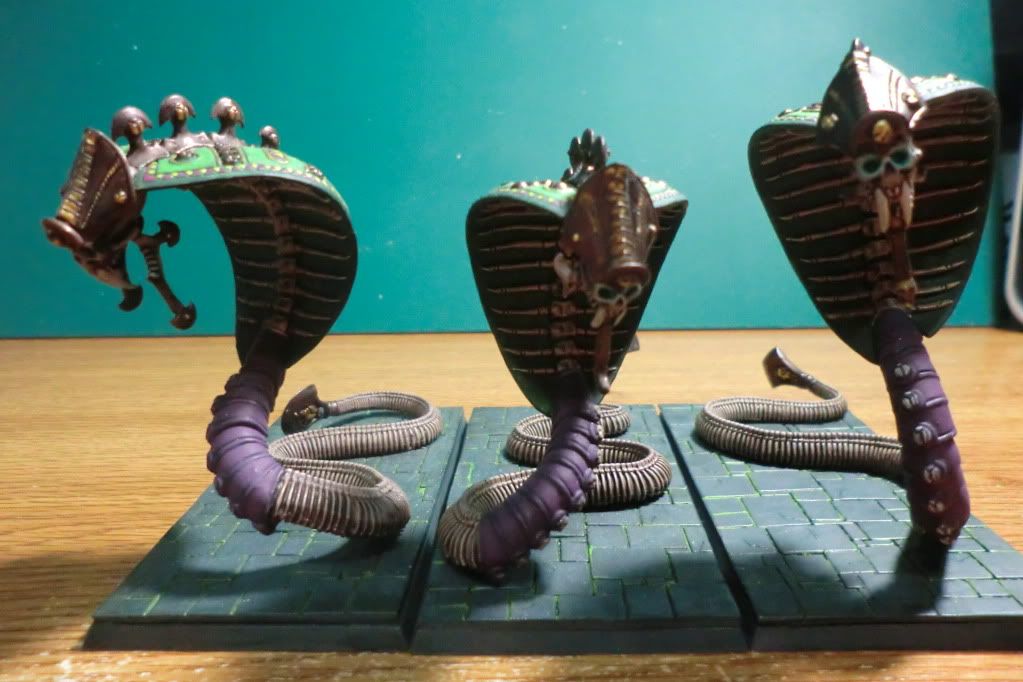 Spookymancer - May 2, 2012 01:48 AM (GMT)
New update with completed Necropolis knights