Title: New High Elf Rules
Description: How to counter always strike first rule
Rickea - October 24, 2007 12:52 PM (GMT)
Hi All,

Back on the Forum after break (Daughter is on her High School Crew team and that has eaten up a bunch of my time with all the practices) after getting the new White Dwarf Mag about the new High Elf Book.

For those who haven't seen it yet, the new book continues the recent trend of lowering the cost of core infantry, adds 3 types of dragon mounts, a new Lion chariot that is brutal, and lowers the Core unit requirement and increases the number of special units allowed. Also Sword masters have more attacks and there are new units as well as more character choices.

However, the biggest rule change is that High Elves now always strike first in combat, even if charged :o . The Fluff reason is that they have been training for centuries and therefore are experts.

This will make it a lot tougher in CC facing High Elf armies as you will have to be able to absorb the hits up front before swinging back, though the elves retain their old stat line and so are fragile once you get into combat. Bigger blocks seems like a possible counter to me.

Impact hits come before CC, so chariot charges will still likely work as will shooting and magic. What other changes should we consider when facing the new HE armies?
Esco Thomson - October 24, 2007 01:31 PM (GMT)
I do believe that there is now a strength 7 dragon at their disposal. That worries me more than the SoA rule. IMHO it just made our chariots an even better choice against them.
Danceman - October 24, 2007 01:53 PM (GMT)
Chariot of fire is something you should consider. Add in supporting chariots and you probably be able to remove the entire first rank thus nothing or almost nothing will strike back. Mainly against Swordmaster which I guess we´ll be seeing alot but also against White lion units.

If you face multiple dragons then you should consider the Flail of Skulls, it´s monster slaying capabilities will surely help out alot.

SSCs are a no brainer really, expensive ranked up infantry :)
Archers will be very useful.

Concerning the Lion chariot, it is only T4. Hits hard but still as fragile as our own chariots(might have a better save but it costs like 120-130 points or so I believe).

The item that worries me the most is some orb or tome which completely cancels the magic phase, one use only though but still... bad news for us.
Could be used in a vital point in the battle. Thankfully it´s something like 80 points so the wizard carrying it wont be having some of the offenceive items and little to no protection, so perhaps this means it will be left at unused(hopefully).

All in all I think we are quite well suited to fend off this new elven threat.

Cheers


Whistler - October 25, 2007 06:13 AM (GMT)
The fact that multiple dragons will be chasing and hunting down ou're LP does concern me though.Infantry heavy HE armies will be a though nut to crack,even for Chaos.They have speed,mobility,bolt throwers,dragons,high str attacks...But they still are pretty soft indeed.Any changes to the HE lore ? And not to forget the birds ;)
geofreak - October 25, 2007 04:37 PM (GMT)
Well, first off, only the elves (not horses, dragons, or eagles) get the ASF rule. That makes things a bit easier to handle, though not too much.

The nasty special units are expensive (15 points/foot model), so it's not like we'll be seeing 4 units of 18 swordmasters out there (that'd be 1080 points before command!), and the dragons aren't cheap either (two will set you back ~750 points with characters, not including magic items! The downfall of the HE armies will be that they will be outnumbered most of the time. Expect total model counts less than 75. Large units will be key...get 'em stuck in combat and then flank to negate ranks. As long as you have 3-ranks, standard, flank, and numbers, you'll be up 6 before they even attack. Spear-elves and Lothern Sea Guard--hit 'em in the flank/rear...they can't attack in multiple ranks and even striking first will likely lose combat.

The High Magic lore has changed a little, with Fortune is Fickle and Walk Between Worlds gone. There is a new spell that makes all HE units within 12" stubborn (ouch, but as long as we outnumber, it shouldn't matter). Ring of Corin is now a one-use only item and Power Level 3. Seer ability is now an Arcane Item--only one per army now.

Shoot the elite foot troops first with bow-shots, and target non-ItP units with the catapults. Mage hunt with the scorps/swarms, and march block with the carrion.

While a King might be nice, as he'd survive most attacks and be able to dish out a few wounds himself in return, a High LP seems in order. You get the 2 dispel dice and many more attempts at healing units, which will be key against the HEs. You will win combat through attrition and static combat resolution (numbers, ranks, flanks, etc.), not by dishing out wounds. The HLP, LP, LP, Prince army should fare well.

Just my initial impressions.
Danceman - October 25, 2007 07:13 PM (GMT)
I would say both work. Wounds also count towards combat resolution.
I dont think we have adjust our approach much at all and I dont think I´ll be needing big blocks of infantry to win.
Granted I usually have 2 infantry units 20 strong, which certainly will be enough.

Small army means each wound counts, we can bring ours back, they cant.

Well, time will tell :)
Cyberactivity - October 26, 2007 02:13 PM (GMT)
Is the strike first rule just for first round of combat or is it for every round?
High Liche Zozer - October 26, 2007 03:21 PM (GMT)
Every round.

TK suffer very little from most of these changes. The str 7 dragon, and the fact that even heroes can carry the starlance make it slightly riskier for chariots, but at the same time, anyone that can field chariots in number can clean up against the expensive t3 troops. The vortex costs 75 points and is therefore only available for an archmage, which is a lot of points. It hurts us in pick up games, but at events it will not be used that often as one is bound to meet low magic armies when bringing it.

High elf armies will generally have a painfully low model count, which will not be too difficult to exploit. They are still largely vulnerable to fear, will be generally slower as people try to incorporate all the new foot units, and are still pretty reliant on magic.

I play HE and I have spent a couple of hours reading the book at the local store: it will not make them unduly difficult to beat. They will be competative in the right hands, no doubt, but TKs have little to worry about, especially compared to other races.
Rickea - October 30, 2007 12:01 PM (GMT)
A couple of add on points on this subject from the White Dwarf articles:

1. Zozer's observation on low model count is right on - here is one of the two sample 2000 list armies from the magazine;

HE Prince on Star Dragon with Star Lance, Armour of Caledor, Dragon Horn (610)
Dragon Mage LV 2 wiz on Sun Dragon with Guardian Phoenix & Dispell Scroll (430)
10 Dragon Princes FC, Amulet of Light & Banner of Arcane Protection (390)
12 HE Archers FC (157)
20 HE Spearmen FC (205)
2 Repeater Bolt Throwers (200)
Total points 1992

So the above list has a model count of 50 but includes 2 Dragons :huh:

2. I mentioned the changes in core units number above, but forgot to put in the new composition numbers for 2000 HE lists:

Core 2+ (decrease of 1)
Special 0-6 (increase of 2)
Rare 0 - 4 (increase of 1)

One final note on the new Dragon Mages - they roll 1 more power dice than normal which is supposed to represent their wild nature (more powerful casting but higher chance of miscasts).

I haven't picked up the new book but probably will this weekend to see what else has changed.

Danceman - October 30, 2007 02:16 PM (GMT)
That list is odd IMO. Only 2 units are much of a threat and the small dragon is more like a manticore with a little better stats.
Infact like most White Dwarf lists it´s quite tame and makes no sense(Full command on a 12 strong archer unit?).
I mean fielding 3 units + 2 war machines and 2 characters in a 2k game?
Half the list is fast, half the list is slow.
Basically, take care the fast stuff and march block the rest and you´ll have a field day against that one. Dont expect lists like that when facing a competent high elf player.

Lindsay40k - November 10, 2007 02:09 AM (GMT)
Swordmasters look horrible to fight, I don't think any of our units can win a fight against them. It's going to take a Chariot charge to stop them hitting us, which supported by a Chariot of Fire will be more successful. Course, T3 infantry still hate bows.

White Lions could be dangerous, given their very high resistance to bowfire - a SSC shot is what's needed there, otherwise you'll just get baited into charging a unit into forest and getting left stranded there when the Lions flee the charge.

Lion Chariots? Bah, they only come in ones. However causing Fear makes these (and Phoenix Guard) very reliable supporting units that you'll have to beat decisively to drive off.

The new Dragon has a massive Chariot base footprint. Exploit this; bait it to charge a fat archer block immediately in front of your Heirophant, and have a TG unit use Rakaph to reform to 10 wide and charge its flank. You can do this at a deceptively high distance from the Archer unit that makes the charge against the archers feel safe. You then have 10+ killing blow attacks against a powerful character - which must be doubled by shotgunning through Smiting. (A TK with DoE is a brilliant unit leader for this ploy).

This may be an unconventional idea, but Caskets have potential. Match their dispelling abilities (exceed them if you take Staff of Sorcery), and each kill it gets is an expensive model.

Incidentally, don't panic when you notice that Rare choices are actually X 2, not + 1. This only means they can field two of Bolt Throwers per 1,000 pts - which in most other armies come in pairs as a Special choice anyway - or alternatively Great Eagles - which aren't a massive threat IMO.

However, this could mean some nasty Dogs of War choices - a unit of Maneaters per 1,000pts is not to be sniffed at.

Oh yeah, and Korhil on a Lion Chariot could be damn nasty - fast, stubborn and immune to fear so able to tie up a unit for ages, and with loads of S 5+ attacks he can kill any unit faster than you can heal it. I would suggest a FoS in the face to deal with this one, failing that a counter-charge from some Ushabti or a Giant to smash his Chariot and eliminate 4 of those S 5 attacks.
King of Tombs - November 11, 2007 06:31 AM (GMT)
just in my opinion
i think im just going to start using khalida now
cus im just going to rain poisonous arrowns and flaming stulls on them
i think it would work but the dragon im kinda worried about
ill have to use crazy shots or do my esimations correctly and nail it with a skull
so ya
im just going to sit back and shoot them
Whistler - November 11, 2007 10:29 AM (GMT)
My mate at the shop saw the book yesterday.From what he said, i can conclude this:
-Dragon mage is cool and rather good.Being able to cast both his spells with three dice (he get's one for free with each spell) is rather amazingly good.
-Swordmaster are indeed very good, but he also pointed out that massive Phoenix Guard unit's led by the special character (forgot his name) will become valid.I'm talking about 40 PG in one unit, supported by BSB.
-The high end dragon is costly but solid.The lowest dragon is like a manticore but a bit better.
-MSU White Lions looks like a tactic, together with Korhil.
-Eltharion kind off sux for his points, the rest of the special characters are good.

All things considering, High Elves can actually be very varied, from massive bowfire, magic heavy and combat orientated.He also pointed out that they still are T3.

Edit:Oh i forgot, he also pointed out they NEED the ASF rule.Otherwise they would be to fragile and elite.
Dread_King - December 6, 2007 08:21 PM (GMT)
:huh: this new elves seems to be nasty! hmm but noting i will not overcome. They have an eternity...but we are already dead! so lets welcome them to the aftelife :rolleyes:


Nice tips here btw. very nice forum if not the best!

cheers.

PS: im back into the fold after a year or more. Good to be back. :D
Ramesesis - December 6, 2007 09:17 PM (GMT)
Since I am coming over from the elven side, I can say that much of your observations are correct.

I have also been thinking along Khalida lines, but I need to accuire some archers first. But generally bowfire is a good way to go. But the HE will be pretty good in this respect aswell.
It seems as if a standard army will often start of with 2 ten strong units of archers as core. And mostly they include the mandatory 2 RBT:s.
Now that is 32 arrows. Add an archmage, well maybe Teclis himself and a BSB and you got a nice strating point. A second mage for more spellcasting and you still are looking forward to a reasonable large amount of units that can protect them should they choose to castle.
Castled HE have proven to be really ugly for us asrais to deal with, and you got to use every cover you can find! But Tomb scorpions and Screaming skull catapults can be of great use.

For hand to hand, I think the Tomb guard will be important. Sure, they are not as hard as grave guards, but they are hard enough, and might do reasonably well. Heavy cavalry is valuable also, simply because of their 4+armour save.

Swordmaster should be first priority for arrows, and avoided if possible. Still Ushabits and Bone Giants will be useful.
But as you said, TK can bring back the dead, HE cannot. I do not think a HLP is necessary. A kings ability to add a magic standard to a infantry unit will be worth it.
Nick - December 7, 2007 11:04 AM (GMT)
Being both a HE player and a TK player I've played both with and against the new High Elves. ASF certainly doesn't make them broken and the entire army which powerful is extremely fragile. Playing with the High elves I've learnt to fear anything that can shoot my dragon mage aswell as anything that can shoot my Swordmasters. Playing against the high elves I used chariots on the swordmasters (didn't kill them all but knocked off a few) aswell as magically charging the dragon mage with a scorpion. Shoot archers at the expensive low armour stuff but make sure you focus your fire, even units of 6-7 swordmasters can be deadly if they get a chance to lay into something.
CURSEDOFTHEDICEGODDESS - October 26, 2009 03:54 PM (GMT)
SoA for the HE is necessery as has been mentioned. To make a point play the game and see how they do without it. Aside from their characters you will find that the rest of their units simply don't match up. They are too fragile. Can't say I agree with the fluff but they simply need it.

Not keen at all on the piles of dragons! Assasinating characters (possibly), using the Tomb Scorpions on suicide charges is not a tactic I like but have had to resort too. They tend to lock us down in the magic phase but not always.

Just think they have been brought up to standard not overpowered. Although admittedly means our overpriced troops suffer badly against them now.

COTD
Semerkhet - October 26, 2009 08:58 PM (GMT)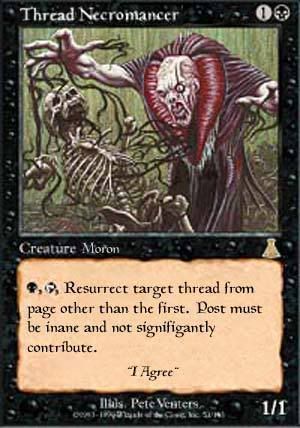 I think this is one on an epic scale :D
Vallah - October 27, 2009 12:14 AM (GMT)
QUOTE (CURSEDOFTHEDICEGODDESS @ Oct 26 2009, 03:54 PM)
Although admittedly means our overpriced troops suffer badly against them now.

Ushabti aside (and BG obviously), our troops aren't overpriced if they are used properly IMHO.

Shameless bit of necromancy aside ;), I'm inclined to agree with you bud. TBH if high elves didn't have ASF they would have absoloutely NOTHING going for them, would they?

Maybe it's just the rum talking, but I love it when I get a bye... -sorry- high elves opponent in a tourney because they are just soft morris dancing ****s. :lol:
CURSEDOFTHEDICEGODDESS - October 28, 2009 04:01 PM (GMT)
Maybe it's just me but I thought the wood elves were the soft morris dancing pansies?

Got a wooping last night from a HE player - somewhat bitter. By wooping I mean everything in his army dead except 2 dragons.

Which for the last 2 turns decimated everything. At least my heirophant made it out alive... :(

CotD
Vallah - October 28, 2009 05:33 PM (GMT)
LOL. Well they're all T3 tree-huggers. Except maybe for DE, they're more kinda tree stabbers... but I digress. :)

Star dragons are a royal pain in the bum and no mistake. Your best bet with those is to employ a Fabien strategy as much as possible and redirect them with light cav etc. You can also try tarpitting them somewhat, but this will require a lot of resummoning. :(

Probably your best bet is to use a mix of static CR and impact hits from chariots etc. You'll still need a little luck to bring them down, although the suicide prince tactic has at least a 50/50 chance to turn the tide in your favour.
CURSEDOFTHEDICEGODDESS - October 29, 2009 10:30 AM (GMT)
Well had succesfully redirected them for the whole game. But when they finally ran out of little things to chase combined charges just slaughtered me. Ho hum. Will have to work on positioning.

Even my opponent admitted it was a little sick. But then his army was no different to what i have seen fielded by quite a few others

CotD