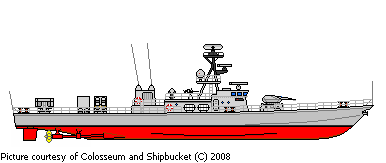 Image courtesy of Colosseum and Shipbucket. Many thanks.
Discussion thread
The Type 12 Patrol Craft was designed as a smaller and faster patrol vessel to complement to the larger Type 11
Houston
class Patrol Craft, which was constructed in Cotland with the permission of North Point's Sun International Systems. The Royal Cottish Navy anticipate that these boats will be used for littoral and coastal patrols and operations, fisheries protection duties and riverine patrols.
The designers of the Type 12 decided to take advantage of modern technological advances, and the Type 12 features a large level of automation, something which allows for a relatively small crew of only 21 men (the Royal Cottish Navy plans on having four officers and seventeen enlisted men, of which nine will be conscripts, crew their Type 12s). Due to the small crew count, the accommodations for the crew are relatively luxurious. Each crew member has his own bunk (in previous classes, the junior-most enlisted had to sleep in hammocks), and off-duty luxuries include a DVD player and a widescreen TV in the mess (which also functions as recreation room), high-speed broadband Internet access (when military traffic doesn't take precedence), and a hot-water shower (something not normally found on a Cottish patrol boat).
As far as armaments go, the Type 12's main armament is the
AMESM
supersonic anti-shipping missile (Mach 1.5) with some land attack capabilities, which has a range of 310 km and carries a 295 kg penetrating blast-fragmentation warhead. Eight of these missiles are carried on each Type 12, and allow the Type 12 to engage enemy targets from a relatively distant distance. For close-in targets, the Type 12 is armed with a 35 MM autocannon mounted in the bow which can fire both armor-piercing, incendiary high-explosive and AHEAD air defense rounds, and two Doomani-made MGM2 15.7x131 MM (export version has the M2HB Browning 12.7x99 MM due to export limitations on the MGM2) heavy machine guns. For self-defense against incoming missile (and limited aerial) threats, the Type 12 is fitted with a single Mk.53 PDM launcher in the aft of the vessel, which holds 21 point defense missiles of the type BLM.34 Grumpy. The Type 12 is also issued two MANPAD launchers for short-range man-pack surface to air missiles.
The Type 12's principal power plant consist of two marine gas tubine engines, each capable of giving a power output of 6.1 megawatts, allowing for a sustained cruise speed of up to 35 knots. In times when an even greater speed is required, the Type 12 can activate the two smaller secondary gas turbine engines and get an additional power output of 1.8 megawatts. These two power plant systems are connected in a COGAG arrangement, which allows the Type 12 to move at a top sprint speed of 42 knots, which is more than sufficient for quick dashes up the Cottish coastline or rivers, or for the hit-and-run tactics that patrol boats have the most success with when facing off with an enemy invasion fleet. The high speed also allows the Type 12 to respond rapidly to intercept pirates, smugglers or illegal fishing, as well as rapid responses to distress calls.
Length (overall):
52 m
Length (waterline):
51 m
Beam:
8.5 m
Draught:
2 m
Freeboard:
1.8 m
Standard Displacement:
216 tons
Full Displacement:
224 tons
Block Co-efficient:
0.230
Complement:
4 officers, 8 non-commissioned officers, 9 enlisted
Power Plant:
Two DABB Marine TJ-215A gas turbine engines (primary), two DABB Marine TJ-274B gas tubine engines (secondary) in COGAG arrangement
Shafts:
Two shafts, two propellers, two rudders
Speed (maximum):
42 knots
Speed (cruise):
35 knots
Endurance (supplies):
14 days
Endurance (fuel):
2 000 km @ 25 knots
Armament
Gun
1x Våpensmia M765A1 35 x 228 MM autocannon with 900 rounds
Missile
2x Mk.55 Quad Launchers
Standard load: 8 BBM.30B
AMESM
anti-shipping missiles (can be replaced by RGM-84 Harpoon, MM40 Exocet or similar anti-shipping missiles)
Point Defense
1x Mk.53 Point Defense Missile Launcher facing aft
Standard load: 21 BLM.34E
Grumpy
point defense missiles
2x FIM-92G
Stinger
MANPAD launchers
Standard load: 12 FIM-92G
Stinger
Block II short-range IR-guided surface to air missiles
2x M2HB 12.7x99 MM heavy machine guns (one facing port, one facing aft) with 2 000 rounds per gun
Aviation:
None
Sensors & Electronics
CE/SSR.47E Surface Search Radar
CE/SNR.36E Navigational Radar
CE/SFD.84E Fire Direction Finder
CWBG Mk.IX Weapons Guidance Suite
CE/EKS.47E Defensive Electronic Warfare Suite
Build Cost:
$70 000 000
Annual Maintenance Cost:
$15 680 000
Annual Crew Pay Cost:
$527 000
Export Cost:
$85 000 000