--Basic Information--
(Cytec is merely an addition to the Great Old Ones')
(May fight more than one, or one challenged battle)
(Avatar Character, final)
Name:
Cytec
Nickname(s):
The Twin of Ninsita, C'ytec, Tec-Tec
Race/Species:
Great Old One
Alignment:
Chaotic Neutral
Age:
Ageless
Gender:
Male
Height:
Depends
Weight:
Unknown
Eye Colour (Humanoid):
Thick Black
Eye Colour (Great Old One):
Translucent Blue
Class:
Undetermined
Abilities:
See below
What exactly is a Great Old One?
The
Great Old Ones
are ancient creatures of immense power, and most are also colossal in size. They are worshipped by deranged human cults, as well as by most of the non-human races of the mythos. The Great Old Ones are currently imprisoned—a few beneath the sea, some inside the Earth, and still others in distant planetary systems (and beyond). The reason for their captivity is not known, though there are two prevailing theories: (1) They were sequestered by the Elder Gods for committing past transgressions, or (2) they are sealed off somehow from the rest of the universe by their own volition.
--In Depth Information--
Description:
Although Cytec resembles the offspring of Cthulhu, he is technically the brother of Cthulhu himself; however Cytec isn't as malignant in appearance. The relative height ranges from seven foot to forty feet, his Great Old Ones form, which will be implied throughout the profile, towers toward a height of forty feet whilst a humanoid form extends toward seven feet. Cytec doesn't possess the ability to drive entities insane by the mere sight, although he doesn't possess ancient magicka long forgotten aeons ago. Below within the links you may find the appearances.
Click Here
Great Old One Form.
Click Here
Humanoid Form.
History:
After the fall of his brother's island,
The Twin of Ninsita
left the region and resided within the depths of the mainland that was over seas, away from R'lyeh. The Great Old Ones were explained in Lovecraft's notes (The Necronomicon), incase you're seeking an in depth story about Cytec's brother, Lord Cthulhu and other entities, such as Outer Gods. Anyways, the creature left the island before it sunk into the depths, to where his brother slumbered until he may be risen, it flew into the sky and scared many travelers in the region, it was identified as The Twin of Ninsita, one of the Great Old Ones, yet they were assumed to be slumbering within the depths of the ocean.
When it arrived to the mainland, it sought a higher being to gain power over other entities. He found an avatar of an unworthy god that most would see as the coward and a bad leader, but the avatar was known to be immensely powerful amongst the other avatars. The avatar took the creature's challenge and fought valiantly, but then was beaten and spared… But he swore exile from the land and his own god he worshipped; this or he would be eaten and never given the proper burial.
Cytec didn't want to eat the poor avatar; he didn't want to be known as a monster to the people he ruled now. Each of them was forced and asked into changing their known religion, some were stupid and stubborn, to where they were eaten. Some were given gifts and promised to be under a greater god than the one they worshipped before. Although he was seen as a monster, he was quite logical and intelligent.
The creature inquired more followers as he sought for them, it traveled the land and destroyed many avatars and let them follow or go into exile. He was known to be a generous leader and known to be a friendly creature, but in battle, it was worse than what a god could accumulate.
The god of destruction, of a large tribe, wanted to destroy this entity. The story was to be told as a great battle. The god was able adroitly hinder most attacks; Cytec did the same as well. The god swung his sword, the entity swiped his claws. When the battle was over, Cytec reigned superior to the worthy god. The god was then exiled and had his life spared in all ways, he was never seen again.
Until this day, the creature is still seeking avatars and followers for his cause. Each one has fallen under his rule, but he remains as a great ruler, but most do not think so. He was known to be far different since he was able to morph himself into a humanoid, which most saw this as ungodly, but he saw it as normal.
Personality:
The creature is generally well-hearted, but within some battles, it looses all track of that demeanor and rips an opponent to shreds. Its Great Old One appearance usually speaks via telepathy and usually appears to be very logical and well-mannered, greater than his brother with which whom sank beneath the ocean. It doesn't get mad, just usually goes on berserk trips whilst fighting an opponent, and usually is incapable of being mocked. Both speak with a logical communicational structure, yet his Great Old One form only is able to send telepathic signatures that most entities can understand, whilst his humanoid form speaks using verbalized communication.
--Battle Information--
Fighting Style:
The creature is known to be quite quick and usually hits with powerful force, additionally possessing maneuverability. The creature usually maneuvers about the area and attacks with enough force to harm any opponent, which to you, feels like a punch to the face as hard as someone can. It sometimes may fly about and drop himself from some feet, utilizing his vast weight to better himself. The creature may appear to be weak, but it's relatively powerful for its appearance. The creature is also nimble and agile, and may prove to be an exceptionally worthy opponent. Yet, when he's in his humanoid form, he may be less of a heavy weight fighter and more of a lighter weight, but he still remains nimble, agile, quick, and strong, but his strength may not be enough to destroy some creatures with his bare hands. With his humanoid form, he may use material weapons, such as swords and other blades; he's quite skilled with these certain weapons. He also utilizes some deft, unique styles of fighting when he's in both forms.
Weapons:
Material weapons may only be used when he's in humanoid form. Since he does have a mid-sized opposable thumb and such, he's able to hold the weapon. Yet both have lot more natural weapons when in both forms, moreover both have the ability to use their tentacles to entangle creatures and humanoids, and either keep them entangled so their vulnerable, or crush them via immense pressure from the lengthy tentacles.
The additional natural weapons both sport are protractible sharp claws and razor sharp teeth, with which are able to pierce through various/all metals and such, and may sport the ability of lockjaw. The tentacles have a certain reach they may extend toward, but other than that, they're still great weapons next to the claws and teeth. Yet his claws and teeth grow larger and sharper whilst his strength and speed augments when he's in his Great Old One form.
Edge of Coil
: A material weapon that the humanoid form sports about during battle, the sword was from the first avatar he defeated in battle, the sword is known to be indestructible and auto-sharpens itself from an enchantment that a god bestowed upon it, other than that, it's a fairly normal sword.
The hilt is made from light weight steel with a substantial amount of gold plating; the pommel has a heavier weight to balance the sword out. The overall length of the weapon is about 38-1/4 inches. The blade itself is about 33-1/2 inches in length and the sword is about 4/30's thick. The materials of the hilt is explained above, the blade consists of a polished stainless-steel that's been forged a certain way that makes it as strong without the overall thickness. As explained, the pommel is full of a certain kind of metal that counters the weight of the blade, thus providing an equal distribution.
Interloper
: Axe of Kismet; another material weapon for his humanoid form from which he sports during various battles; the axe was brought to him by the god of destruction, the god saw him as a worthy opponent and handed him the axe without questions. The axe has few magical capabilities, but isn't indestructible, but is very strong and light for its size. It was enchanted by the god himself, with which provides some abilities.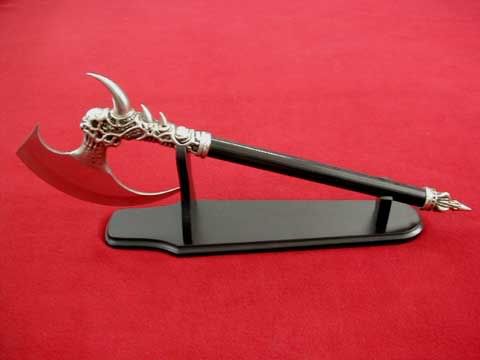 The shaft is made from a strong oak wood enchanted to resist magicka and pressure. The overall length of this weapon is about 24-1/4 inches. The blade's height is about ten inches, while the width of it is about 6/12. The metal is made out of polished titanium, stainless-steel, and aluminum; additionally the spikes protruding from the back are made from silver.
Fungdiferous Wound
: This is a magickal ability that the axe possesses, roughly the only ability it may possess. Once the axe strikes and breaks the skin, a fungous difficult to cure will quickly grow inside the body of the target, the body will start to mold and decay, and plants will begin to sprout from the flesh and their body will be consumed by a fungus, much like a tree.
Abilities:
His magickal abilities may be channeled from ethereal energies from around the area, for everywhere has ethereal energies as well as mundane energies, which are normal. His humanoid from may do some of these abilities, but they're only as half powerful. Every magickal ability can be combined or utilized; these below are natural abilities either form may posses.
Fly: Yes, he can fly! Not as quick as most entities, but he can. He has to be in his Great Old One form.
Amoured Flesh: Him and his Great Old Ones form sport tough skin, which are scales, that is able to resist large amounts of abrasion. But it matters on the form, if he's in the greatest form, and then his skin is extremely strong and resistant to all types of magicka. If he's in his humanoid, then it's fairly prone to various physical and ranged attacks, including magicka. The skin is also resistant to extreme heats and extreme colds, but it depends on the form really. The humanoid from is moderately resistant to increased and decreased temperatures.
Mindset/Mind Block: He and his other form have an ability to block his subconscious from intruders, yet you may be able to communicate with him using telepathy of its own frequency. But predicting its thoughts and moves is almost impossible. Once you boar into its mind, magically, you will find nothing, but you may still hear its voice asking you to cease your actions; he may let you read his thoughts, though. Both forms have low forms of looking into a persons' mind.
Xenoimmunities: His system is invulnerable to poison and other foreign substances that may initiate various status effects. His abilities may be hindered for about a post or two, but other then that, he's very much a powerful being unhindered by most things. He usually can manipulate such poisons that may be administered into the air or his body.
Alternate: This is an ability that grants Cytec with the ability to change into his greater form and to change back into his humanoid form, but this takes a while, since it's so complex and powerful. (Two posts maximum)
Immunity and resistance to Ice and Water: Both forms sport this ability, but only lesser or greater versions. His Great Old One form is completely immune to water and ice based attacks, and may even manipulate them at a low level of magicka. The humanoid form sports the ability to resist high to medium level ice and water attacks, but resisting isn't being immune. This was obtained by being partly aquatic.
Reform Missing Limbs: Both hold his ability, but it depends on the form to estimate the rate of healing. This ability is self explained, which means he's able to reform missing limbs. His humanoid form performs this at a slow rate and usually takes a three-five posts, depending on the amputation. His Great Old One form performs this ability at a rapid rate, and takes less or even a single post to perform. Each limb that's amputated will automatically dissolve and melt into the earth, but causes no real damage to opponents. He may not reform his head, for it'd be kind of stupid if he was able to.
Heightened Senses: His senses are very much heightened; smell, touch, sound, sight, and taste; both forms hold this ability. These are greater than most entities, and the ability to see heat, electricity, life, various light spectrums, and magicka gives it an upper hand, also the ability to smell the most convoluted things. His touch enables him to feel elaborate vibrations, but only if he focuses on this ability. His heightened senses may be traumatized, as well as himself, if there is greater forms of what he is sensing (i.e. earsplitting noises, noxious smells, bright lights, bad tastes, etc.)
Swimming: He is a superior swimmer, both forms sport this attribute. He may travel at great speeds once he begins to swim at a constant speed, thus he may be able to pierce metal if he comes in contact with it with his humanoid form. He may sink ships easily with his Great Old One form.
Magickal Abilities:
Information is explained above.
Poison/Pestilence:
He has complete control over the toxicity of the surroundings and of his own body. The acidic liquids and the toxic clouds are capable of rendering a being debilitated, kill, or may melt various objects, but if he is in a much powerful form, he may be able to melt the strongest of materials.
Cloud of Pestilence: A toxic cloud produced by the body from to the mouth of both humanoid and Great Old One form; the cloud is counted as harmful. The cloud can commence in debilitating an entity or killing them, even disintegrate amour and stone. The cloud will either spread, or will sustain a normal cloud appearance. The cloud only melts and kills an entity quicker if he's in his greatest form, with which the cloud will sink into the skin of an entity, or can be breathed in, and start to eat away at its insides and/or eat away at its skin/amour. If in humanoid form, it may only kill if it's breathed into the body, but if not, it shall do nothing; but it will debilitate the entity if it sinks into the flesh, which usually takes a while; doesn't melt amour. The cloud can be disposed of if the opponent would use mid-levels to high levels of wind magicka, depending on the form.
Flammable Cloud/Liquid: Much like the ability above, this is exhaled or vomited out from the body. However, unlike the cloud above, this one is relatively harmless and invisible to the naked eye, even to most magicka. The liquid appears to be no more than clear substance, same consistency as regular water. Hitherto, when a single spark would touch the liquid substance, it catches aflame quickly and heats up quickly in an attempt to melt various metals. If the spreading cloud is caught aflame, it facilitates a large explosion capable of destroying most objects and beings. Similar to the cloud above, the liquid can be frozen and the cloud can be blown away by mid-level to high level magicka, depending on the form really. Usually used with a combination with the fire abilities.
Acid Tongue: If bitten, a powerful poison will administer itself into the opponent's body, with which will dissolve their flesh and destroy cells. The humanoid poison is relatively curable by medium to high level magicka, and works real slowly. The Great Old Ones form poison acts extremely fast and takes high level magicka to eliminate it, but even then it's difficult to cure it. The opponent must be bitten though for it to actually work.
Godly Hallucinogen: This is an ability only used if he's in Great Old One form, which he releases an invisible gas untraceable by magicka, that which is exhaled from his body. The gas sinks into the skin or may be breathed in, afterward it will cause overwhelming psychoactive hallucinations in the brain, this attack is like a liquid as well, which makes it unhindered by various magicka; this attack may not work if the target has a great will-power, but even then its difficult to keep his/her self from seeing things, one might even see The Horned Man. (Every eight posts)
Liquid of Disintegration: This is done by vomiting a thick black liquid that melts anything on contact; magickal or non-magickal alike. Blocking it is very foolish indeed; it would merely melt through whatever the opponent presents as a defense, with which includes magickal barriers. The dissolving speeds depend on the form; the humanoid has a gradual speed whilst the Great Old One appearance has a quicker speed in dissolving. It's relatively avoidable; it doesn't go for a great distance, maybe about a yard at the maximum if he projects it just right.
Atrophy Gas: A gas much like the abilities above, which is the ability to exhale this as though it were a breath, the breath sinks into the skin or is breathed in, and causes an individual to age at a speed depending on the form he's in. His humanoid form may project this gas, and it may age and enemy at a slow speed, but fast enough for them to feel weaker, this acts every two posts. The Great Old One form projects a powerful gas that acts a lot quicker, which causes them to age every post. This can be susceptible to mid-levels of wind magicka, and may be curable by medium/high-level magicka. (Every eight posts)
Exhale of Malformation: Exactly like the abilities above, it's projected from the breath and spreads throughout the air, but relatively harmless. This noxious gas (xenosept) sinks into the skin, or is inhaled, and causes the cells inside and outside the body to split and form bizarrely, thus mutating the opponent into anything the gas chooses fit. The rate is determined by the form; the humanoid form's xenosept acts more gradually, but has a more painful experience. The Great Old One form's xenosept acts at a more rapid rate, thus being painless and barely noticeable. This is susceptible to high-level magicka of air and hydro standards, because it's partly liquid, it may be cured by medium/high-level magicka.
Acid Rain: An ability used in his humanoid form, with which he shakes his head to allow his living hair to sprinkle fast working acid in drops, this is avoidable in many ways, but the acid is relatively painful and powerful, able to melt the most powerful of metals, even magicka. He usually makes it last for a little bit, because it's drained of the acidic properties quickly. (Used every two posts)
Fire/War:
This is enabling to exhale fire accumulated from his body temperature, which is formed into harmful flames of many things. The fire exhaled is determined by the form of Cytec, which the humanoid form is just able to melt various melts and flesh, while the Great Old One form is able to melt probably almost anything. The fire is usually at short to far ranges, but usually less effective when the distance is greater.
Brother Suns: This attack is only invoked when he's in his Great Old One form; this attack is quite powerful in many standards. He summons an amount of gas from the bowels of his body, and then compresses them into two fairly large balls of burning blue gasses that he summons from his hands. The balls are then released and they roll about the area, melting and disintegrating anything within its path, even the earth. They're avoidable, but unhindered from blocking because of their intense heat. They also may not be blown away by wind magicka, think of two suns as the name says. This usually lasts for about two-to-three posts, and takes a few posts, depending on the size of both. (Used every six posts by me)
Dragon Breath: This attack is exhaled through an accumulated breath of heated proportions. The breath's power is determined by the forms, you know the drill. The dragon breath is known to reach great lengths, but looses its damage and heat as it protracts forward. The fire breath may also expand and provide a greater width, at a closer range, the fire is much hotter. He's vulnerable when he's doing this, he may not perform any physical attacks when he's breathing fire; he may channel this many times. (Every other post)
Croytipsy Meteor: Relatively self-explanatory. He summons a single fire ball that plummets down from the heavens and strikes an opponent. The damage is depending on the form, as usual, and the splash radius is additionally dependant on the form; the splash radius is the explosion after it hits, which means, it'll probably provide damage if the opponent isn't far enough. The humanoid form summons a lesser one, whilst the Great Old One form can summon a larger/greater one. (Every three posts)
Circle of Inferno: A power both may summon by expelling certain magicka from their palms. Cytec will then press his palm(s) to the ground, which will allow an eruption of fire to form an expanding ring, first starts at five feet. The ring's rapid expansion depends on the form, the radius will go about a few yards until it subsides if he's in his humanoid form, if he's in his Great Old One form, it's roughly almost a mile in radius, and there's a series of three additional rings in sequence, but this is avoidable either way, if the opponent is nimble enough. (Every four posts)
Chaos Worm: This ability is done by drawing immense amounts of heat from beneath the crust or he may draw it from its own body to form a large to mid-sized worm made purely of scorching, liquid flames; but the estimated time it usually lasts for depends really on the form Cytec's in. They summon a worm made purely of liquid fire, capable of damaging an opponent once it strikes an opponent, it reaches its destination by traveling through the ground and appears usually juxtaposed to an opponent, or may appear beneath an opponent; the worm quickly follows an opponent around until its time is up. The worm's size and duration is based from the forms, which his humanoid form summons a midsized worm that lasts about two posts; his Great Old One form may summon a fairly large worm that lasts for about three posts. This attack may be stopped by water magicka at a mid to high level.
Combustion Healing: Both may possess this ability, but the level of healing is determined by the form Cytec is in. This ability heals minor to extreme wounds found about on his body. His humanoid form may gradually heal minor wounds using fire to close the wound together and cauterize stated wound, such as penetrations and such, but his Great Old One may heal wounds quicker, and can heal extreme wounds, but this only works each post.
Friction Clap: This is preformed by both forms he may find himself in. This attack is done by rubbing his hands together to create friction, thus clapping them together to form an advancing wall of fire; the size of the wall is dependant on the form. The ground-level fire may continue its path for a while until it fades away. His humanoid form may summon a fairly large wall, roughly about six feet tall and three feet wide; nonetheless, his Great Old One form may summon a wall about sixteen feet tall and five feet wide.
Conflagration Pixies: This odd ability is done by summoning two or five streams, depending on the form Cytec is in, to swirl and maneuver their ways to the opponents, or opponent, he has to guide them around though via hands and fingers. The number is dependant on the form he resides in, with which he shall summon up to five of them if he's in his Great Old One form. Anyways, he summons narrow streams of pure flames, heat depending on form, that maneuver their way toward and opponent and ram into them or circle about them, doing whatever to destroy the opponent(s), which even includes combining together to from a larger pass. (Every five posts)
Flame of the Blind: Relatively self-explanatory if one thinks hard enough on it. Both forms may summon a large array of flames at the same magnitude that are capable of blinding a individual, it's also known to of a greater light magnitude than the sun itself, usually this is summon by shooting his palms forward while concentrating on heat. This only lasts for a few seconds before it gradually fades away. This may cause some cancerous damage randomly, but usually works by blinding an opponent for about a post or two, but may be avoidable through some odd means.
Murderous Volcano: This is summoned by both unique forms he may currently be in, but the size and magnitude depend on the specified form he may be in. This is done by ramming his fist into the ground at a substantial force; subsequently a mound will form beneath the opponent, or anywhere else; when it fully forms, it will erupt and shoot out a stream of molten lava from right under an opponent, or anywhere else. The humanoid form may summon a fairly large mound capable of launching a medium sized stream of molten lava; conversely, his Great Old One form may summon a large mound capable of launching a monstrous stream of lava from beneath an opponent; the lava will start to spread within a certain radius, depending on the from additionally. This attack is relatively blockable and avoidable, but blockable through complicated means. (Every twelve posts)
Lightning and Wind/Destruction:
These abilities are mainly based on the capabilities of a storm. The levels of the powers are determined on the form of Cytec. He may produce the wind abilities from the air around him or from his very breath, he may summon electricity from his own body; the velocity of the winds or the power the winds and the level of charges in the electricity is based on the form; even vibrations may fall under this category.
Tempest of the Beast: A basic attack that may be exercised by the Great Old One form, which is done by beating its large wings while staying in one place. The ability is known to be as powerful as a hurricane and may even rip someone apart, you'll never know. The ability may last for quite awhile, but it may be avoidable. This ability may also be formed into a powerful vacuum (tornado), but it's only if he changes the direction the wind may travel, so that he allows them to intertwine. High levels of wind magicka may counter act this certain power. (Every two posts)
Cyclone Shield: This attack is done by creating a sphere of violently swirling winds that form around Cytec, the size depends on the form. This attack is capable of tearing away the bonds of any matter that is able to touch it, repelling gasses, and is able to deflect various attacks by pushing them back with vicious currents. He's able to move about the vicinity, but at a very slow accelerating, while in this wind-bubble, he's incapable of attacking the opponent using anything but the shield. This attack lasts for about two posts, and forms to fit the exact size of Cytec. (Every eight posts)
Cry of the Twin: A special ability that utilizes the sound vibrations, which takes place as thunder. This attack is only available to his Great Old One form, obviously. The creature may release a bellowed roar that may cause the area to shake, or it may even create an earthquake additionally. The roar is able to cause most entities to explode by having their cells rapture, but this may be hindered with a vacuum summoned by high-level wind magicka. (Used every six posts by me)
Storm Siphon: This is an attack that's enabled by the hands and arms, both forms may be able to use this certain ability, but the level of it is determined by the form. This ability is focused on draining energy from attacks established; the humanoid form may drain a certain amount of energy, but slowly. The Great Old One form is known to drain vast amounts of various energies from attacks quicker. His arms become consumed by blue electricity, and the electricity attracts the energy from the valid attacks, and then drains it. (Every three posts by me)
Clap of Melodic Thunder: This is preformed by, ironically, both forms that he may find himself in clapping their hands together at a great power. The magnitude is dependant on the form though; his humanoid form has a more direct attack, it launches a spike of vibrations capable of piercing through the densest materials. His Great Old One form may invoke a large sonic boom of a large pattern that's capable of breaking apart the densest materials within the general direction of the blast; this attack is relatively blockable and avoidable, but blockable through large amounts of strength. (Every six posts)
Acolyte Bolt: This is an attack both forms may use, but depending on the forms, the attack is fairly different. The ability is sent out from his palms or a single palm that's extended in front of him. He summons the electricity within his body, and expels a partly homing arch of blue lighting that may last for a while, yet this is depending on the form; opponents in amour allow the bolt to cause more damage. His humanoid form is able to send out a single arch that is slightly homing, but may be dodged, and doesn't continue its attack in a chain. His Great Old One form may project the lightning at a partly homing standard, but instead of striking once, the bolt will continue to deal damage if it strikes the opponent, but it lasts for a short time. (Every three posts by me)
Divine Smog: This attack is relatively harmless. Both may summon this at the very same level of power, form doesn't really matter; this takes place as cloudy days. They magickally produce an immense number of thick clouds to cover the heavens, with which causes a thick shadow to cast itself upon the terrain, which makes it fairly difficult to see what's in front of the opponent's face, this may be hindered by high level wind magicka. The power maybe lasts for about three posts, but takes about half of a post to prepare.
Water and Ice/Drought:
These attacks are probably one of the more amplified abilities; the power level is dependant on the form with which Cytec takes. He may create flash floods and may summon ice storms of sorts. This magicka is what one of many ability categories he has great power over and benefits from these, since he is among the aquatic nature. He has a resistance and immunity to these as stated above, but these are some feint attacks or plain attacks, here's a list.
Drought: Both have this ability, but the power of it depends on the form of which he appears to be in. This is more like a draining and evaporating attack, which he extracts the moisture from the area until all is dry, he may also extract moisture from the opponent's body to cause them to wither. His humanoid form may extract amounts of water at a semi-quick speed, but he has to focus on this only and may not attack. His Great Old One form has a much quicker rate and may consume mass amounts of the moisture in the region, but he may not attack while educing water and moisture from the area. (Used every four posts by me)
Winter Blades: His humanoid form may only acquire this ability, and it doesn't last too long, but it is an effective weapon on the field, and does reform. He summons moisture via magicka, thus turning it into thin, razor sharp blades made of ice that attaches to his hands, rendering him unable to use his claws, but the blades do make an effective duel weapon. This lasts for maybe about three posts. This ability is susceptible to various forms and levels of fire magicka; additionally, the blades grow more twisted and lengthy when water is applied to them. Cytec may only use this attack only if he needs to.
Breath of the North: Much like the fire breathing attack, both forms may be able to use this power; much like the Dragon's Breath above, his attack is exhaled from the mouth and projected at a certain distance or radius. Unlike the fire attack, this one can freeze an opponent, but the rate depends on the form Cytec chooses. His humanoid form is able to do this, but the high-level freezing rate is a gradual process that needs to be pointed toward an opponent directly, while his Great Old One form is able to freeze opponents and objects at a quicker rate with a high level of magicka. (Once every post)
Sister Rainfall: This attack is available to both forms, but the power of the rain is dependant on the form he may choose for this. He summons a large batch of thick, gray clouds that appear above the heavens, with which he may create rain. His humanoid form may perform this at a steady rate, which he might gradually make a diminutive flood within the region. His Great Old One form is capable of creating a massive downpour, which will violently flood the area he's in. Thunder may be heard when this attack is initiated. This takes a while to prepare, roughly about two posts. This is usually done because it raises the strength and speed of his attacks; usually susceptible to mid-to-high level wind and electricity spells. (Every three posts by me)
Water Walking: His humanoid form may only possess this certain ability, with which is the ability to walk atop of water, no matter how shallow or deep.
Tranquility of Frost: This is a capability to where he summons up a batch of clouds to block the sun's rays or the heavens observations, which usually takes up a few posts in an estimated time ratio. The time it takes to prepare this is probably a paragraph, but the ability is rather harmless to opponents, unless they hate the cold. Anyways, once the clouds settle into their positions, intertwining together to make a giant mass of clouds, it starts to snow at a peaceful rate. The snow causes all magickal attacks to be silenced or to be lowered in power. This usually lasts for about three posts, and is available to both forms at the same level; this attack also, somewhat, affects the power of Cytec's magicka.
Surface Blizzard: Similar to the fire ring, this attack is can be preformed by both forms additionally. This is prepared the equivalent way the fire ring is created, but instead of just rings and that's it, its coats the surface of the ground with a thick coat of frictionless ice; the blast wave, which is a wall of blue flames, that forms the ice will automatically freeze an opponent if they managed to get hit by the rings with either form. His humanoid form may create a ten-meter radius of pure ice. His Great Old One form may form a rapid blast of ice with the intention of covering up a mile and a half, yet unlike the fire rings, this is one solid ring. This is relatively avoidable in both forms, but is unblockable by any means necessary, if an opponent attempts to block the small wall of blue fire; they will be automatically frozen solid. This can be stopped by various high-level wind or fire attacks. (Used very four posts)
Water Elemental: A worm availably summoned by both humanoid and Great Old One form, it's sort of like the worm in the fire category, but this is made of pure water that uses pressure as an attack, with which it rams into enemies as quick as possible. The creature is summoned from the magicka within Cytec's body. He summons a worm made entirely of water, with which is practically untouchable, although, it may harm you, but it is avoidable. The rate of speed and the size of this creature is all dependant on what form he's in; humanoid form has a fairly quick, midsized worm but with icy water that freezes on contact, but the ice melts away after a post or two; however, his Great Old One form has a quicker and larger worm, this worm rams into opponents using immense pressure. This summon is highly susceptible to high-level ice attacks, or various forms of wind magicka. (Used after every four posts)
Spirit of the Sea/Narnicina: A dominant attack only obtained when he's in his Great Old One form, which this attack is among harmful standards. His eyes glow a bright, sapphire blue that is so intense, it makes it difficult for some entities to look at him; it doesn't matter on his stance. Abruptly, a high-pitch screech erupts from the area, its not too harmful, just would make one cover their ears. After this, a great serpent made entirely of clear water slithers from the ground, its eyes glowing with beautiful sapphire, it seems to be the loveliest creature you could see, but most cower at the sight of a giant sea creature made entire of water. The creature would then quickly open its mouth to blast out a giant stream of icy cold water toward an opponent. If dodged in the nick of time, the opponent would still feel an immense cold, yet it technically depends on how close you dodged it. This attack is blockable in some cases, but it takes an immense amount of strength to withstand the pressure and temperature asserted by the serpent, physically blocking this is very illogical since the water would push on the opponent at a massive display of pressure with the additional painful, icy burn. This attack is fairly simple for Cytec, but may only be used a certain amount. (Once every ten posts)
Earth and Nature/Famine:
These are some of the abilities that he may posses among the nature and earth standards, he may completely better himself through this by increasing his strength and such. These abilities seem to be out of his typical standards, but do take in mind he's a lot different than his brother. Both forms may use some of these abilities below:
Berserk Ram: This is a semi-original ability both utilizing forms hr may be in, but the power of the attack depends on the form he is currently in, which is done by pointing their cranium and slightly crouching down as to get into a sprinting stance, subsequently he runs forward and he gains a large amount of momentum that enables him to charge head first, thus dealing massive amounts of physical damage. In his humanoid form, he's able to perform this, but it's blockable if the opponent sports a massive amount of strength and can deal with a constant force, while keeping his/her on the ground. In his Great Old One form, blocking it would be foolish, since his momentum is greater and his size/mass enables him to level large buildings, even penetrating through various magickal shields and attacks. This is somewhat avoidable, but blockable is another matter. He's unable to turn or veer during this, and if he strikes a hard enough surface during his humanoid form, he will be stunned for a short time. (Once two post)
Cataclysmic Rumble: This is a powerful earth ability only his large Great Old One form may sport and employ. Since his mass and weight is of larger scales, he's able to create splash-damage earthquakes or direct spikes (meaning straight on attacks) of cataclysms just by slamming his knuckles into the ground, or stomping his feet against the earth. This depends on the force he asserts upon the ground, hence, more force, greater of the two he'll produce. Cataclysms are splitting the ground in two and sending large rocks into the air and is a direct attack, if one is confused about the difference; an earthquake has a large radius and may be a lot more difficult to avoid. The cataclysms may be avoidable, but the earthquakes are much difficult, neither can be blocked. (Once every three posts)
Pillars of Nine: This ability is possessed by both forms he has, but the number and intensity depends on which form he chooses, which usually matters. This is an ability to summon large pillars that form from the ground at alarming rates; they're summoned by him either tapping his foot against the ground, which summons spikes from beneath an opponent or slamming his fist or stomping on the ground, which summons a pillar or nine that shoot up from the ground beneath the opponent. His humanoid form summons spikes of a smaller size, and the pillars he may summon are of a smaller diameter. His Great Old One form conjures up large spikes from the ground in a large group, plus the pillars he summons are thick in diameter. This attack is avoidable and blockable, and is susceptible to medium to high levels of wind and earth magicka. (Used every six posts by me)
Carnivorous Worms: Similar to the worms above, both may summon this creature worm-like creature; however, the size and strength all depends on the form Cytec finds his body in tuned with. This is usually summoned by him eliciting out an abrupt roar that may not be harmful to his opponents, but does call something from underneath the earth. A large worm will sprout from the ground, and start to borrow underneath the ground at a rapid speed and may sprout beneath and opponent or pop up around him/her, then attempt to bite the opponent using four metal piercing, poisonous fangs. The worm's blood is made of mid-level acid, additionally. The humanoid form may summon a mid-sized worm with a minimum strength level, whilst the Great Old One form may summon a fairly large worm with a massive amount of strength. This creature is susceptible to every medium to high level magicka except earth and nature, and may be avoided and may be blocked through complicated means.
http://i23.photobucket.com/albums/b390/Cor...k_Doll/worm.jpg
(Used after every four posts)
Deadly Soil: Much like the earthquake ability above only used by his Great Old One form, both forms possess this certain outlandish ability; which is to alter the soil itself into a living, carnivorous creature, but the power of this ability depends on the form he's currently in. He invokes ethereal energies from the ground by raising his hand slowly, his palm facing the heavens, and then he manipulates the ground to open up and swallow various parts of an opponent, or may swallow an opponent whole. In his humanoid form, he's able to manipulate the soil into swallowing various parts of the opponent's body by pulling them into the earth. In his Great Old One form, he may manipulate the ground to swallow and opponent whole and crush them with massive amounts of pressure and impale them using various rocks found in the soil. This isn't blockable since it comes from beneath the opponent, but avoidable and escapable it can be. (Three every six posts by me)
Endless Crevice: He may summon this ability only when his appearance is in Great Old One. He performs his ability by slamming his foot against the earth toward the general direction of the opponent, thus creating a direct spike of a gradually expanding crevice of endless standards, additionally causing a minimal quake. The crevice expands for about one and half posts, and is avoidable, but unblockable. (Every six posts)
Amazing Growth: Both may possess this ability of rapidly increasing the cycle of expanding nature, but the power of this ability depends on the form, obviously. This is done by summoning the powers of nature, such as vines and flowers, then warping them into weapons; the flowers can be turned into large, carnivorous and/or poisonous plants of beautiful natures, or may turn the vines into whip-like weapons, or may coil around an opponent and facilitate an amount of pressure to crush them, or may just throw them around. The humanoid form can turn the flowers into fairly large, carnivorous plants, or may summon vines that act as a whip-like weapon and a tool to trap his enemies. The Great Old One form may alter the flowers into large, carnivorous, and poisonous plants; he may also turn the vines into whip-like weapons and may coil themselves as means of constricting an individual with a tight grip. This is avoidable and blockable, and is vulnerable to medium to high level fire and ice magicka.