Title: Oct 17 - KISS FM Phoenix
nicoletagenoveva - October 10, 2008 06:26 AM (GMT)
QUOTE (Schnee;297807)
*runs back to find original poster* auryngirl


Speaking of Phoenix: They're apparently going to be IN STUDIO at the 104.7 KISS FM station next Friday!! (10/17) According to the DJs who made the announcement, they'll be giving an interview and playing live!

Transcription:

Johnjay: Tokio Hotel is coming in the studio.
Carrie: Nice
Rich: Which will be giant
Johnjay: They're coming in a week from tomorrow, Tokio Hotel hanging out and, you know, performing and jamming.

SO EXCITING!!!

Source: http://johnjayandrich.1047kissfm.com/cc-common/podcast.html Under the heading "Johnjay and Rich at Their Best" click on the podcast titled Ozzy Osbourne (10/9) [Random, I know]. Within the first couple minutes (starting at 1:11) they talk about the bbs coming to visit their studio!
QUOTE (Amizzle;297812)
The Johnjay and Rich show is broadcasted in 4 diffrent cities

Colorado Springs on My 99.9
Portland on Z100
Phoenix Kiss FM
Tucson 98.7 KRQ




:bk: :gs: :gl: :tk: interesant!...mie imi plac aparitiile astea radio!...sunt cool rau!





QUOTE (Amizzle;297868)
[CENTER] JUST CALLED.... FINALLY GOT THROUGH
THEY ARE DEFINATELY GOING TO BE ON!!!!!!!!!
M&G TICKETS ARE PROBABLY GOING TO HAPPEN
DJ SAID MOST LIKELY THEY WILL BE ON FROM 8:30-9 PHOENIX TIME!!!!!!
[/CENTER]
Peper - October 11, 2008 12:21 PM (GMT)
cat de tare , ei au mai fost odata in acel studio , nu ?
sper sa putem asculta si noi live , iar daca nu , macar sa apara multe videouri si imagini . :lol:
multumim de informatie !
Coockie - October 11, 2008 01:40 PM (GMT)
Can't wait for the pics :bk:
Si mie imi plac genul asta de aparitii.
dydytza_bill - October 18, 2008 10:35 AM (GMT)
dydytza_bill - October 18, 2008 11:02 AM (GMT)
am sters linkurile de download din postul anterior,pt ca daca tot nu mergeau,ce rost avea sa le las acolo...
si am uploadat eu interviul pe mediafire:
http://www.mediafire.com/?nzzy0ztmcnz
app,interviul e in format MP3
si niste poze de la ELINA/THUS
QUOTE ("miss r")
50 photos from KISS FM Arizona in the radio station gallery here
http://www.1047kissfm.com/cc-common/galler...album_id=144720
Tom appears to have skipped Halloween altogether and turned up dressed as Santa.

Uhm.

He can come down my chimney anytime.
nicoletagenoveva - October 18, 2008 11:31 AM (GMT)
=D de la SOKMASTER(my favourite fanboy0-THA!!POZELE DE PE SITEUL RADIO!!



QUOTE (sokmaster;313578)
Thanks sonnenstern for telling us that pics are up at the radio's site!

If anyone likes saving every single picture of TH they come across, like myself, and were wanting to save all the pictures from the website, well then the following link makes it a lot easier for you...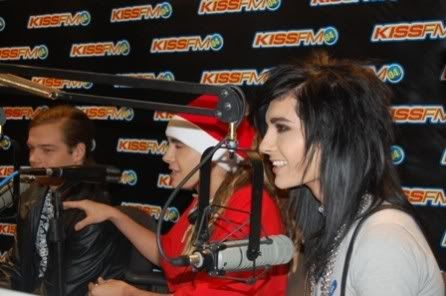 http://www.mediafire.com/?hm2yzznogmt

(35/50 pics from the website included. I haven't omitted any of the pictures of the boys, just the ones that did not contain them at all. Crowd only, radio workers, host only, etc.)

P.S. Doesn't it look like Bill just woke up minutes before they were supposed to go on... (maybe that's why they were really late...)


:bk: :gs: :gl: :tk: REVIEW!


QUOTE (Amizzle;313573)
AIRPORT STORY HERE!!!

It isnt all that great... :no: But it was still amazing :nod:

:fan:
Videos
In front of Radio, by Amizzle
http://s49.photobucket.com/albums/f268/Amb...current=005.flv
:bk: :squeeze: DANKE DYDY PT MP3-acum il ascult!!
nicoletagenoveva - October 18, 2008 12:32 PM (GMT)
:bk: revenind ...duypa ce am ascultat de 15 ori interviul....


lui BILL ii place HEX!!....me toooooooooo!

fana care a incercat sa le cante DDM si avea emotii de nu mai putea!!....oh,mititica,si maica-sa o incuraja!....si BILL a cantat un pic cu ea!....sweet moment!

a mai fost ceva....ceva despre cum fetele i-au furat.."elevator"(...asta inseamna lift,nu?!)...lui BILL..iar ei si-au amintit...

a fost simpatic interviul!....au confirmat participarea la acel festival pe 5 decembrie!

pfiu...de abia imi beau cafeaua ...sunt cam adormita!

:gs: inca nu ma pot obisnui cu noua sa dantaru!...shit!!....parca e ...proteza!... :hide: nu ma intelegeti gresit!sunt perfecti noii dinti....dar....VREAU DINTII DE VEVERITOI INAPOI! :fryingpan: :fryingpan: :fryingpan:
nicoletagenoveva - October 18, 2008 01:56 PM (GMT)
QUOTE (wundertwins;313357)
Just finished listening to the radio interview. Thanks for uploading the downloads and pics everyone!

I'm actually digging Bill's hair and outfit. He looked so cute! That's how he needs to have his hair if he's going to wear it down. Now if he'll just cut it so it's shoulder length...

Tom's outfit ==> :sg: "Santa Claus is coming to town!"

Fave quotes (my comments in italics):


Georg: MAG-DE-BU-RG! :rotfl:

Is Magdeburg like a po-dunk/boonie town in Germany? The guys are always saying how they disliked it.

Bill: It was in a little willage.
Tom: A village party.

Hmm...Santa's Village perhaps?

DJ: Do you miss being a normal person?
Bill: No way! I hate school.
Tom: School time was the worst time in our life.

They're such great role models. Lol!

Fan: What was the best part in Las Vegas?
All: Ummm....

They're all thinking: "What can we say other than strip club?"

Tom: I know some Vampire porno movies. :rotfl:

Gustav not remembering the fan he met in Vegas.
Bill: What happened in Vegas?
Tom: Vegas in the elevator. Sounds dirty!

Bad twins! Bad!

Bill: Wampires. It was always wampires.

It's official! The inspiration for Bill's look: hair, makeup, everything, are wampires! Not visual kei, not emo, not 80's hairbands. Wampires! :D

DJ: Do you mind giving us a few bars of Monsun?
Bill: No!

Bill: *thinking* Oh no! What am I going to do? They want me to sing live! :no:

Tom: F***! [when Bill was pronouncing "Ich muss durch den monsun."]

I can't believe they didn't edit that out!

DJ: People you will be performing with, Rihanna
Bill: I love Rihanna!
DJ: Fall Out Boy.
Georg: Great!
DJ: Pussycat Dolls.
Tom: Great!
DJ: Jess McCartney.
*long pause*
Bill: wow...

:rotfl::rotfl:


nicoletagenoveva - October 18, 2008 02:04 PM (GMT)
QUOTE ("Amizzle/THA")
I don't think Ive completely recovered.. its freaking 5:30 am ish and Im still wide awake.. Im so freaking happy! So Im going to try and get everything down that happened. *takes deep breath*

Whoa... Its super long so yeah, but thats pretty much everything that happened :nod:
So we get to the station at about 6:30 ish… It was so crazy because there was all these people there and when we walked up this girl was like "Did you win a contest?" and Im like HAH! I wish… and then we started talking to some of them and then they did there own thing. It was barely getting dark and we had already seen the bb's and knew what kind of cars they were in. Within 30 Minutes there were about 60 people just waiting outside… After about an 30 of them went inside because they won tickets. I was texting concertchk and halucy, I tried to do it freqently to keep the board updated but it was harder than I thought.
Okay so I get my picture taken a few times.. for the website. I didn't even know I was getting my picture taken :gah: So I look all scheisseti. Plus It was hot today… like in the 90's. So I was all hot from all the running around at the airport.
I had my signs and pics incase they signed stuff. They get there and everyone runs for the door and being the Ninja that I am I get right in the front! And start recording… Its not the best since I don't know how to work zoom on the camera since its new… Its all crappy so I think Im going to take it back. I tried to take pictures of the window and Tobi's shadow but it was all blurry and I just looked at the pics and there were squggily lines on it… :hide:
I wasn't texting all that much because I was too busy screaming and holding up my sign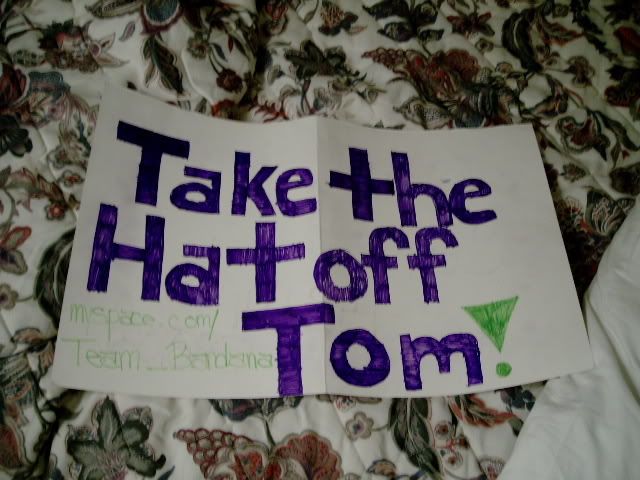 It worked!!!!
Because apparantly the bb's were going to stand at the window and pick people and I wanted to be noticed… But that never happened We were listening to it by the KISS FM SUV thing so we heard everything. They had tons of extra passes things and I was hoping that they were going to let everyone in. But at the very end after the interview was over the Manager asks "Who wants to see Tokio Hotel!!!" and everyone starts screaming and rushes the door.. The scary security men were like "GET BACK GET BACK" and the Manager dude just started picking people. At first In was on the side that was doing all the pushing They were like 14-ish and screaming. So I haul ass over to the other side where parents are and I just raise my hand out and they guy starts picking people… He looked at me and goes "YOU!" and Im like "MEH!! :shocked:" and he goes "YEAH Do you have a guest?" and I just grabbed Lyn's arm and was like "Her!" so he pulled us into the doors and there were already a few other people in there. About 10 more people were chosen to go up… I texted concertchk and then we went to the elevator.. and were taken down the hall to the "Kiss Lounge" where I expected the bb's to be waiting :o But the other winners were just there. This one girl from the AZ street team was nice and was really happy that we got in.
So I call halucy and then and tell her and then all the sudden Tobi comes in and starts his little speech thing… It was the same thing He didn't know how to say Stand side by side. He was saying One by One, or Next to One. Then he told us that we couldn't hug them and the whole they could fall, and Gustav could break an arm and they could never play again. So then he leaves and says about 5 minutes and then walks back in like 30 seconds later and is like "Oh yeah I forgot about one thing Gifts.. keep them till the end. And Does anyone have stuff to sign" Not many did (I did :D) and then handed everyone a Press Photo thing with all of the bb's on it from the Scream Album photoshoot, from a little manila folder. I called concertchk and then all the sudden the bb's walked in and everyone was screaming… It was so crazy surreal I don't remember if I said goodbye or anything It was like O.M.G.
They came around and I decided that I wanted to get my fave picture of Bill signed for Concertchk and Tom's Sex Gott picture signed… and have Gustav and Hagen sign the press picture since I couldn't be like "Umm Yeah… I don't have anything for you to sign" That would be lame.
So I have it on my poster and Bill is first and he looks at me and smiles… He said Hi first and I said Hi back. He signs the picture and then points the pen down the poster and says "This too?" and he is still smiling. I was just like "Umm Noo This its for my sister shes 12" and I pulled the press picture back and so he said "Yes" and signed it and said something like "Is that all?" and I said Yeah and I said thank you and he said Thank You too and Smiled again…. And then he went over to Lyn… I think.. I think she got her wallet signed again.
Tom was next… He recognized me too. He smiled and signed his Sex Gott picture and I asked if he could sign the press picture for my sister who lives in Montana. I don't think he said Anything either… I was couldn't say anything. So I said thank you and he said it back and moved on.
Hagen was next and I just had him sign the Press Photo.. his hair was in a ponytail and is was messy… I think I told him something along the lines of "Your hot" he laughed and said thank you. Tom was two people down from me now and that's when I said "Tom I love you" and He said "Thank You" and kinda laughed.
I don't think I said anything to Gustav other than Hi and Thank You.
Pictures were next. Everyone moved over. Everyone was going to get their own. Tobi started on the left side and went to someone and kinda shoved them over and said something like "Go On" About 20 pictures in he decided to switch sides and came over to the right side… I wasn't prepared I didn't know what I was going to do. I was like the third or 5th person on the right side… Tobi was close to me then and I said "Tobi my Mommy loves you" and he said "Thank You" and laughed… A lot of people laughed. Then he shoved me over to the bb's.Lyn told me that I was saying "Oh God Oh God" and covering my face but I don't really remember that. I said Hi to Bill again and he smiled again and said Hi I wanted to ask Hagen to move so I could stand by Tom but Bill placed his hand on my lower back and I was thought "Oh Shit" and then the camera dude was like "1,2,3" and I was like "Crap Crap Crap DO SOMETHING" So I think I turned my head… I probably should have put my shoulders back but whatever. The camera guy was like "its really good" Then I turned to the bb's and Waved. And someone said Bye. Muffin never smiled and they were teasing him and telling him to smile. In between pictures they would talk in German… I heard Bill say something about someone's braclet and scratching him.
The girl who got her purse signed by everyone but Bill asked me if I could ask Tobi if Bill could sign it(since Im so cool with him :nod:) so I was like "Tobi! Bill didn't sign my purse" and he looked at it and was like "Hmm… At the end we will do that" But after the pictures he kinda ushered them and I told one of the interns that "Tobi said that Bill could sign my purse" and the intern was like… "They arent coming back out".. and We were like "I don't care I just want my purse signed by him" so she went away and I gave Oni's pictures to the guy that was like supposed to get the gifts… I hope he gave them to him… ppl always seem to want to keep Oni's picture. I told him that They go to Georg… Not George. And that they were very very important. We were the last ones to leave since we had to wait.
I met Carrie from Johnjay and Rich… I love her.. I told her not to leave the show. And Intern Lindsay (who never puts me on the radio) was like "I don't want her too either" They walked us out and before we could go into the hallway to the elevators, they told us to wait because the bb's were getting in the elevators and leaving… So we had to wait. I asked If I could Yell something and she was like "NO" I should have anyway. So then when we got outside we still had to wait before till they were in the car and then we had to go out a separate way and I couldn't figure out how to open the door. They were like "You Push" and I was like "Oh… I can be stupid for a little bit I JUST MET TOKIO HOTEL!" I also turned right when they told me to turn left. (The bb's went to the right)
So when we get outside the bb's are leaving in their Escalade and Black Van thingy… Everyone goes chasing after them and are probably trying to follow them to their hotel… and yeah that was pretty much it.
Ive posted all the piccy's that I took during the M&G… They are rather sucky. But these are the things I got signed. Concertchks picture… Tom's Sex Gott picture. The Press Photo and My Meet and Greet Pass and some Free Stickers! :spazz: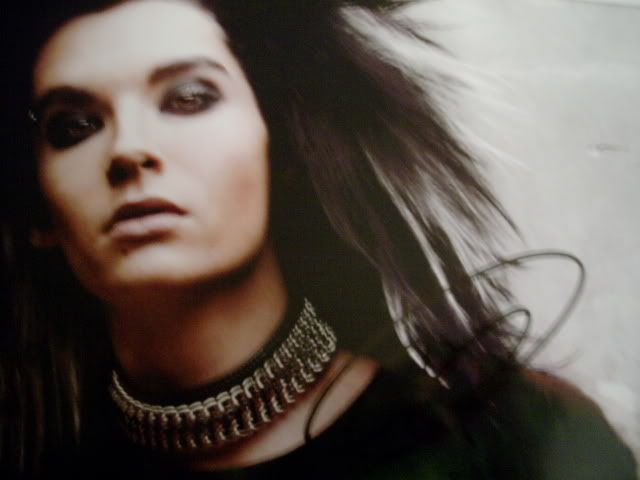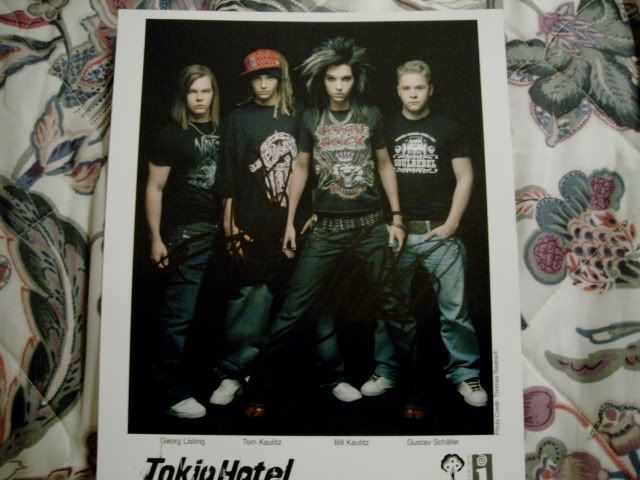 Aparantly at the signing I get something special since If I have my Meet and Greet pass thing!
dydytza_bill - October 18, 2008 02:58 PM (GMT)
danke nico,super :flail: :flail:
Coockie - October 18, 2008 03:08 PM (GMT)
Mi'a luat ceva sa citesc ce a scris fata asta,dar a meritat.
A descris superb si in amanunt tot ce s'a intamplat.
Iar Bill a fost un scump :bk:
nicoletagenoveva - October 18, 2008 06:36 PM (GMT)
nicoletagenoveva - October 19, 2008 09:05 AM (GMT)
QUOTE (Janz;314867)
:rotfl: I know.
Um, I don't know if I'm allowed to ask this or anything?
But I haven't seen David Jost around them lately :shock: Is he MIA or something?

Edit: I don't think these have been posted? :hide:




:tk: si raspunsul lui COOLBREEZEGIRL(admin.pe tha) la intebarea lui JANZ vis-a-vis de DAVID:


QUOTE (Coolbreezegirl;314946)
Since the boys are in the middle of recording their album and David Jost is their producer I think it's a safe bet he is more needed back home in the studio in Germany working on the songs they already recorded than following the boys around on their PR tour. He was also missing in the august-september trip. He doesn't really seem to be needed following the boys on tour or trips anymore. In the beginning when he was their "guardian" it was needed but not since the bosy grew older. For the Zimmer tour for example he was only with them in the beginning but not on the fall leg or the 1000 Hotels tour. It seems he is only with them nowadays on "special occassions" like some big awardshows (EMA, NRJ) or first concert in USA (where also Frank Briegman, CEO of Universal was with them apparently) if he's not busy in the studio.


:bk: LA MUNCA DAVID!! :lol: :lol:
nicoletagenoveva - October 19, 2008 09:07 AM (GMT)
QUOTE (cashicute12;314239)

His HAIR deff rocks!...I honestly didnt like it,when he puts his hair down coz its already long. But nao :wow:

..No lion hair BILL!!!!..jk.


:bk: :bk: :bk: :bk:
nicoletagenoveva - October 19, 2008 09:25 AM (GMT)
QUOTE (Janz;314613)

:rotfl: Checking on the boys


=D =D =D
gabytza - October 19, 2008 11:36 AM (GMT)
bubu in gri si ciufulit !!!!!1 :bk: :bk:
iar tomy mos craciun !!!!! :tk: :tk:

iar interviu de la radio , foarte marfa !!! saracul gustav ... ecel mai calm ,.. iar faceau misto de el .... si faza cu liftul ... unde se credeam in video lui flo rida .... s-a rusinat ,.... ca nu-si mai aduce aminte :lol: :lol:

ms fetele pt poze si video !!!!
pooooooooooop :squeeze:
Monica - October 19, 2008 06:22 PM (GMT)
QUOTE (nicoletagenoveva @ Oct 18 2008, 12:32 PM)
:bk: revenind ...duypa ce am ascultat de 15 ori interviul....


lui BILL ii place HEX!!....me toooooooooo!



Si mie imi place Hex!!!!!!!!!!!!!!!!!!!
Stau pana la 1:45 ca sa vad. :lol: Chiar voiam sa iti zic sa te uiti ca e tare si uite ca iti place ... si ii place si lui Bill. :lol:
:squeeze:

Parulllllllllll e bestial. :bk:
Thx de poze si interviu :huggles:
dydytza_bill - October 19, 2008 06:57 PM (GMT)
asa,deci pt ca de multe ori sendspace e la capacitate maxima,am uplodat interviul pe megaupload
e tot interviul de vreo 17 minute...
sper ca acum e ok:-??\
http://www.megaupload.com/?d=0USP8WOH
billth - October 19, 2008 07:59 PM (GMT)
Monica - October 19, 2008 10:42 PM (GMT)
Rodyyyyyyyy :squeeze:
dydy Thx de link : xxxxxxxx

Doamne cat imi doresc si eu sa particip la asa ceva, sa fac o poza cu ei :bk: :tk: :gs: :gl:

nicoletagenoveva - October 23, 2008 06:46 PM (GMT)
gabytza - October 23, 2008 08:56 PM (GMT)
ma zapacit freza lui :bk: :bk: :bk:

ce aproape a fost de ei :lol: si ce scumpic e :bk:
ms nico !!!!!!
pooooooooooop
nicoletagenoveva - May 27, 2009 04:41 PM (GMT)
QUOTE ("EEELIINA/thus")
:flail:
KISS FM. Phoenix, Arizona - 17.10.2008


More here.