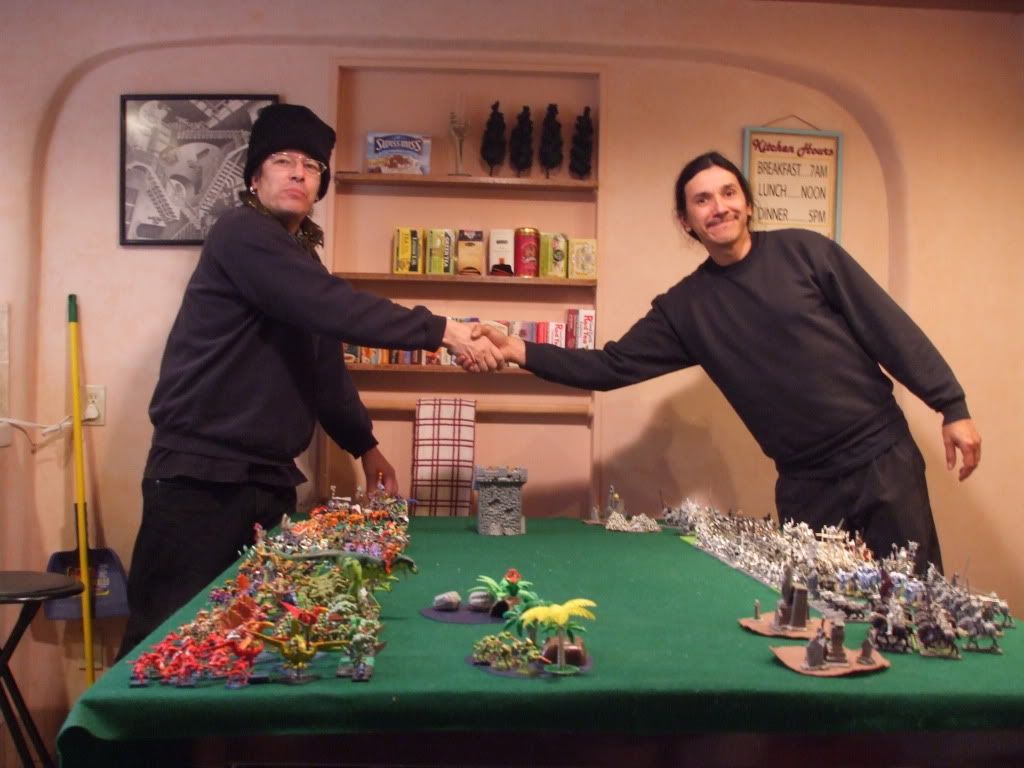 My friend Jesus and myself decided to play an epic battle for a change of pace we both did an inventory of our armies and we were both able to field a 10,000 points which required us to field a minimum of 11 core units.
We played Ten turns which took a total of four months, We both agreed on a blind set up (had a table cloth hanging from the ceiling) which really saved a lot of time it would of taken a whole day to deploy units if we went one by one.
Even with the curtain it still took two hours to set up our armies another thing we did in the game was to set Terran to a 6 inch radius which helped due to the sheer numbers of models on the table.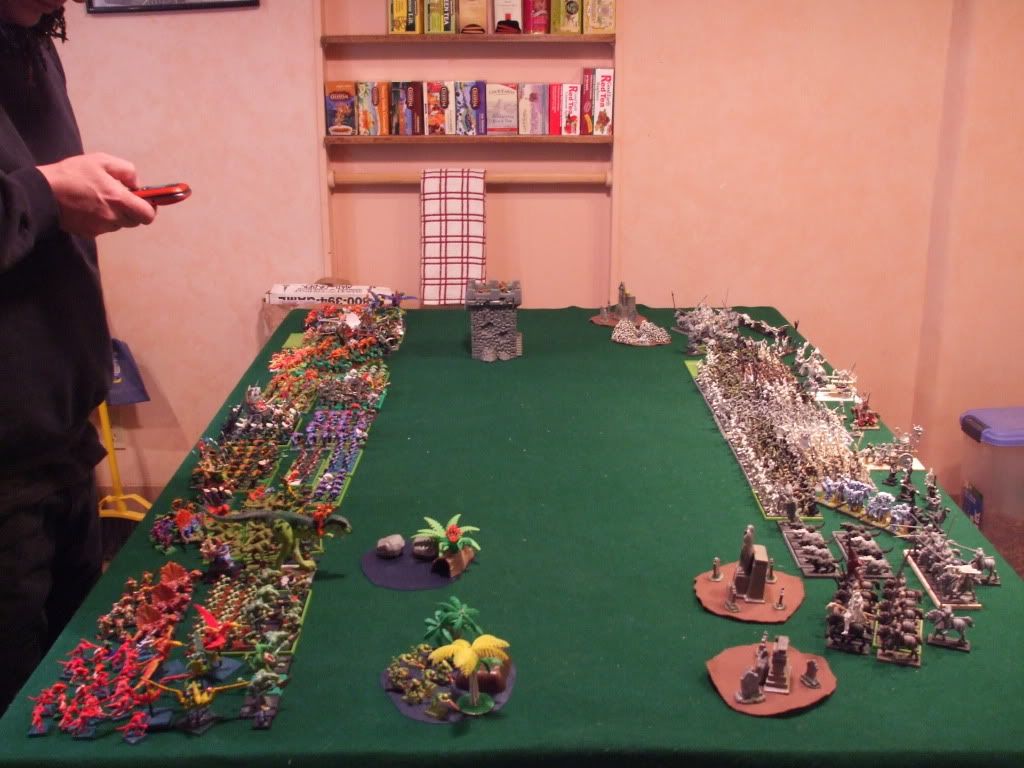 I am glad to report that the Vampire Counts were Victorious against the squishy Lizardmen.
I came in with 402 models a whopping 29 casting dice and 21 dispel dice which was the same amount as the Lizardmen's casting dice.
It was Magic,Fear and Infinite Hatred that allowed me to win this game.
Infinite Hatred was well worth the point cost it came into play many times during this game more often then naught I would miss the first time and then hit when I used Infinite Hatred to reroll.
As for my table formation I went with a two line formation of foot troops in the middle and my fast stuff on each flank.
I placed my large unit of 49 Skeleton Warriors in the middle this unit was long enough to be in both rows of my troops.
So my front line was all my ghouls who got a pregame march their job was to soften up the Lizardmen's front line and then once the ghouls were finally gone then my second line of skeletons and Grave Guard units would come in and clean up.
My left flank was The Blood Knights,Black Knights,a Varghulf,a unit of Wraiths,Spirit Host and two units of wolves
My right flank was Black Knights, a Varghulf,the larger unit of Wraiths,Fell Bats,a bat swarm and two units of wolves.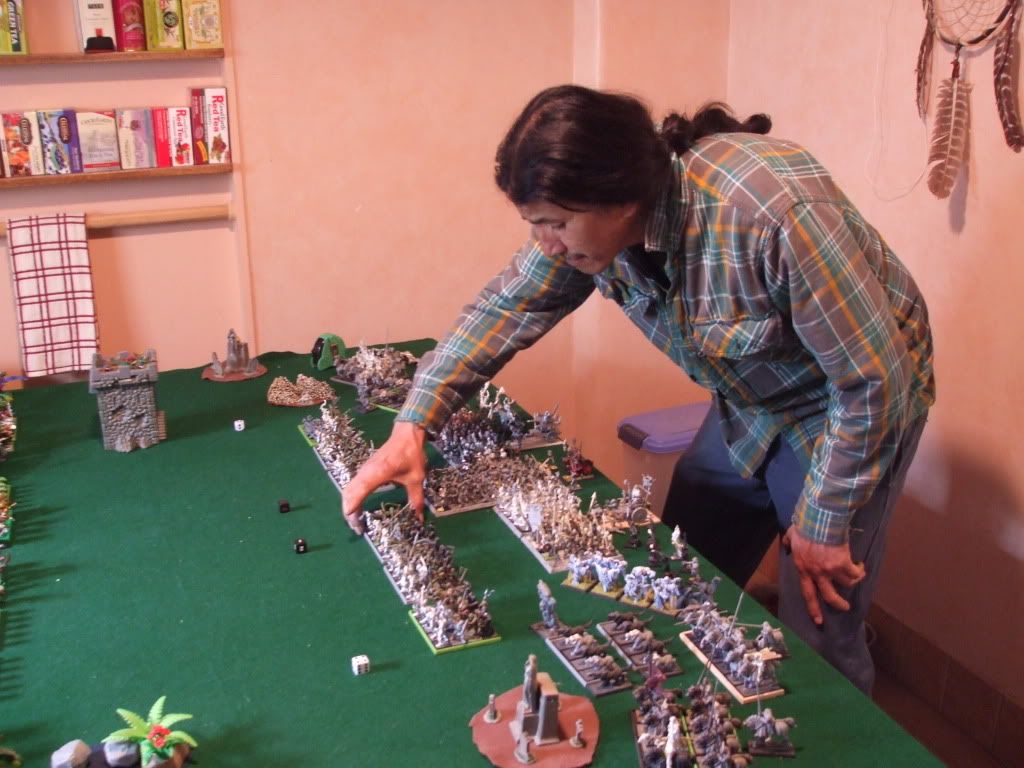 Taking my Ghoulkin pregame march which allowed me to move a 138 models forward and I also went first so by the end of turn one my ghouls were already 21 inches into the table.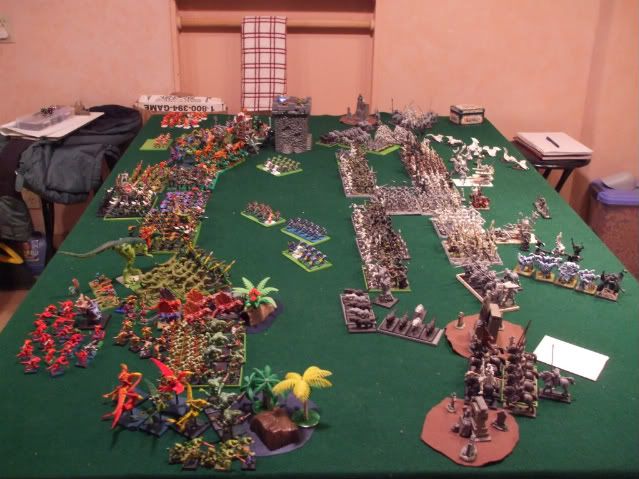 The Table at the end of the Lizardmen's turn one,Jesus was trying to bait me with his skinks and set me him for some side charges but I am no longer the noob I used to be so I didn't fall for his trap on my turn two I just moved my troops one inch from his skinks and forced him to charge me on his turn two which he did the skinks lost and ran causing what would be the never ending tests and rallies.
This failed trap was a fatal error on my friends part it allowed me to swell the size of army on my turn two before the battles began, the major bulk of the combat started in turn three.
I was on fire during my first three magic phases,on turn one I was able to add 65 models.
Turn two magic phase I added even more troops and was able to cast Winds of Undeath twice in the same magic round creating two new units of Spirit Host one with 18 wounds and the other with 19 wounds.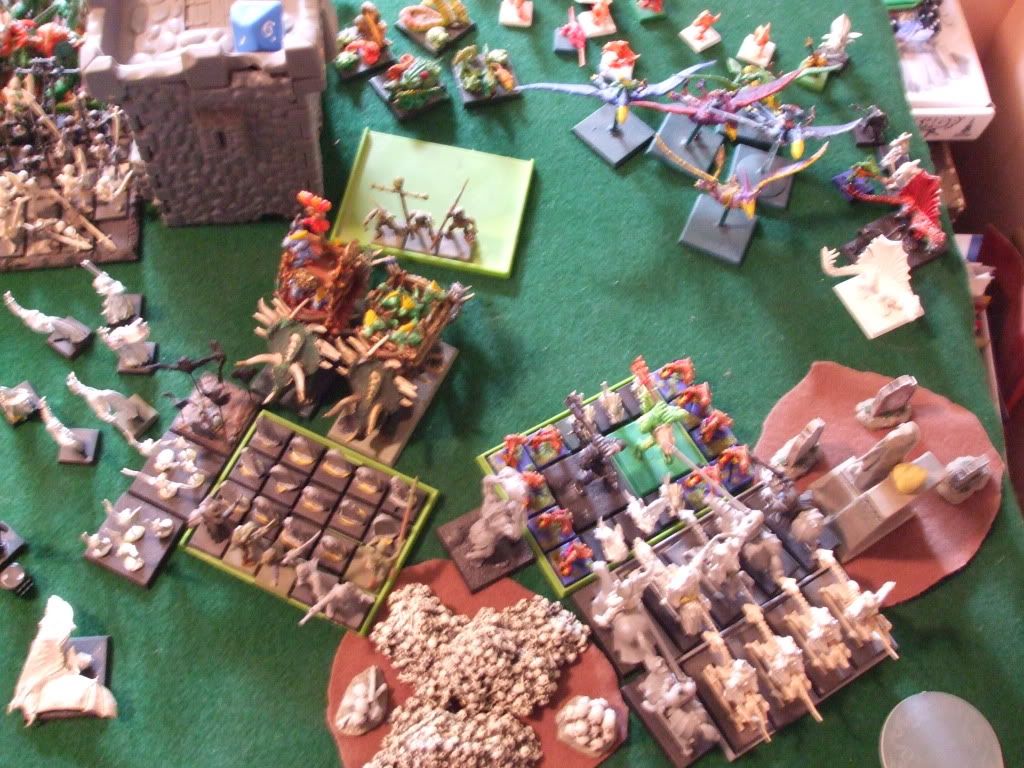 some right flank battle action,there was a lot of combat and it was fierce and the Lizardmen put up a tough fight and one point I really thought I lost the game, during turn 4 and 5 I had took a major beating (lost a corpse cart on turn 4 Jesus took it out with a total power flame spell) and his Slann Mages were making me toss my sixes when casting.
During my turn 5 magic phase I actually threw 4 total powers in a row and only one counted and I also had a miscast I was so bummed out.
That night after my friend left for the night I had a talk with my army and I promised if they won I would finally get off my butt and paint them.
Turn 6, I guess the pep talked worked that turn I took control of both flanks and my front line of ghouls were gone so my second line really started to see some action this is when the Grave Guard units started their clean up chores if they didn't kill the Lizardmen unit they broke them and made them run.
Turn 7 and 8 were the bloodiest of the whole game by then a major portion of our core were gone and it was special and rare units left fighting it out, We both took major losses during these rounds my blood knights ran down one of his Slann mages and I lost a good most of my level one heroes.
Turn 9 Jesus killed two of my vampire lords and managed to get his lord level Sarus warrior with the Blade of Realities on his dinosaur mount into my backyard and charged my remaining Necromancer on the corpse cart if the Cart broke then He would of over run into my general.
The Necromancer died but the Corpse cart held which was amazing which allowed my Vampire lord and the last three Blood Knights to charge on turn ten.
Turn Ten the battle between the Temple Guard and The Grave guard was a stalemate but My Vampire lord was able to kill the Sarus lords mount with the Frostblade but was unable to kill the Sarus lord who killed my Vampire lord with his attack back but my remaining blood knights took out the Sarus lord.
I ended up with two table quarters and five of his banners it was almost a massacre but ended up being a solid victory for me due to the fact he killed three of my lords in the last two turns.
My list for one of the funnest games I played so far.
Core Units
1 Bat Swarm 3 bases in the unit for a total of 3
4 units of Dire Wolves for a total of 20 wolves
7 units of Ghouls for a total of 136 ghouls
3 units of Skeletons with spears with full command for a total of 72 skeletons
1 unit of Skeleton Warriors with full command for a total of 49 skeletons
I gave this unit the Banner of the Dead Legion so they always outnumbered any unit they were fighting, this unit lasted till turn nine.
Special Units
2 units of Black Knights both with full command for a total of 18 knights
I gave one unit of knights the Screaming Banner.
I unit of Spirit Host 5 bases in the unit for a total of 5
I unit of Fell Bats 6 bats for a total of 6
Rare Units
2 Varghulfs
2 units of Cairn Wraiths with Tomb Banshees for a total of 9
1 unit of Blood Knights with full command for a total of 7 knights
I gave this unit The Flag of the Blood Keep and the Kastellian the biting blade.
Characters
My General:Urn the Undying, on his own mounted on a nightmare, a level 4 caster
Avatar of Death
Dark Acolyte
Lord of the Dead
Skull Staff
Summon Ghouls
Summon Creatures of the Night
Wristbands of Black Gold
Vampire Lord/2nd Caster own his own mounted on a nightmare, a level 4 caster
Dark Acolyte
Dispel Scroll
The Flayed Hauberk
Helm of Commandment
Infinite Hatred
Lord of the Dead
Summon Ghouls
Summon Creatures of the Night
My General's right hand man this Vampires job was to stay out of combat since he had the Helm which was great way to make my core units harder to hit and raise and bolster the troops plus inflict as much magic damage as possible.
Vampire Lord/ in blood knights unit, a level 3 caster
Avatar of Death
Dark Acolyte
Frostblade
Infinite Hatred
Walking Death
placed this vampire with the blood knights any thing this unit contacted didn't have a chance, He finally died in round ten when he was slain by the Sword of Realities.
Vampire Lord/in grave guard with great weapons unit, a level 4 caster
Avatar of Death
Blood Drinker
The Cursed Book
Dark Acolyte
Infinite Hatred
Summon Ghouls
Staff of Damnation
He gave the extra killing power to an already tough unit.
Vampire Lord/in Skeleton Warriors unit,a level 3 caster
Avatar of Death
Book of Arkhan
Dark Acolyte
Infinite Hatred
Power Stone
Skabscrath
Summon Ghouls
He gave the extra killing power to my largest unit on the table.
Wright King/in Skeleton Warriors unit
Tomb Blade
Vampire/in black knight unit,a level 1 caster
Avatar of Death
Dispel scroll
Infinite Hatred
Sword of Battle
Wright King/in black knight unit
Nightshroud
Vampire/in black knight unit,a level 1 caster
Avatar of Death
Dispel scroll
Infinite Hatred
Sword of Might
Wright King/in black knight unit
Sword of Striking
Vampire/Battle Standard Bearer, in grave guard with great weapons unit,a level 1 caster
Avatar of Death
Ghoulkin
Vampire/in ghoul unit,a level 1 caster
Avatar of Death
Dispel scroll
Summon Ghouls
Summon Creatures of the Night
Vampire/in ghoul unit,a level 1 caster
Avatar of Death
Dispel scroll
Summon Ghouls
Summon Creatures of the Night
Wright King/in grave guard unit
Sword of Kings
Wright King/in Skeletons with spears unit
The Cadaverous Cuirass
Akbar the Bloated/ necromancer on a corpse cart with the -1 to casting
Rod of Flaming Death
Necromancer on a corpse cart with the -1 to casting
Power Stone
Sceptre de Noirit
Necro Zues/ on foot
two dispel scrolls
Necromancer/ on foot
Dispel scroll