Title: Shotguns
Jake D. - January 27, 2008 11:46 PM (GMT)
So seeing that there is a new shotgun thread, what is everybody shooting? Currently I'm shooting a mossberg 500 12 gauge for deer, turkey, and waterfowl, and an old Springfield SxS 12 gauge for squirrels, rabbits, and other small critters.
PA RIDGE RUNNER - January 28, 2008 02:12 AM (GMT)
My go to shotgun is my turkey gun a Win 1300 Black Shadow with a Comp-n-choke at .655 restriction. About a dozen turkeys have not argued with that combo. Now then for anything else I have a rather large choice. In 10 guage an old Ithica 10 ga double. In 12 ga Savage model 1921 take down pump, Savage 3 shot semi auto, Win model 50 semi auto, 3 or 4 Win model 12 pumps, 3 parker double barrel guns and a parker single barrel trap gun, Win model 1897 pump. In 16 ga a Win model 12. In 20 ga a mossburg bolt action and A win model 12. In 410 a 45/410 barrel on a TC Contender. I'll bet I forgot a couple too. Many of these were part of my Father-in-laws collection. Don't ask about all the rifles and handguns.
MikePic - January 28, 2008 03:31 AM (GMT)
Well, I'm shooting Joe's Mossberg 20 gauge. I love to shoot skeet with it and it fits me great. Never hunted with it yet. But I am hoping to get some crows and turkeys with it in the fall.
Jake D. - January 28, 2008 03:51 AM (GMT)
Paul, all I can say is WOW! You have more shotguns than I have total guns! I'm hoping that for my birthday I can add a new 12 gauge BPS 3 1/2" turkey/waterfowl gun to my arsenal. If I don't get it I may have to buy it cause I WILL be 18! LOL!
PA RIDGE RUNNER - January 29, 2008 03:28 AM (GMT)
Yes Jake my stable of shotguns is a bit extensive thanks to a very generous father-in-law who was always a shotgun fancier and me being the only hunter in the family. I won't go into the rifles at this time. When Irv gave me the order to clean out his gun room I was worse than a Kid in a candy store. What a haul.
Jake D. - January 29, 2008 04:43 AM (GMT)
Now by clean out his gun room do you mean take for free or buy them? Cause if they were free I'm gonna be upset that I wasn't called! HAHA! Did you get all of the guns or just a select few you liked?
ADjam5 - January 29, 2008 09:24 PM (GMT)
Nice to see this thread... :)
Paul that is a Nice collection you have. Irv must've been one heck of a father in law ;)
My shotguns are the most used and hunted with out of my gun collection.
The most treasured one is, my Grandfathers Crescent Arms "Victor" .410 single shot.
It is from the 1930's.
My workhorse is my Mossberg(late 80's era) 835 camo, I have another newer 835 in black. The A.Zoli O/U .12ga I have is the most prettiest, lots of engraving on the receiver and beautiful wood on it. I hate to use it but love to look at it. I also have a small thumbholed stock single shot .410 in Stainless. Its called a "snake charmer".
This gun stays at the ready for home defense ;)
PA RIDGE RUNNER - January 30, 2008 04:06 AM (GMT)
My father-in-law when he gave me those shotguns and rifles was laying flat on his back from a stroke, was 99 yrs old and nearly blind. He knew he was not able to go back to his house and live independently. We offered to have him come to our house and live which at the time was one of only a few choices left for him. To our great surprise he agreed to come. I told him that all his guns were safely stored downstairs and were still his. We cared for him till he died 1 year ago at the age of 103 1/2. So the guns were paid for but just not in money it was loving care and some sacrifice on our part. We also took him everywhere he wanted to go so yes the guns were paid for. I still think I got the best of the deal. As I said my go to shotgun is is my Win 1300 as about all I use a shotgun for is Turkeys. One of my most cherished shotguns is an old beat up Winchester 1897 pump that was my wifes grandfathers gun that he won nearly every shoot he went to with it. I never knew him but heard the stories of his prowess with a shotgun. My Parker shotguns are far too valuable as collector items for me to shoot. I do occasionally get one of the others out when we shoot clay pigeons at camp. I plan on photographing each of my guns and maybe once that is done I'll post a few.
Jake D. - February 25, 2008 02:50 AM (GMT)
My new favorite gun I got today. A 12 gauge Browning BPS in Mossy Oak Shadowgrass. Will be used for everything but deer. I'll use the mossberg for deer still.
charles m - February 25, 2008 07:41 PM (GMT)
I am going to purchas a H &R 12 guage turkey gun which can take up to 3 1/2" shells. It has a camo stock. It is identical to the 20 guage I brought my son.
11P&YBOWHUNTER - January 18, 2009 09:26 PM (GMT)
I got a bunch of shotguns....Browning, Mossberg, Remington, Benelli, H&R and Stoeger.
buckfever74 - September 28, 2009 11:06 PM (GMT)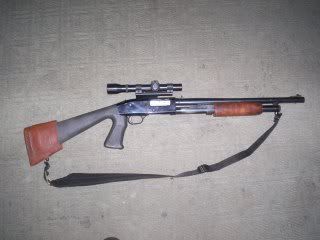 500 mossberg with cyclinder bore 18.5 barrel few more days i will have 24 inch rifled barrel for it.