Title: Wanna See????
Brikatw - July 1, 2008 02:13 AM (GMT)
I've been very busy n the shop the last couple weeks. I decided to make a few calls that were different but related to turkey hunting. Well, that went out the window and I got alot more. Have a look at these....
Crow Calls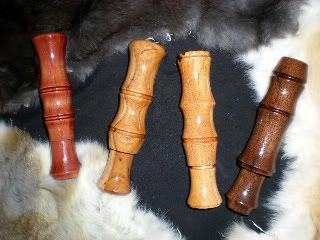 Some Owl Hooters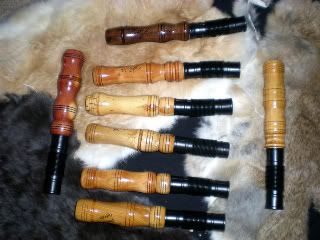 Deer Grunt Calls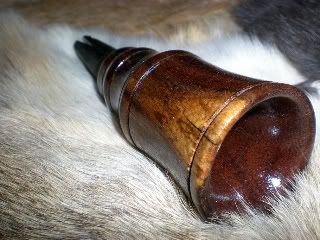 Cow Elk
Plans are in the works for cottontail squealers, elk bugle, coyote howler, coon squaller, even squirrel.
Sorry guys, I don't make duck calls. I made a promise not to so I have to keep my word.
HOPE YOU LIKE THEM!!!
Jake D. - July 1, 2008 02:19 AM (GMT)
Those look sweet Brian. Just curious, how much do your calls normally cost? Like one of the crow ones for example? And do you make canada goose calls? I know you said no duck calls but you didn't mention goose ones. Cause custom goose calls are usually really nice.
Brikatw - July 1, 2008 06:28 PM (GMT)
Jake right now (for a limited time) a "Special introductory price of $20 and $5.00 for shipping, for all but the Elk. I'm sorry but I can't do Goose either. I'll explain. Rod Haydel Haydel's Game Calls) and I are good buddies. He helped me get started and hooked me up with all kinds of advice and even suppliers. So out of respect for him, I told him I wouldn't compete with him. Not like I m any sort of compatition but, his bread and butter is waterfwl. He likes that I'm doing the other calls and supports my efforts so, I have to stick with my promise of no waterfowl out of respect for my friend.
Jake D. - July 1, 2008 06:49 PM (GMT)
Ok I understand. That's cool that you and Ron are buddies and he helped get you started. If you ever do start waterfowl calls, let me know. However I am really liking that red crow call (is it cherry?). I may be interested in buying one of those at some point.
Brikatw - July 1, 2008 10:00 PM (GMT)
The one on the far right is from Eastern Red Cedar. The one next to it is Cherry. Just give me a hollar when you want a NICE crowcall....LOL :D
ADjam5 - July 2, 2008 01:40 AM (GMT)
Nice work Brian.
I too see one of those crow calls in my future :D
Jake D. - July 2, 2008 02:35 AM (GMT)
It will definitely be on my lanyard by September when the season starts. I think I have to go with the cedar, it's just so pretty! Do they all sound about the same?
Jake D. - July 9, 2008 03:29 AM (GMT)
Brian Thank you so much for the turkey call. The thing is beautiful. And I cannot believe the difference between the 4 strikers. Not just how loud each one is but they each have a different tone. It is such a nice call. Thank you AGAIN!
11P&YBOWHUNTER - July 9, 2008 08:00 AM (GMT)
Jake D. - July 10, 2008 03:41 AM (GMT)
Me? Yes. But I feel you're talking to Brian!
Brikatw - August 17, 2008 11:18 PM (GMT)
I sure do have paypal. You can now get these calls through the website too. By the way, we now have a couple more names for the site.
www.Heirloomturkeycalls.com
www.heirloomgamecalls.com
www.heirloomcalls.com
Take your pick, they will all take you to the same site. You can order there or if you like, drop me an e-mail at
callingalltoms@yahoo.com
Let me know what you like or want and IF I don't have it, I'll make it for you.
You guys said you liked cedar, here is a picture of a deer grunt order. Partially done right now, I still need to add the reeds and tubes when they get back from the engraver. Oh yeah, I got someone to do engraving now too. here's the picture....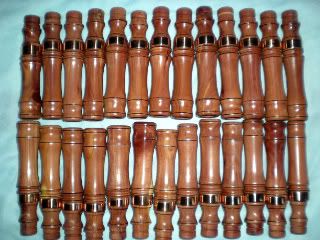 ADjam5 - August 18, 2008 02:15 PM (GMT)
Brain, I took a look over at the site and I did not see any crow calls. I know you mentioned them in the past.
I could use one for the upcoming crow season and for turkey shock gobbles.
Tell me the price and I'll get a check out right away.
Brikatw - August 19, 2008 01:38 AM (GMT)
I'm sorry, we're still doing the update stuff. The crow calls are $25 each. All the reed type, except the elk are $25. The elk run for $30. The address is:

Brian Warner
114 Casa Dr
Haughton, La. 71037

Or you can call me at
318-949-9008

ADjam5 - August 19, 2008 07:10 AM (GMT)
Is shipping included Brian?
Brikatw - August 27, 2008 10:52 PM (GMT)
Sure, I'll tote the shippig costs for you guys :P