Title: My Texas trip at Herbies
ADjam5 - February 5, 2009 02:11 PM (GMT)
I have no idea where to begin...Like Herbie said...when you were a teenager and having a ball, the time flew in a blink of an eye. That time was a blur, glad I have the pics to savor the moments.
Those Texans have everything down to a science. The first few days consisted of work...hard work. I have never seen ground that was soo hard to dig. A power pole needed to be moved, it was by the power co and when that happened, then our work began. We had to trench to bury a few conduits for the house and a sub panel. We needed a pic axe just to break the surface and lots of chopping and digging in what I am told, Coliche. Super hard rock formation that does not break like dirt/soil. Blisters for a few days from digging. We got it done and play time was on its way.
Being from NY I have never hunted over feeders and this was a whole new experience. We filled a few feeders up with corn and alfalfa hay set the timers and waited a few days. The 1st day on stand there were like 10 deer that came running to the feeder. Mixed bunch of whitetail and axis. I took a shot at a doe axis and missed, over her back. I could give excuses, but I missed, plain and simple.
We came back the next day in the am and the feeder went off 15 minutes after we sat down. The breakfast bell rang, and the deer came out of the woodwork. 20-25 deer all at once. Makes a hard situation to shoot just one without taking other deer with a pass through. That many deer vacuumed up the feed in no time. Then they all disappeared.
Herbie said lets walk to the other feeder, it will go off in a few minutes. We go there and the deer just changed restaurants :P They were now there. Hard to get a shot...They ate and left. We walked back to the 1st feeder and there was a lone axis still hanging around. It was a buck, but a small one. I would have liked to taken a larger deer, but a bird in the hand is worth 2 in the bush. I was using Herbies 25-06 Encore and it is a tack driver ;) I took aim and bang. It did the kick and went about 20 yards and dropped. My 1st axis on the ground. We took the deer to www.rhodestaxidermy.com and they took care of the rest. I am having the hide tanned and the meat was cut up. What a bunch of guys at Rhodes taxidermy. That true Texas hospitality wherever I went. That is really what makes the Lone Star state stand out. The people in it. Herbie bought a table at this store, and as I was taking it out to the truck, I had 2 different strangers offer to help me. That does NOT happen in NY where I'm from, unless they want to get close to lift your wallet <_<
The food was incredible, Herbies cooking and the local food houses. We had Axis chilli, bison sirloin, frito pie, TexMex just to name some food.
Most mornings we were treated to a good whitetail buck that came over the low fence portions of Herbies ranch. The buffalo almost always chased off the buck.
I found a Axis antler shed at Herbies also. He has most of his land high fenced, but there are portions that many animals can jump and get under and leave when they want. I also found, and was given some flint knappings from the Indians that inhabited the area a LONG time ago. You can tell these chipped flint were altered by humans from the opposite and symmetrical chips on them.
I will add more to this post soon.
OK OK...pic time :)
Axis shed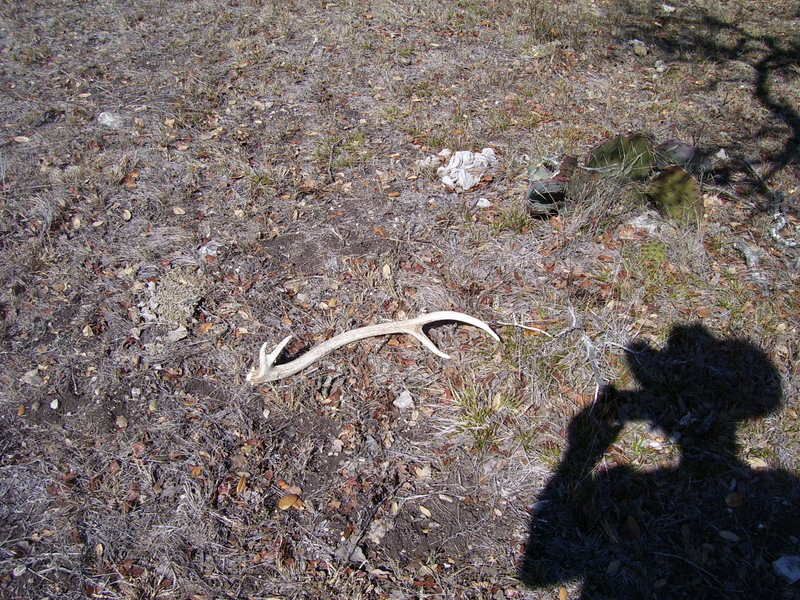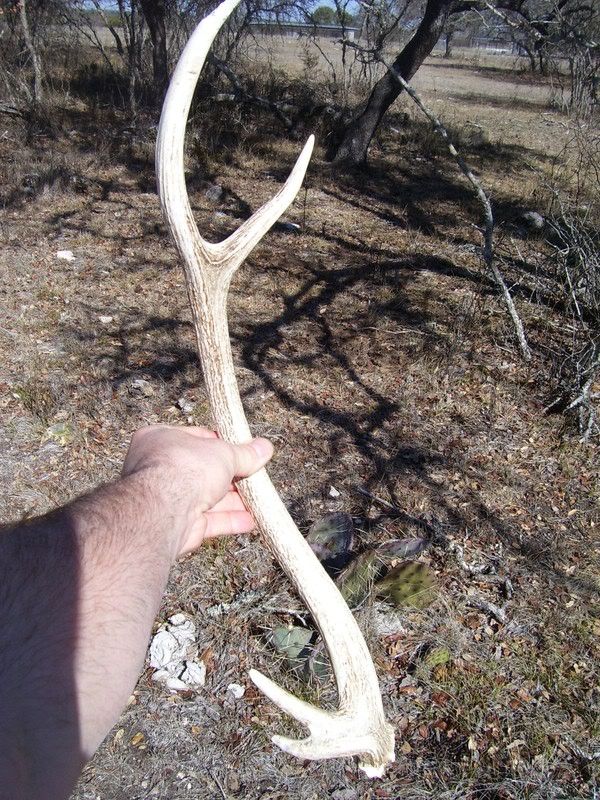 Flint knappings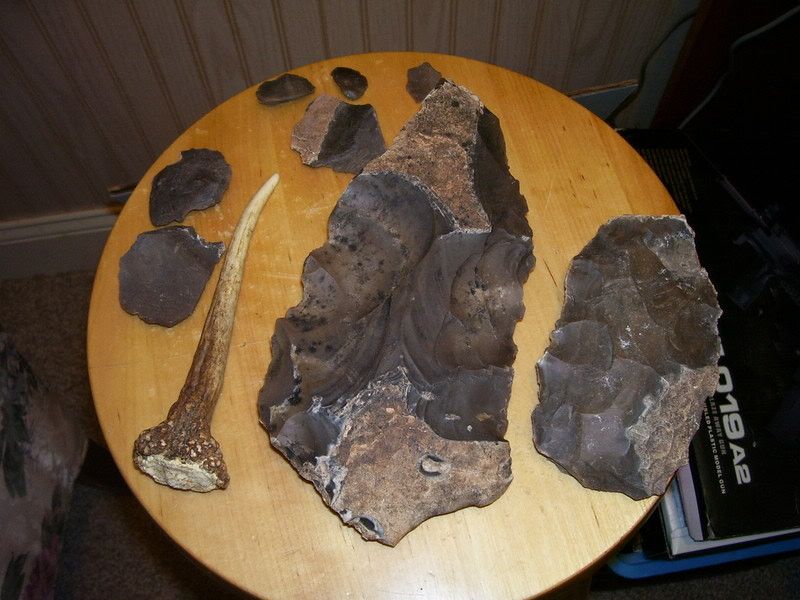 Herbies racks from last deer season
Herbies Tatonka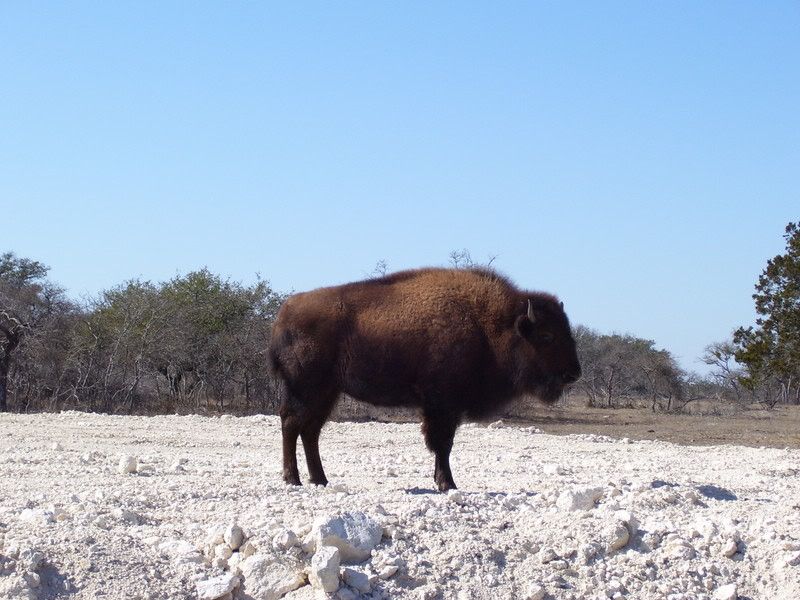 Real live steaks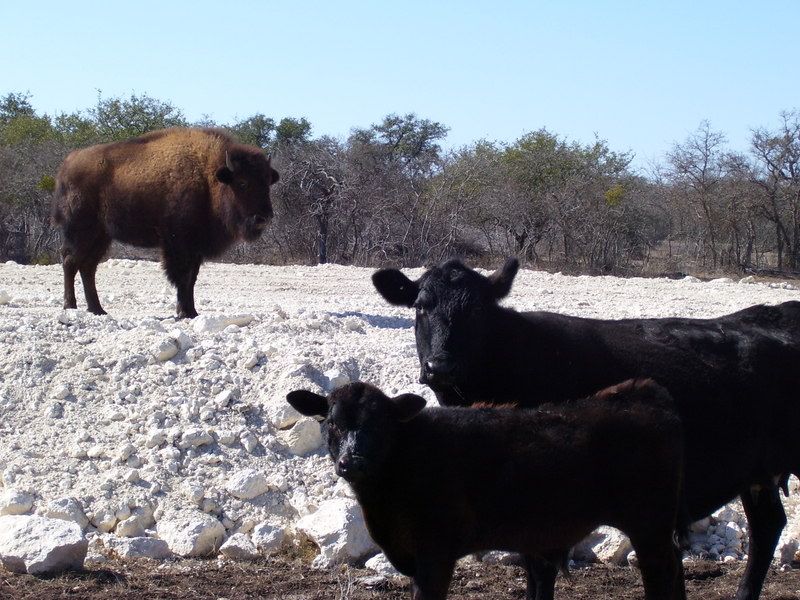 Coliche hole for pond.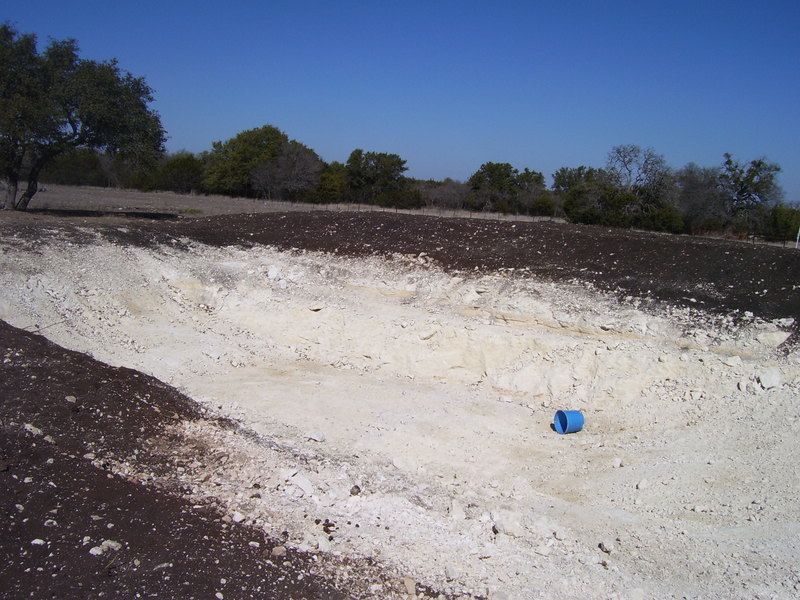 Sunset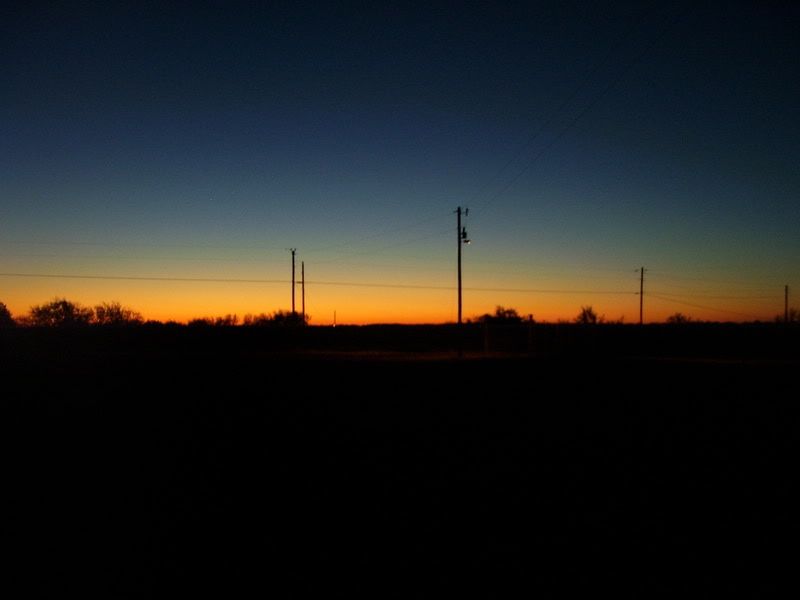 Funny coffee cups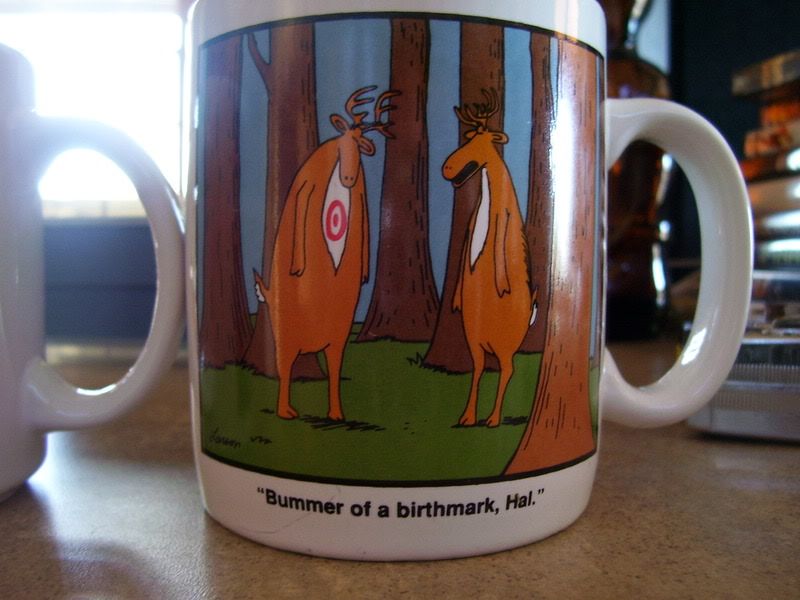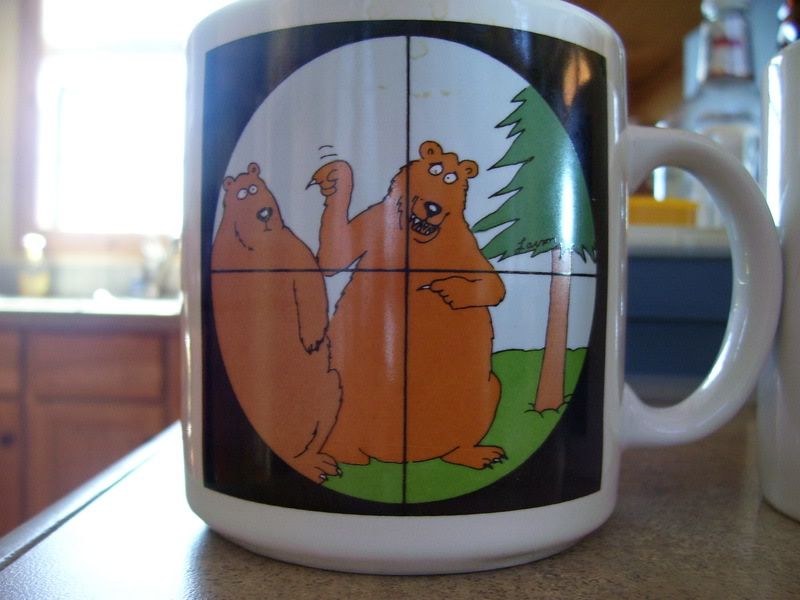 My free ranging button axis.
I have more pics of the visit Herbie and I made to Tink Nathan of Tinks 69 fame.
We spent about 3 hours at Tinks home. That will be another thread.
charles m - February 5, 2009 02:58 PM (GMT)
Cool pictures Tony. Sounds like you had a good trip. That stuff looks like it is very hard to dig through. I have that first coffe mug with the birthmark. The buffalo looks great. i take it you got subcontracted for some eletrical work :D :D
Herbie - February 5, 2009 04:35 PM (GMT)
Tony, did the hard work. I am scheduled for wrist surgery on 2/11/09. So "Mother Hen" Tony kept yelling at me whenever I would pick up the pick ax, shovel or hoe. He quickly learned that I am as hard headed as any other able bodied man. Even play days were laced with work. In addition to the electrical work, I had guttering, A/C and skirting that needed to be installed by different contractors.
On Friday the guttering people showed just before the electric company showed to move the pole. The power co guys left power on so that the gutter folks could run the seamless guttering out before the killed the power. That way the gutters could be hung while the pole was being moved.
At my request, the power company left the hole from the original pole site so that we could sink a secondary pole to attach the sub panel and reattach the well pump, septic and the barn without having to run new supply wires. The used 20' +/- secondary pole was donated by Edwin across the street. He also gave Tony some flint. Setting the pole was in itself a small challenge. Using my tractor's bucket and some chain, we were able to lift it up and stab the hole. What I didn't know was that the water spigot was galvanized coming out of the ground but was PVC underground. This was our only OOPS. Had to cut and repair the water line after the pole was reset.
Tony worked hard Friday and Saturday. My house had been wired to a temporary 50 amp service. The lights would dim when the heater came on. Not a real safe install, but that is what was attached to the house when they delivered it. After digging and installing the conduit, we pulled wiring though it. This is when Tony "learned" me. :D
He took the time and explained how you mark your multiple black wires that are about to disappear into the conduit and know what they are when the come out inside the house panel. Having basic electrical knowledge it all made perfect sense to me. I just wouldn't have thought about it. I would still be trying to pull one wire at a time and connecting it as I pulled it through. After a few days watching a PRO, I feel as if I am really dangerous now.
Monday and Tuesday were spent redirecting the propane lines under the house to be able to connect to my tank as well as have an outlet for a future BBQ grill. The fun part was unloading a FULL 250 gallon tank off of the trailer and placing it on the pads.
On Monday the A/C guys showed up. They wanted to cut a 18 X 40 register in my floor. Right under my dinette table. The A/C needed to be completed before the skirting could be installed. Long story short, the Home dealer ordered the wrong unit for my house.
On Tuesday morning the skirting people show up and I have to ask them to start as far away from the A/C install location as possible as the A/C guys is supposed to be arriving with the right unit. 1 A/C guy shows up with the right unit and spends 1/2 a day installing it. The skirting guys end up being an 8' piece short on the skirting. Again the selling dealer gave them the wrong measurements and floor plan.
Chuck, it would be against union rules for Tony to hire out without the union sending him. For sake of this board, Tony came to help me do some chores. :D
My friend the :deer: killer.
Down spout and skirting
both power poles with panels, A/C and more skirting
left over material that was taken off my pole. 4 lug 125 amp meter pan, 30 amp receptacle w/weather resistant box and cover, 50 amp receptacle w/weather resistant box and cover, 100 amp sub panel. If anyone has a genuine need for any of this, you pay the shipping and it is yours. If not, I'll sell it on ebay.
The house as we left it on 2/4 from the road
WhitetailLady - February 5, 2009 04:51 PM (GMT)
Dang, you guys tired me out just talking about all the work you did!!! Like that skirting Herbie.

And Tony, the smile on your face with that axis says it all!!!!!!!!!!!!!!!
buckblaster19 - February 5, 2009 05:58 PM (GMT)
Looks like you had a great time tony.Sounds like fun.Congrats on the axis its not the size that matters its how good the steaks taste.Tatonkas getting big.
charles m - February 5, 2009 06:04 PM (GMT)
Man Herbie you guys did some WORK!!! Glad its working out for you. I have to put a pole in at my place so I have electric for next hunting season. Haven't talked to the electric company yet to find out the cost. They probably have to install 3 poles to get to me. A couple of grand is what I guess. I am looking at the photo of the parts and I may be able to use that. Tony would know the answer. Is that what I would need for a trailer to plug into?
Herbie - February 5, 2009 06:11 PM (GMT)
Chuck, is it a travel trailer, motor home, or a house trailer? How many A/Cs? If it is an RV does the plug have 3 or 4 terminals? Most camper trailers are 30 amp, motor homes are 50 an house trailers are 100 - 200 amp.
Ask the power company if you need to make your meter loop? If so what size(amp) and do they use 4 or 5 lug meter pans.
ADjam5 - February 5, 2009 06:31 PM (GMT)
Well it looks like I have another hunting camp to wire :D
Do you have any Buffalo there Chuck :P
Yes..What Herbie is offering is what you would need to get a 125amp(minimum) service to your place. Complete with 50 amp receptacle for the trailer.
I would imagine it is NYSEG you will be dealing with. Find out if they will bring the power close to your spot where the trailer will be. If they bring it to the property line only, You have a BIG job ahead getting power all the way up there. It can be done, but a bigger job. They may want the meter to be close to the road, so the meter reader will not have to hike a half mile to get your electric usage. Their responsibility stops at the meter. If they bring it close, it is not an issue. You can have the meterpan feed a 6 circuit panel and have that panel feed the receptacle which will feed the trailer. I say 6 circuit because expansion is always a possibility. Maybe another trailer will be there visiting one day. All you will need is pipe to come off the meter up, weather head and wire Chuck. get the ball rolling now. Oct/Nov comes fast.
Let me know if you need help.
charles m - February 5, 2009 08:47 PM (GMT)
Tony my trailer will be just right off the road. I will move it there in the spring. Where it will be placed is right by the property line. The last electric pole is within I would say 200 feet. Herbie I think I should take you up on the offer. Let me know via a PM what the shipping cost is and I will cut you a check.
charles m - February 5, 2009 08:57 PM (GMT)
Herbie it is a travel trailer. If you were talking AC units, the only AC in my trailer is open the window and hope the wind is blowing. :D Here is a picture of the pad where my trailer is going. You can't see it but the road is just out of view to the right. It should not be difficult to get power there at all.Here is also picture of my 32 foot trailer and deck that will be moved.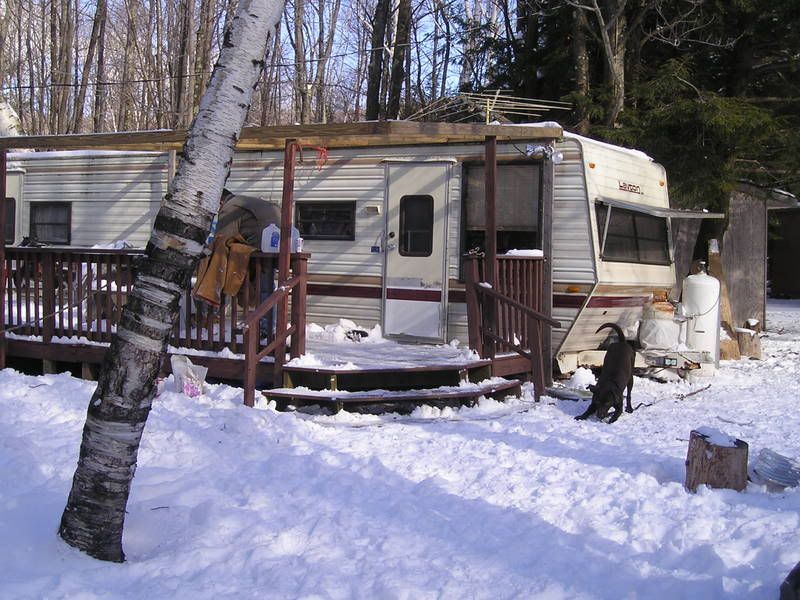 ADjam5 - February 5, 2009 09:03 PM (GMT)
Set it up Chuck. I'll give you a hand. How far is there a Home depot or Lowes?
In case incidentals are needed.
charles m - February 5, 2009 09:18 PM (GMT)
There is a good hardware/lumberyard right in the town of greene that has alot of stuff. My goal is to get the deck moved in its two sections in April and the trailer in June. My lease at the campground expires July 1st. I have to call NYSEG and find out about running the electric line to my driveway. I appreciate the offer Tony. I will let you know. We could probably get Paul to come down too and make a day of it.
ADjam5 - February 5, 2009 10:09 PM (GMT)
It sounds good Chuck. Set it all up and I am yours for the day or weekend ONLY if Paul will wear the ping thong we have all been hearing about :P
Herbie - February 5, 2009 11:18 PM (GMT)
Chuck, I left all the stuff at the ranch. I will bring back and ship whatever you want/need. You will need the 30 amp receptacle not the 50. 50 amp is usually for motor homes with dual A/Cs. The 4 circuit sub panel. Find out from NYSEG if you can build your own meter loop. If so do they use 4 or 5 lug meters? The one I have is a 4. I also have the weather head that I can send. The pipe and wire would be cheaper to buy locally. You will also need to buy an outdoor breaker box. FYI... at some point you may want/need (1) water well pump unless you have city water, (2) septic pump, (3) outdoor security/yard light, (4) extra RV spot for friends to stay in, (5) barn/shed/storage lighting and (6) your trailer.
I will send it all, you or a qualified electrician (Tony) can swap out the 50 receptacle with a 30 amp and have a spare wired for you or a visitor.
Jake D. - February 6, 2009 02:43 AM (GMT)
Sounds like it was a blast Tony. Glad you got your axis, it would count if you were in the contest!! And about you helping Chuck with Paul, I really want to know if you were sober when you said what you said?!?
Herbie - February 6, 2009 03:12 AM (GMT)
After spending a week alone with Tony in the country, I can say that he was/is sober and has a thing for PINK THONGS. I think I saw him wearing one once or twice while he was in TX :P
11P&YBOWHUNTER - February 6, 2009 04:03 AM (GMT)
QUOTE (Herbie @ Feb 5 2009, 10:12 PM)
After spending a week alone with Tony in the country, I can say that he was/is sober and has a thing for PINK THONGS. I think I saw him wearing one once or twice while he was in TX :P

Did you or anyone else spank him with a 60 inch leather belt?? If not, i am disappointed. Pink Thongs...must be he shops in the same stores as GLW!!! :rofl:
charles m - February 6, 2009 03:53 PM (GMT)
Herbie check your PM. Thanks for everything. Once again this board proves itself in how good people its members are :D
WhitetailLady - February 6, 2009 04:44 PM (GMT)
Heading out for the day at 1:00. Everyone have a good weekend and for us New Yawkers............enjoy the heat wave this weekend. :D
buckblaster19 - February 6, 2009 08:52 PM (GMT)
Sounds like a blast.Are sure you really want to see the legendary pink thong not sure if thats a good ider or not.Word has it jakes eyesight is just coming around.Maybe thats why he put the hurtin on the deer this year.They stood there with the deer in the head lights look trying to figure out what that bright pink thing sitting in the tree is. :D
Herbie - March 6, 2009 09:11 PM (GMT)
Chuck, the tracking # for fedex is on your PM