Title: Lucky 7's
Description: Small start, but it's a start!
GLW - November 8, 2009 11:30 PM (GMT)
Well? I had a eight pt. under my stand twice this morning but he wouldn't stop to allow me a shot! :what: He had his nose on the ground and he wouldn't even stop when I shouted at him!!! :blink: Hooch is some evil stuff man! :P A spike was out cruising too! Tonight I set up in a different spot and this guy came in fast from behind me. I thought it was a young doe and I told my my wife earlier if a doe comes in, I'm gonna drop her and wait till a buck comes to visit (dead or not, bucks don't care). I didn't feel good that it turned out to be a button buck? :( It was one of those split decision things that don't leave you time to think about it. Anyway, as I drove back past my stand that I was sitting in this mornig, there was a huge deer standing there with it's head inside the apple tree so I couldn't see what it was. My luck has really sucked this season? I hope it turns around soon? I guess this guy counts as a doe? Anywho, I got to break in the new deck with a deer!! :cool:
The roof goes on it tommorrow! Where the deer is hanging is the carport side. My co-workers say I'm sporting the "mountain man" look, I'm starting to believe them!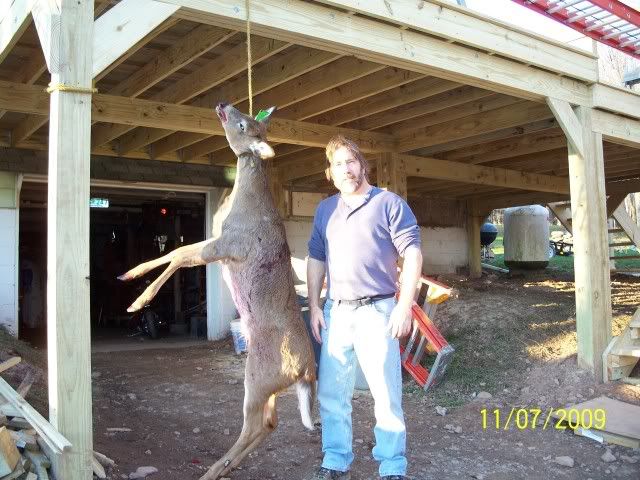 buckfever74 - November 8, 2009 11:46 PM (GMT)
congrats on your deer GLW.
11P&YBOWHUNTER - November 9, 2009 11:34 AM (GMT)
Congrats GLW!!!! Meat is meat...
buckblaster19 - November 9, 2009 02:16 PM (GMT)
Congrats paul.Thats a big deer for a button buck.Good eating thats for sure
Herbie - November 9, 2009 09:04 PM (GMT)
Congrats Paul. That should help stock the freezer for the winter. Nice sturdy deck you have there. Also gives you a little covered storage/parking area.
Herbie - November 10, 2009 01:46 AM (GMT)
Hey Paul, I reread your page heading. Team 1 has yet to crack the door on deer season. We haven't even picked a name.
ADjam5 - November 10, 2009 02:58 AM (GMT)
Congrats Paul. Good shootin'
GLW - November 16, 2009 01:47 PM (GMT)
Cross yer fingers, marginal hit below the heart but good blood, hopefully an artery. :cry1: Catch ya later after I let him walk awhile. ;)
charles m - November 16, 2009 07:57 PM (GMT)
Hope you get him paul. How big?
GLW - November 16, 2009 10:18 PM (GMT)
Well, I lost him! :( My neighbor went out with me (I took my 45acp to dispatch if I found him). We started walking each side of the Christmas trees and he jumped the out in front of me about 70 yards out! The buck was walking in front of me unaware I was behind him. He wasn't staggering at all and he looked to the right and spooked a little, then he trotted down the hill into the thicket and I do mean thicket! I can't shoot my pistol that far so I didn't even try. Just then my neighbor came walking around the corner of the trees ahead of me. The deer was still bleeding (3 hours later) but it wasn't near as much as before? He was bigger than I thought! He probably had a 18 inch spread and high main beams but not very tall tines at all. I always thought he was a 6 point but I might have been mistaken. I'm just sick! I hope someone gets him saturday, I think he will make it till then.
This has been a rough season for me.
When I shot at him my arrow started fish tailing reall bad so I don't kow if I connected with a small branch or not. My arrow dropped right below his heart and I really thought I had missed? My arrow was full of fat and some blood on the fletching. But when I saw the initial blood trail, it was alot! I figured I connected with an artery but he's still going like the energizer bunny!
ADjam5 - November 16, 2009 10:20 PM (GMT)
That bites Paul. Hopefully he will make the mistake of stepping out infront of you again.
GLW - November 16, 2009 10:48 PM (GMT)
Thanks Tony! I'm just sick!!! This kind of stuff really tears me up inside! :(
You try to do everything right and yet, things can still go bad. I'm so upset with myself. I really need some redemption! Look out Saturday!! :gun2:
Herbie - November 17, 2009 05:56 AM (GMT)
You took an ethical shot, give yourself a break and forgive yourself.
GLW - November 17, 2009 01:18 PM (GMT)
I know Herbie, I know. :( I can't help thinking maybe I should have controlled my nerves better or something? I judge myself very hard.
If I had taken my shotgun to dispatch him he would have been hanging under my deck. But then I would have felt bad if he wasn't hit that bad by my arrow and now I just acted out of greed. See, there I go again! <_< ;)
Herbie - November 17, 2009 02:51 PM (GMT)
Check you blood pressure, take a deep breath, relax. No one can be as hard on us as ourselves. You wont be hunting this weekend if you have a dang stroke.

You put your time in practicing. You made sound hunting/shooting decisions. Now quit kicking yourself. Get back out and put a tag on him this weekend.

PS...When a buck in front of you doesn't raise your blood pressure and get you excited, it is time to quit hunting and start taking pictures, or take a kid hunting.
buckblaster19 - November 17, 2009 03:34 PM (GMT)
Anyone that hunts for any amount of time will have it happen to them.I take a lot of pride in my shooting skills as do most people and its happened.I take it personally when I wound one and cant find it.Doesn't take much to clip a branch.Don't kick yourself to much he'll still be out there this weekend.Get out there this weekend and put a tag on em.No more flinging sticks this weekend its time to get down to business.Good luck paul.We do need to watch out for the texan though heard they aint afraid to shoot :D
Herbie - November 17, 2009 04:02 PM (GMT)
Been rumored to shoot a smoke pole so far, that the barrel warped. :D :gun2: :D Mind you, that may just be a rumor. :D But then again, dead deer don't tell tales. :deer:
charles m - November 18, 2009 04:13 AM (GMT)
Paul i feel your pain. I went through the same thing last week with a doe. We try our best but it happens.
WhitetailLady - November 18, 2009 07:32 PM (GMT)
It happened to me 7 year ago, and yeah, we're harder on ourselves than anyone else.

Now..............get out there this weekend and kick ass!!!!!!!!
GLW - November 19, 2009 01:57 AM (GMT)
Well, I'm ready to hang my bow up for good! I set up a 6 point tonight, everything worked perfectly right up to the shot! I hit him high behind the shoulders! It hit him HARD! He ran off making these wierd zig-zag patterns and blatting this weird garbly stuff, so I figured I must have clipped the top of his lungs? The arrow stayed in him! But rage 2 broadheads make one hell of a hole! I looked for hours and could not find a speck of blood? He is hit hard, I saw him take off with the arrow sticking through both sides! I'm soooo lost for words? I don't understand this season and why I am being punished? I'll keep looking tommorrow inside the Christmas trees. :(
charles m - November 19, 2009 09:51 PM (GMT)
Hope you find him Paul. You can't make it for dinner Monday night? You have to work?
GLW - November 20, 2009 02:05 AM (GMT)
Ya, I'm working that week Chuck. I'll see what I can do? :)
WIDave - November 20, 2009 01:34 PM (GMT)
Paul best of luck finding him. I have had years like that as I am sure many have. Do NOT give up on the bow. That second buck is out there. Sounds like a high hit and with that you will not have much tracking blood. You will proably just walk right up on him.
wooly - November 25, 2009 01:42 AM (GMT)
Man that's a tough season. I had a similar one. Was about to throw my old recurve into the firepit after having a buck and a doe go unrecovered. Instead I bought a new compound and added another buck to the list of walking wounded. :what:
Don't know what to tell ya other than it's a great excuse to buy a new bow.
When that didn't work I got a new ML.
That finaly worked so I didn't have to get a new rifle.
GLW - November 25, 2009 02:59 AM (GMT)
Wooly, I have a Bowtec Allegiance VFT and it has plenty of speed but what I 've decided to do is go back to my pendulam site system. Never lost a deer with my old one but it broke so I replaced it with a single pin system (non-pendulam) that is spot on while shooting at targets but I'm having trouble judging distance with these old eyes so I will go back to a reliable system that worked well before. ;) I could always buy a range finder but for half the price I can get a quality pendulam system that will work well in the trees and on the ground also. :)