Title: Common Merganser
Jake D. - April 9, 2010 09:19 PM (GMT)
Here she is. This is only the 2nd merganser I've gotten. The first I stupidly threw away thinking it was an ugly bird. Well after 3 years of regretting it, I shot another. So here it is in a diving pose. The pics aren't great since they're from my phone but I"ll get good ones when she's dry.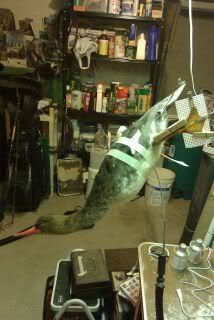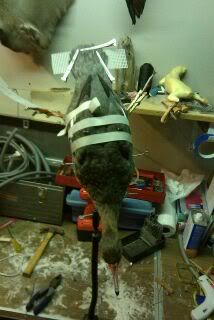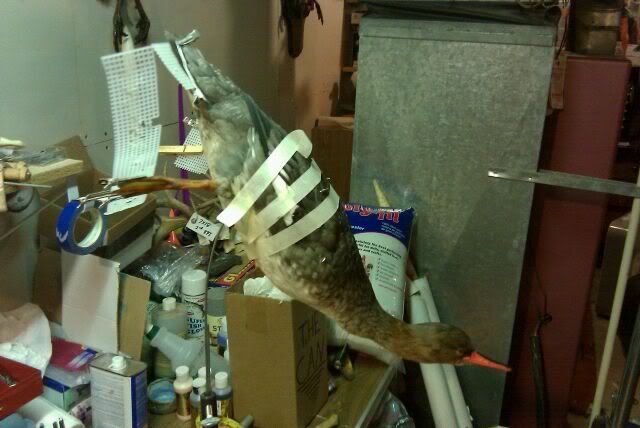 charles m - April 9, 2010 11:44 PM (GMT)
Cool pose. You know what would be even better Jake. If you could some how wire a fish in front of her like she is chasing it ;)
Jake D. - April 10, 2010 12:42 AM (GMT)
Thinking about it after the competition Chuck. McKenzie sells freeze dried baitfish for only like $12 painted. Still trying to figure out a base for it though. It is different playing around with all of these odd poses lately. I kinda like it!
GLW - April 10, 2010 01:01 AM (GMT)
A few lilly pads with maybe a flower or a frog on them would give the impression the duck was diving?
Jake D. - April 10, 2010 01:46 AM (GMT)
That would give a good impression Paul but the problem is these types of ducks don't dive in that habitat. These are a lake/sea duck so I. Need to do something with driftwood. I'd like to incorporate some rocks into the base but not too sure how.
charles m - April 10, 2010 01:28 PM (GMT)
Jake I would think adding the fish would enhance your chances in the competition. I have seen mounts of birds and fish down here that are just plain incredible.
Jake D. - April 10, 2010 05:00 PM (GMT)
Chuck it wouldn't do anything. I may still put one on but in shows it doesn't matter how nice the habitat work is. They judge strictly on the mount alone. They will look at how your mount attaches to the base but that is as far as it goes unless you get into the habitat division. And the habitat division is only that, no mount in it.
WhitetailLady - April 12, 2010 12:24 PM (GMT)
Herbie - April 12, 2010 02:26 PM (GMT)
Jake, your bird is upside down ;) .
Jake D. - April 12, 2010 06:33 PM (GMT)
Sent in my registration today. This is the bird that's going. Nothing like cutting it close time wise.
Herbie - April 12, 2010 10:36 PM (GMT)
Good luck. Hope you do well and get constructive criticism that makes you a stronger competitor.
Jake D. - April 13, 2010 01:17 AM (GMT)
Thanks Herbie. I'm mainly going for critiques to improve my work. I was going to enter into the professional division for a crushing critique but decided to enter commercial. Just because I am doing commercial mounts, not competition mounts for customers. I will still get a good critique but it will be focused on what a customer is looking for, not 100% perfect anatomy that a professional competition mount would have. In pro division flashlights are used and judges touch the bird. In commercial it is no flashlights and mounts are viewed from 8 or 10 feet away. I'd love to bring home a ribbon but I don't know if it will happen.
charles m - April 13, 2010 01:07 PM (GMT)
Good luck Jake, use it as an experieince gaining tool.
Jake D. - April 17, 2010 07:12 PM (GMT)
Getting somewhere with it. Still need paint on the legs/feet and I still need to attach the crayfish and clear coat the driftwood.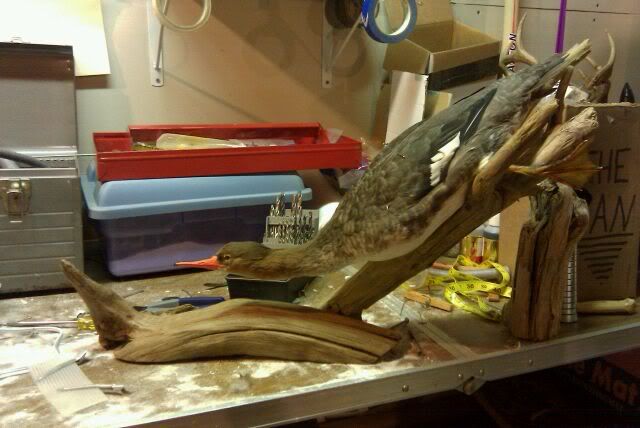 GLW - April 18, 2010 05:21 PM (GMT)
From 100 miles away it looks good to me Jake! ;) Nice job! :)
Jake D. - April 18, 2010 09:50 PM (GMT)
Thanks Paul. I picked up something for it today that you'll see when it's finished!
charles m - April 18, 2010 09:51 PM (GMT)