Title: First of 2010!
Jake D. - April 24, 2010 01:03 PM (GMT)
My brother killed his largest bird this morning. Still a jake, but it's the biggest jake I've seen. 5 1/2" bird, 3/8" spurs. The stupid birds kept circling us for an hour and a half until he connected. They finally drifted off to the north of us so I took a risk and it paid off. Grabbed my gobble call and hit it and they hammered back! They covered about 500 yards in 5 minutes! Two jakes came in to 25 and 30 yards and he put the 30 yard bird down in a hurry, off my knee to add to it! Due to the angle he had the barrel resting on my right knee and I had to drop my left leg to give him a clear shot! Haven't weighed it but I'm saying about 19 pounds. Here's a pic of it.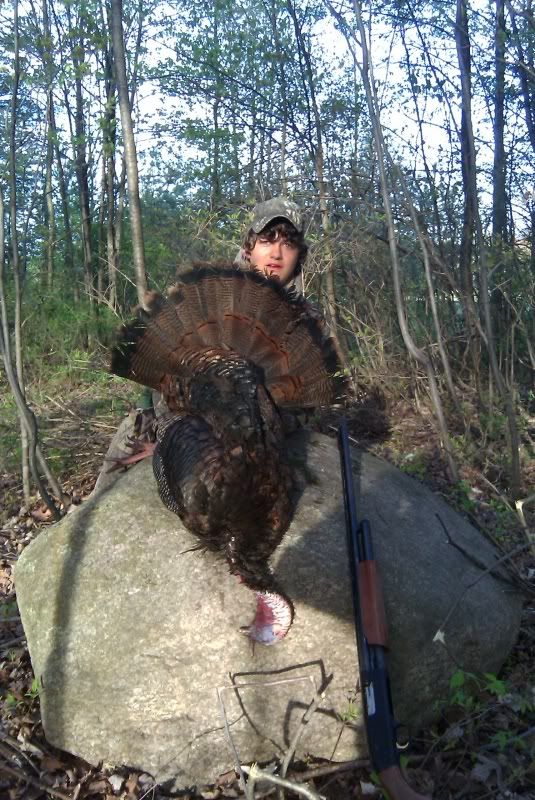 Herbie - April 25, 2010 03:14 PM (GMT)
Congrats. See he has the "Doty" smile working. :D
Jake D. - April 25, 2010 03:31 PM (GMT)
I've brought him up right!
buckblaster19 - April 25, 2010 04:51 PM (GMT)
Congrats to your brother jake.The youths had a great weekend to be out in the woods.
Herbie - April 25, 2010 06:44 PM (GMT)
ADjam5 - April 25, 2010 10:16 PM (GMT)
Congrats to him and you too Jake!
Nice Bird! Hunting with family is always special. ;)
WhitetailLady - April 26, 2010 12:43 PM (GMT)
Congratulations to your brother Jake. I'm gonna have to have a talk with him about what to 'do' when his picture is taken. :D