Title: Fall coming to the pond
charles m - October 15, 2010 03:24 PM (GMT)
Went to the pond today to get some fall folliage shots and see whats there. Mallards and gadwalls are arriving. Saw one female shoveler and some commorants.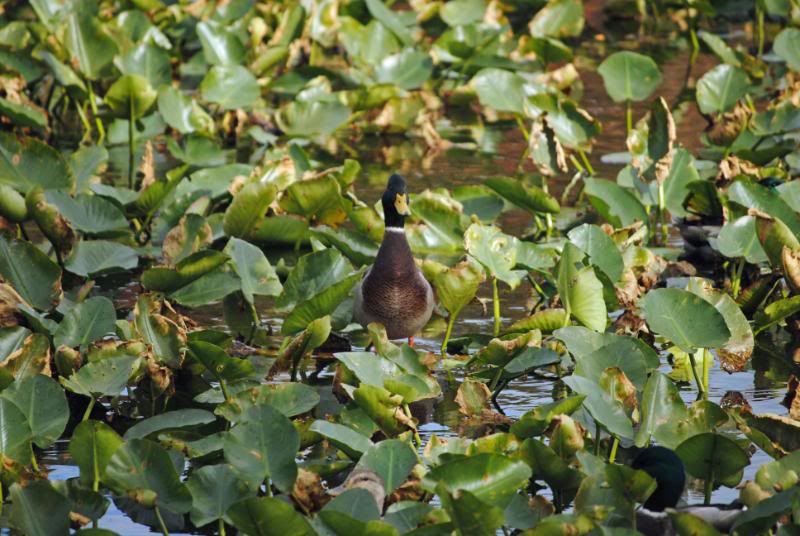 Jake D. - October 15, 2010 03:52 PM (GMT)
Nice pics Chuck! But I think your "gadwalls" might be widgeon. The hen looks like it has the feather patterns of a hen widgeon. I'm probably wrong but the hen just doesn't look right to me. The drake does though other than the tertials (long feathers at base of wing going back towards tail). And that's a STUD of a mallard!
charles m - October 15, 2010 05:26 PM (GMT)
Jake it is definitely a gadwall. This pond gets a ton of them. I don't see many widgeon around here. Listen are their any birds you need reference pictures of? Let me know and I will try to target them and get you some good pics this year.
Jake D. - October 15, 2010 07:00 PM (GMT)
Well a tough one I could always use would be any type of diver on land standing or resting. Or even standing/resting on a piece of ice. It's hard to find pictures of them not swimming. Other than that, probably just the standard mallards/wood ducks. Don't get much other stuff in. Thanks a lot Chuck.
Herbie - October 15, 2010 10:39 PM (GMT)
Chuck, the Fall colors are great. Can't wait to get back up to NY in a few short weeks.
Jake D. - October 16, 2010 01:48 AM (GMT)
I was going thru my reference pics and you're definitely correct Chuck. I guess the hen just looked odd to me so I thought widgeon. Toche!
GLW - October 16, 2010 11:43 AM (GMT)
Nice pics Chuck! Doesn't quite look like that up here anymore, sad. :(

I'm heading out for the woods in a few, was worried for awhile, the wind was just a howling! Doesn't look to bad now at 7:30am. :what:
Yellowdogdave - October 17, 2010 03:04 AM (GMT)
Great colors Chuck - we don't have hardly any leaves left around here..
ADjam5 - October 17, 2010 11:22 PM (GMT)
Great pics Chuck. Lovely vivid colors.
One of the few good things about NYS...the fall colors.
WhitetailLady - October 18, 2010 12:26 PM (GMT)
Great pictures Chuck!!! Still have plenty of leaves and color here in my area.