PLAYER INFORMATION
NAME:
Jesse/Sexy George Lucas
CONTACT:
aim, pm, carrier pigeon
HOW YOU FOUND US:
I heard this was a pretty cool place... but I dunno. I heard that creator lady is a jerk. ;D
OTHER CHARACTERS ON THE SITE
Alix
RULES CODE:
I'm awesome. Xavier.
CREDIT WHERE IT'S DUE:
I don't need help. I know everything. JK- Comicvine
CHARACTER INFORMATION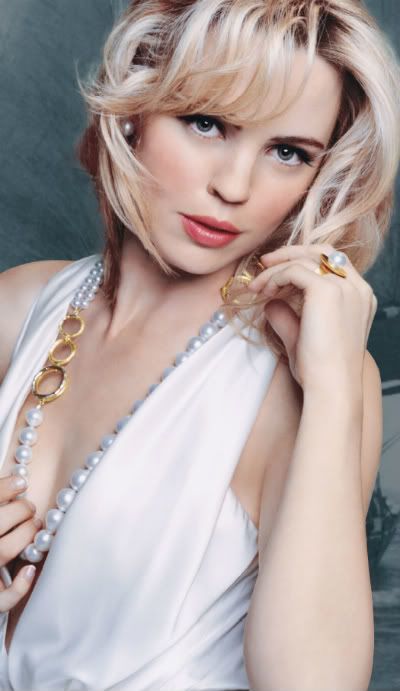 Melissa George
BASIC INFORMATION
CANON OR ORIGINAL:
Canon
AFFILIATION:
Hellfire Club
FULL NAME:
Alison Blaire
CODENAME:
Dazzler
NICKNAMES:
Ali
CURRENT AGE:
26
DATE OF BIRTH:
October 23rd
MARITAL STATUS:
Single
SEXUAL ORIENTATION:
Heterosexual
BASE OF OPERATIONS:
Hellfire club
TIME AT INSTITUTE:
none
REGISTERED WITH SHIELD?
no
HOMETOWN:
Gardendale, New York
KNOWN RELATIVES:
Carter Blaire [father]
Katherine Blaire [mother]
PHYSICAL APPEARANCE
HEIGHT:
5'8
BUILD:
Lean, muscular from dancing and general fitness
EYES:
Blue
HAIR:
Blonde
DISTINGUISHING MARKS:
none
CLOTHING STYLE:
Normally, absolutely trendy and up to date. When on stage, she goes with over the top, glittery numbers that sparkle in the light show for effect.
UNIFORM:
When in official capacity, she wears fashionable though professional clothing in all white.
POWERS
GENERAL DESCRIPTION:
Sonic Conversion into light-
Depending on the frequency of the sound, Dazzler can covert sound into varying degrees of light. She prefers using music as the rhytmic core allows for a more reliable and constant source of sound to convert. As a result of pulling sound around her to her, she can create a null space of sound in a radius of 6 ft. She can strain this to about 10ft, though it is hard to sustain at that point. She can store small amounts of converted sound energy for future use, though this is an ability she is currently working on developing further.
Forms of light:
As a basic ability, she can create simple patterns out of rays of lights. It is her most primarily used, as it is most utilized on stage. These rays and patterns, however, can vary in form. She is still pratcicing with it, but up to the current it has been shown that she can induce a light form of a trance through specific patterns and can create a series of chaotic flashes that can upset people's equilibrium. As an attack, she can focus light onto a single finger to generate a coherent beam of light that equates to a high-energy laser beam.
Eyes/body enhancement-
As a secondary adaption to her mutation, her body is able to withstand high volumes of sound and high amounts of light energy. Her eyes have also developed polarizing eyes that can not be blinded by light. Her ears are similarily resistant to damage by sound.
WEAKNESS:
First and foremost, Dazzler requires sound for her abilities to be able to be used. Beyond genetic conditions in place to protect her from her own abilities, she is no stronger or resiliant than any other normal human woman who excercises regularly.
PERSONALITY
While most see Dazzler at face value for the persona she's built for the stage as a fun loving and carefree socialite, there's far more to the young woman than a simple celebrity. Her role in the Hellfire club requires for much more than a ditsy albeit friendly popstar, however.
It's there that her true personality shines. While Alison is definitely a far cry less somber than some of her contemporaries in the club, she fulfills her duties to the devoted tee. Her background in Law has been handy many times and while most, upon meeting, assume the young woman to be a vacant, stupid celebrity there is a lot more than that to her.
Still, she's far from interested in being involved in mutant political affairs, or in the choice between mutants and humans. She cares more for her career and position than international matters, and while she is utterly devoted to her fellows in the court, it is not her place to get involved in the likes of xmen, brotherhood and all that life-or-death fighting business. She rarely has luck staying out of it, however, and so she generally just fights for her survival and that of the courts, if necessary.
Is not above using her celebrity status for publicity, or helping people for publicity.
HISTORY: PRE-APOCALYPSE
Alison was born on October 23rd to Kathering and Carter Blaire. Her early life was hardly eventful, save for when her mother left her father to care for her at a very young age. She grew up as any daughter of a single father and lived very much so towards the goal of following in his footsteps. All in all, she was a typical girl. Headstrong, a bit used to getting her way, but pretty much set towards the course that she'd known had been meant for her.
Even when her powers manifested themselves at a high school dance she kept on course and instead of fretting about them and causing herself problems over what she knew was growing to be an amounting race war, she hid them and honed them in secret not to get better or to advance, but instead to suppress them so that she could continue on the track laid for her by her father. She graduated from high school with all the intended honors and decided to attend New York University for a law degree- just like her father would've liked. All in all she was happy.
College was every bit her element. She made friends, joined student organizations and participated in the typical social activities expected of a girl her age. Despite her father's misgivings, she even joined roller derby to let off the sort of aggression that law school could bring, and a girls choir to sing on occasion. She made no mention or display of her mutant abilities even with there being more and more mutants surfacing in the world. If people with powers thought that it required them to have a life that superseded the normal, then that was fine for them. It wasn't for her.
She didn't even consider her abilities until one night her group of friends brought her along to one of the plethora of throwback discos in the SoHo neighborhood. It was there, through accident, that she learned her abilities could have seriously interesting effects with music. She'd known they were sound based from the very first manifestation but had not quite understood the scope. That night changed her, and she began to attend more and more throwback discos and even began performing as either a dancer or, as was becoming frequent, a singer. She kept her general focus on school, throughout-- though by the last year of pre-law school she was paying for classes with the money she'd earn through small gigs and productions.
She almost considered continuing on into law school and forgetting the singing, but decided that after graduating she'd continue her career as a performing artist instead of law. Her father was crushed and the two became immediately estranged. Never one to give up on career, she pressed on without the involvement of her father. After shopping and displaying her "patented light show" she signed a record deal and immediately began working on producing a record.
At the age of 21, shortly after signing, she was approached by the white court of the hellfire club to become a pawn. She hadn't quite reached the level that would be necessary of membership as more than that-- but they knew her secret and could, more importantly, advance her career. She accepted their offer and joined into the hellfire club.
The years moved fast from there. Her life revolved around her career and the hellfire club completely. Through their resources and her own shrewd career focus she grew to become extremely popular with both the euro dance crowd and American pop music. Her shows were quoted to be among the most entertaining and theatrics due to the technological marvel of a light show. Her popularity rose in the charts and she soon joined the list of artists with consecutive hits in the top 40s
DURING APOCALYPSE (April 5th through April 12th, 2009)
During Apocalypse, Dazzler was on tour in Germany. As is typical of her European tours, it was to mask Hellfire Club dealings. However, knowing that she couldn't simply sit by as the world went crazy, she aided those that were in need with money from her tour. Shortly after the week, she held a benefit concert to donate all funds to relief agencies. Of course, all was done with the full intent of being noticed by the media and for publicity-- but there was, in her mind, nothing wrong with getting a little kickback on good deeds.
When the tour was over and the climate had cooled, she returned home to New York and continued to do occasional local shows.
POST-APOCALYPSE
After Apocalypse, Alison took a slightly more hands on approach to her tours, and stepped up her involvement in the hellfire club-- due in large part to her promotion to white rook after her display of monetary and media prowess in handling the Apocalypse. Primarily she does courier work between the various hellfire circles around the world, all behind the mask of doing limited engagement tours and shows.
All in All, the struggles against the Kingpin and the damages his assassins inflicted onto the club, the switch of her queen during world without Xavier, and even the fight against the shadow king were all things she heard about in communication with her court, but was all in all disconnected from on anything more than a personal level. It provided a level of frustration that she was not there for her fellow members of the court, but she continued on with her duty despite. That all changed, however, during the purifier's.
When the purifiers attacked she'd wanted more than anything to come back to the aid of her queen, but still had the tour to finish. So, despite her actual desires, she continued the tour and kept in constant contact with Betsy and the others of her court. The moment the tour finished, however, she returned home just in time for christmas.
SAMPLE RP POST:
While the world burned with the desire for the blood of mutant kind, Dazzler stood separate and unaffected as ever. The lights went down, the stage went dark and she stood alone on the stage, waiting for the moment when the music would stop and the real show would begin. This was her duty to the world and she would continue no matter the climate.
The show would go on, no matter how mad the world had gone. No matter how many would die, no matter how badly her queen had been broken. Her fellows at the court had seen the heat of battle and had been the avenging face of an entire species.
Alison had not been part of that face, nor had she even been in the area.
Perhaps in another life she would've stood by their side. Canceled the tour, came home, rushed to the aid of her fellows and ended the highly successful tour that had been occurring. It wasn't like it would've been entirely uncalled for with the nature of things. That was, if the world had known she was a mutant, and if there hadn't been a job that the entire tour had been a cover for. Even standing alone on the stage, however, she couldn't help but feel the burn of hate for those that had hurt her queen.
She was no fighter nor had she a desire to kill before the news had reached her ears via a pawn that had been sent along to assist during the tour. But on that night, she'd wanted nothing more than to rush home to avenge not only her queen, but her dearest friend.
Such things had been translated into the show. The last show in the tour that could not have been timed better. As much as she loved the production, the tour life, and the missions that she'd been on behind the scenes.. her place was in New York. With her court, with her queen, and with those that she stood beside. While her interests had never been particularly devoted towards heroics it never seemed to be quite far from the way things had gone. Still. There was no copping out of the show and so, when her hands rose to the air and the sound of the background music began, the lights began-- swirling into a vortex of movement and rhythm, fluttering and flashing along with the tone of the music into a hypnotic flush of color.
The words of the song had never particularly mattered to those that attended her shows--- it was the lights, the sound, and the rhythmic pulse of sound that flashed easily throughout the entire venue. Roller skates and glittery clothing only added to the flare of the show as she utilized the full stage, a trail of lights following along in a rush of brightness that would always remain a technological mystery. To most, she looked completely focused. Devoted to the music and the dance she'd done through every show she'd done.
But to those backstage that knew?
Knew she could only count the days until she could return home to be where she was supposed to be alongside her queen.