RPER INFO:
Canon or Original:
Canon
Name:
Still Confidential
Contact:
See "Box"
How did you find us:
See "Box"
Other characters on this site:
Box
Rules code:
Xavier (it's still Xavier, right?)
Give Credit Where Due:
Wikipedia, Google Image Search - Wolfsbane created by Chris Claremont, Bob McLeod
CHARACTER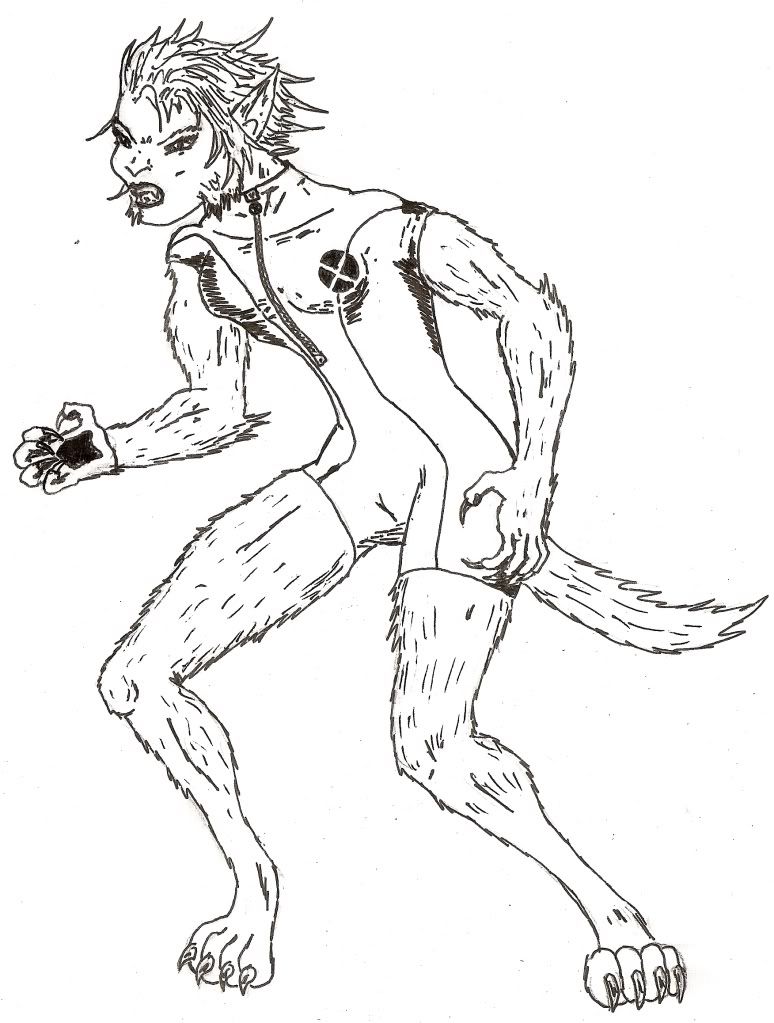 Affiliation:
X-Men (eventual)
Name:
Rahne Sinclair
Codename:
Wolfsbane
Nicknames:
Rainy Day, Red, Fuzzball (not too fond of that one)
Place of birth:
Ross and Cromarty, Scotland
Age:
19
Time at the Institute:
Will be arriving after the conclusion of the current storyline
Marital Status:
Single
Known Relatives:
Moira McTaggert (adoptive mother), Kevin McTaggert (adoptive brother)
Base of Operations:
Muir Island
Sexual Orientation:
straight
Physical Appearance:
In human form, Rahne is a fair-skinned redhead of average height, hair long and pulled back into a ponytail. Green eyes complete the fairly typical gaelic look.
When powers are activated, her body is covered in brown fur, her ears are elongated and pointed, fingers and toes are clawed, teeth are sharp, and a canine tail emerges from the base of her spine.
She has not yet learned how to assume a complete wolf form, but when (if) she does, she will look for all the world like the average wolf.
For more information on how she looks in half-wolf form, please refer to the picture above. It perfectly describes what she looks like, far better than I could with my words.
Distinguishing Marks:
None to speak of
Clothing style:
Fairly mundane in dress, Rahne rarely strays from t-shirts and jeans or shorts depending on the weather, and very VERY rarely wears shoes, preferring sandals if she must wear something on her feet.
Very rarely is Rahne seen without a crucifix pendant around her neck.
Xsuit:
Were she pressed into X-Men service, she would wear a uniform consisting of a dark blue and yellow unitard with an "X" on the left breast, and with arms and legs bared.
Powers:
In short, Rahne is a lycanthrope. She possesses the ability to take on wolf-like attributes such as enhanced strength, speed, and agility, sharpened teeth, claws, and an unerring tracking ability borne of enhanced senses of scent and hearing. Hand-to-hand combat prowess borne of animal instincts increases greatly in this form, though she lacks much beyond fairly basic training.
She can switch between human and lupine forms at will, though there is a slight preference for her lupine form, where due to the influence of canine instincts, she is far less reserved, far more energetic, and overall more willing to be happy despite outside influence. In wolf form, Rahne experiences a mixture of humanoid intellect and canine instinct, which has its advantages and disadvantages.
Though she is not aware of it, Rahne is capable of morphing to a full-wolf form, in which she would lose the capacity for speech and the ability to walk on two legs. In body, she would be a wolf with no trace of human physicality whatsoever. Her mind, however, would remain intact, so she'd have human logic to access.
There is no true "time limit" to her transformations, so to speak. Should she wish it, she could remain indefinitely in either form.
Weakness:
Attacks on her senses can leave her wholly debilitated, such as excessively loud noises, certain high-pitch frequencies such as that emitted from a dog whistle, or pheremones designed to confuse her animal instincts.
Sometimes, the canine instincts would prove to be a difficult struggle, causing her to have lapses in judgement, to make decisions on an impulse rather than careful consideration, and to be snappishly protective even if it isn't entirely warranted, especially over children entrusted into her care. This may cause her to lash out at people without it being warranted, though it will usually be at a low growl level.
Personality:
Rahne is a sweet-natured young woman, a devoted Presbyterian, and a fiercely loyal friend, amongst others. She is rarely in a sour mood and is usually depended upon to cheer others up. She constantly views the world with a positive naivete, and her mood tends to be infectious. Rahne has a definite soft spot for children, who tend to be very fond of her playful, puppy-like mannerisms. During a crisis, her primary concern will be the childrens' safety, and no amount of arguing will convince her otherwise.
She also doesn't have much of a thought-to-speech filter, although she is never intentionally mean-spirited, she will sometimes say things that would probably have been best left unsaid. "Everybody thinks it, but Rahne says it". Think of it like that, except not as mean and callous as it's usually applied. Rahne doesn't have a cruel or mean bone in her entire body.
History:
Born in a small village called Ross and Cromarty in Scotland of parents unknown, the infant Rahne was left on the front stoop of the church in town, where the Reverend Craig took her in. He proved to be an abusive father, who kept harsh rules over her and beat religion into her as well. Upon discovering the girl's mutant nature, he led a mob of angry villagers to burn the girl at the stake. Only the timely intervention of geneticist Moira McTaggert saved the girl, who fled with her to her home on Muir Island, where she had set up a genetic research facility that doubled as a sanctuary for mutants.
Here, Rahne led a far more happy life, assisting Moira with caretaking of the younger residents of Muir. She had met Charles Xavier several times during these years, as he had a friendly, rumored to be romantic relationship with Dr. McTaggert that brought him and sometimes some of his X-Men to the island. Rahne had no intentions of leaving her mother and the younger children behind, despite being offered a place on the X-Men. Her place, she decided, was on Muir.
And there she stayed, mostly taking care of the children, sometimes helping to defend Muir from outside attack although that was a rare thing indeed. It wasn't until very recently that Moira decided that Rahne should make the trip out to Xavier's. The doctor had kept contact with the school even after Charles's death, and was under the impression that, after the problems with Scott and Jean, that what they needed most was someone like Rahne much more than Moira needed Rahne's help around the laboratory. There were few young children anymore for Rahne to look after, so her assistance in that capacity had diminished greatly. After much debate between the two, Rahne finally agreed to go, and decided to make an adventure of it.
SAMPLE RP POST:
Rahne fingered the crucifix hanging about her neck nervously as she sat in the back of the taxi as it made its approach to Xavier's School for Gifted Youngsters. She survived the worst of the trip thus far, having been on her first airplane ride, so how bad could this be?
Fairly bad, if what Moira had told her was true. That the school had recently fallen under... evil influence and was only now shaking it off. She had remained in her human form the whole time, for hours upon agonizing hours, and the wolf inside was growing impatient, desiring to be let out. But she would wait, she could wait. After all, if she suddenly became a werewolf in the back of the cab, it may certainly throw her driver off, force him to abandon her and run screaming.
No, that wouldn't do at all, she decided.
Finally, the cab slowed to a halt at the front step, and the driver put his car into park and went around back to get Rahne's bags. She was a light traveler who didn't pack any more than the bare necessities, so it wasn't difficult.
"How much do I owe ye?" she asked as she stepped out of the car, thumbing through her wallet to find the American dollars.
"Sixty-three fifty," the man answered.
"Och! 'Tis quite expensive," she gasped in pretend shock, but handed over the money anyway.
"So's gas," he answered back, taking the money. "Ya know it's customary in this country t' tip your cabbies?"
"Oh, it is? I'm terribly sorry, sir. I'm afraid I'm nae too well-learned on the ways of the taxi. First time ridin' in one," with a shrug of her shoulders, she forked over two more dollars.
"Ten percent's usually what we get at the least."
"Bless me heart, yuir bleedin' me dry ye are!" Still, she handed over another ten dollars. "Will that cover ye?"
"It'll do well enough. Maybe you should tell your folks back in Dublin how it works once you get home. I'm tired of bein' stiffed by you Irish."
"Beggin' yuir pardon sir, but I'm Scottish. Callin' a Scot Irish is fightin' words."
"Ah, whatever. Yer all the same to me." With that, the cabbie got back into his car and drove off.
"The nerve o' that man! How terribly rude!" she huffed slightly, and lifted her bags onto her shoulders and proceeded to climb the stairs and knock loudly on the doors.
After a few moments, a young man with shaggy brown hair answered the door with a timid "Hello?"
"G'mornin' to ye! Name's Rahne Sinclair, and I hear yuir lookin' for a daycare instructor?"