PLAYER INFORMATION
NAME:
Julie
CONTACT:
PM or Ask for Aim
HOW YOU FOUND US:
A click here and a click there and then I got here
OTHER CHARACTERS ON THE SITERULES CODE:
Xavier
CREDIT WHERE IT'S DUE:
Wiki, Marvel, Comicvine
CHARACTER INFORMATION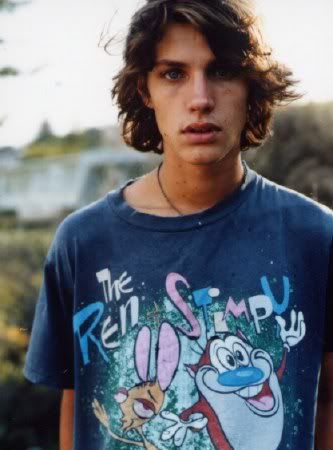 Andrew Smith
BASIC INFORMATION
CANON OR ORIGINAL:
Canon
AFFILIATION:
Brotherhood
FULL NAME:
Kevin Ellsworth
CODENAME:
Freakshow
NICKNAMES:CURRENT AGE:
17
DATE OF BIRTH:
June 13th
MARITAL STATUS:
Single
SEXUAL ORIENTATION:
Heterosexual
BASE OF OPERATIONS:
New York City
TIME AT INSTITUTE:
[if applicable] None
HOMETOWN:
Boothbay Harbor, Maine
KNOWN RELATIVES:
Benjamin Ellsworth [father], Regina Ellsworth [mother]
PHYSICAL APPEARANCE
HEIGHT:
5'8
BUILD:
140 pounds
EYES:
Grey
HAIR:
Blonde is his natural color but he tends to keep it dyed black
DISTINGUISHING MARKS:
Two scars from when he was a little kid, one on his left knee and the other near his right elbow, but that's about it.
CLOTHING STYLE:
In a broad sense, Kevin is your stereotypical loner. He isn't the tallest guy around, in fact he's slightly below average in regards to height, but the way he slouches makes him appear smaller from a distance. Despite being a generally hygienic guy that probably just skips on washing his hands from time to time, he can sometimes appear to be a little unhygienic because of his disregard to his appearance. His hair is unruly on the best of days, often getting into his eyes or his face until he tries to flick it out of his face with a sharp head movement or until he caves in and pulls his hands out of his pockets. His eyes are naturally small, and sometimes a simple look from him may appear as if he's glaring at someone when he may not even notice their own attention being on him. He's tan, most likely a result of being outdoors as often as he. His body is very small and tends to lean a bit towards an nonathletic look. This is somehow nullified by the larger clothing he wears, particularly the hoodies he may wear from time to time that make him appear more imposing upon first seeing him.
When it comes to clothes, it's important to note that Kevin's mutation calls for a specialized wardrobe that, if it weren't for the circumstances calling for it, may make him feel kind of trendy inside. The simple truth is that he destroys normal clothing, on a daily biases. Every time he uses his powers he shreds them to pieces and is forced to get new clothes. And this has lead him to shop exclusively at thrift stores and other places one can buy used clothing you don't really care about. As he doesn't have the confidence to walk around naked all of the time, he is required to have a clothes selection that is cheap and easy to rebuild as well as easy to store in dirty ally at times when he knows he will need to dress quick to get away from the scene of a crime. It causes for some extra expenses, but luckily he doesn't need to have the latest range of fashion to make him happy. It's always great to have a lot of stuff to wear, don't misunderstand, but a roof over his head and long clothes to keep the cold off, is more than enough for him.
But what does he wear? He likes dark colors, or things in greyscale. Make your emo jokes now before you know about his history. It's not that Kevin has anything against bright colors. In fact, on the right person they can work out for the best. But he'd feel like a hypocrite if he were to walk around in bright yellows, perky oranges, or even a pretty robin egg blue. About the brightest color he can be seen wearing is something that's red. He likes that color, actually. Dull reds and greens are present in his otherwise black and grey ensemble. There are the obligatory blue jeans, black jeans, grey jeans, and of course dress pants should he be forced to dress up for any occasion. He likes wearing heavy outer clothing, such as hoodies, jackets, coats, sweaters, and he has been seen in a scarf before. On particularly hot days he'll stick to a simple tee shirt. Shorts don't exist to him, and he's hardly ever seen out of his room wearing anything less than a full outfit. Nothing he owns could really be called brand clothing. He doesn't see the point in expensive brands anyways, and is hardly impressed by them when someone else is wearing them.
UNIFORM:
None
POWERS
GENERAL DESCRIPTION:
Freakshow is able to morph into monstrous forms. Depending on the form, he could have super strength, flight or other abilities. When he is any of the forms he is able to become he is still fully able to talk and think on his own and his normal mind is in charge of the monsters he becomes.
Main Form
In this form Kevin is mostly yellow-green in coloration, with long sinewy bodies that enable swift and sweeping underwater movements under the water. His claws are stubby but effective, and has a tail that tapers into a thin, fan-like shape. There is a vague reference to komodo, but his longer neck and fins are what make him look much different to them. This form can be troublesome on land, using his snake-like form to slither and pounce on unsuspecting people. This is his favored form do to how versatile it is and living on the coast being able to escape via the ocean is a handy trick to have.
Minor Forms
Air Monster – In this form Kevin very much looks like a Raptor from Jurassic park. He has the short arms and the chicken like legs. He is able to run at greater speeds in this form and his mouth packs a nasty bite but his arms are pretty useless to him. But what he does have going for him is between his arms and body are flaps of cloth like skin that he can use to glide through the sky if he is jumping from a higher area to a lower area.
Lizard Monster – This is very much his tribute to Godzilla and other monster movies form. He is a large lizard like creature that can move on either two legs or fore legs. He has very large forearms in the front as well as a spiked tail and bone horns that jet from his head and back. He is able to stand on two legs for better combat or go on all fours for more speed.
Future Forms
Rock Monster – When he learns this form in the future he basically is a monster bulldozer. Large, on all fours and able to run through things. His head takes on a bit of a shovel like shape and his whole body is made of a thick granite like stone. He is very slow, and lacks a lot of maneuverability but what he lacks in those areas he makes up for in pure brute strength.
WEAKNESS:
He has many weaknesses and each form comes with it's own set that he needs to keep in mind when he morphs. But there are some that apply to all his forms no matter. And if he forgets about these he could find himself unable to use his powers, naked and starring down some very angry people for what ever he had just done.
-He can only morph to one monster at a time.
-It takes him roughly two minutes to fully morph or un-morph his body.
-If he wants to change form he has to morph back to normal then change to the morph he wants to use. This takes him a bit of time as well as leaves him exposed to attack or injury.
-He can maintain any of the forms for up to 6 hours before he can no longer hold his body in the monster state.
-Every time he changes from one form to another he loses a half hour of time that he can keep the shape and power of his forms. So the more times he switches the less time he can spend powered up.
-When he gets into a fight as a monster he does feel the effects of it on his body when he un-morphs. These will show themselves in the form of bruises, cuts, gashes or even broken bones when he comes back to normal.
Limits per Form
Main Form
-Strength: In this form he does experience an increase in his strength that allows him to move, roll or lift objects that are up to 60 tons. If he wanted to throw something it would drop to 20 tons because he would need to brace himself on his other arm since he only has fins in the back and could not support his weight if tried to throw with two arms.
-Speed: When in this form he has two different speed sets one for when he is on land and the other for when he is in the water. When he is on land the most he can reach is 20 MPH. But under the water he can reach speeds up to 60 MPH.
-Durability: He has thick scales in this form but nothing that is super strong but strong enough to resist basic forms of damage. Think of it as a triple thick leather hide armor. Strong enough to reply small attacks and most melee attacks but feel the stronger ones.
-Form Limit: The biggest limit on this one is while he is big and fast when he is on land he has much more of a slither then a crawl which at times can make avoiding things a bit harder. And it does decrease his speed at power at times as his two front paws have to sustain all his weight when he is on land.
Air Monster
Strength: This is his weakest form. All his power here is in his legs and jaw. His arms are small and stubby and because of this he has no lifting power at all.
Speed: What he lacks in strength he makes up for in his speed. When he is on the land he can run at speeds reaching 60 MPH. When he is gliding he is able to reach a top speed of 75 MPH but he must jump from a height that would allow him to soar at those speeds. At this time he can not fly but just glide, if he put himself to it and trained he could fly under his own power in this form and hit the 75 MPH on his own but he is to lazy at the moment to learn how to do that. If he flies any faster then then 75 MPH the flaps that he uses to glide and fly on start to rip and pull apart.
Durability: Durable enough to fly but not to take a large beating. Basic durability of a small dinosaur like creature.
Form Limit: As said about he can not surpass speeds of 75 MPH or else he starts to come apart at the seams. This is also the smallest and weakest for so when he is in it battle becomes a much more dangerous thing for him to under take then in his other forms.
Lizard Monster
Strength: At the moment this is his strongest form when it comes to sheer power. He is able to lift up to 75 Tons and with the ability to stand on two legs in this form it makes him very dangerous when he manages to grab a big object to swing about.
Speed: This form like his main form has two sets of speed limits for him as he is able to push himself a bit faster when he is on all fours against running on two. When he is on two legs he can move at the speed of an average in shape man but if he goes on two all fours he would be able to keep pace with dogs and other animals of similar size to an average dog.
Durability: He is very durable in this form as well as the bone spikes that line his back and head add extra protection on top of the thick skin he has just like in normal form
Form Limit: In this form he lacks balance when on two legs at times. Given the size and weight of being a Lizard monster if he takes a few well places shots while standing on hind legs he is easy to topple and knock to the ground.
Rock Monster
Strength: When this form is developed it would be his strongest form but he sacrifices a lot for that power. He would be able to lift up to 120 Tons in this morph.
Speed: This one of the things he loses when he picks to be Rock. Since his body is all solid rock movement is not easy nor something that comes quickly. He can move slightly faster on four legs then he can on two but either way getting past 1 to 2 MPH does not happen for him. (Unless you roll him down a hill but that's another thing all together.) He is slow and there is no two ways around it for him when is in this form.
Durability: Being made of rock gives you a high level of Resistance to damage. Since he is thick granite in compensation anything short of bombs and energy attacks aren't going to phase him much.
Form Limit: He is big, slow and can't really movie. He works best as a battering ram or shield in this form because he is not fast enough to really keep up in a fight and much two slow to really charge anyone. He also has very poor vision to his sides since turning his head is a process all it's own.
PERSONALITY
Kevin is not your typical teenager when you meet him. And not just in the face he can turn into giant monsters and eat people either. For only 17 years of age is very much a nostalgic boy. He misses the good old days before a large portion of the world wanted to kill him and skin him alive. He misses just going to shows and goofing off with his friends. He longs for those good old days at times. And it's not that he hates being mutant either he loves it, he just don't like all the pressure and stress that comes with it at times. He focuses on living in his here and now but every now and then he will see or hear something that will spark a memory or two and he can't help but let his minder wander back to those times.
Though his wandering mind does at times get him in trouble as he is a day dreamer and is prone to zoning out on people. A pretty girl walking by, bordem, a cloud, something shiny... it doesn't take a lot to send his mind somewhere beside the moment at hand. This day dreaming mind set may spark from the face he is very lazy. He has never been a go getter and loves to do just enough to get by or get a job done. He rarely puts forth the extra effort to be all he can be, when being all I need to be is enough for him to get by. Unlike many lazy people though he can turn it off when he wants to. Things he believes in, enjoys doing or spark his interest he will jump into and get really excited and eager to do.
One of the things he is always eager to jump in on is over throwing the human ruled government. He doesn't see why the weak should and can rule the strong and because of this he finds no reason to follow the laws or listen to those in power. Not that he likes or wants anarchy he just finds those in power unfit to hold the power that they have. At the same time while he is largely all for the murder and mass destruction of weaker species he is a bit of a pacifist in his own right. Among his friends and people he holds close he likes to avoid conflict. He is more likely to just agree and do what a friend wants then but heads with them, unless of course what they are saying violates his inner morals and sense of right and wrong.
Over all though many people find him very easy to get along with. Much of this comes from his laid back attitude of wanting to just have fun then fight most of the time. He also loves to talk and be talked too. So if your looking for someone who bounce ideas off and get feedback he would be your man. Or if you want a lively conversation he would be a great pick. But if you want a quite walk or someone to just listen then he is far from the person you should be seeking out. The last think anyone really needs to know about him is that he is honest and loyal. If you are his friend he will back you till the death and stand up for you no matter what he has to face to do it. He also is not shy about saying what he truly feels when asked and being open and upfront with those people he consider eds friends.
HISTORY
Born in the small coastal town of Boothbay Harbor, Maine. Kevin was raised by his mom and dad as the only child. They were both school teachers and always tried to teach there son to be the best he could and do good in everything he was apart of, but Kevin was a slacker and it drove them both mad at times. They loved him to death but many nights were spent arguing over how much better he could be if he would just apply himself to something in life.
He Remained a "C" student at best and discovered his love for the lifestyle and sounds of Indie rock in his sophomore year. Despite his slacker lifestyle he fully pushed himself into this new found sub culture of sorts. He spent his weekends at clubs, music venues and any where else a local show was being hosted. He even toyed with the drums a bit just for the fun of it (and to get chicks) but never really stuck to them enough to go anywhere with them.
A few months after his sixteenth birthday Kevin transformed sometimes into creatures he would daydream about. He caught himself every time before something bad could happen. But it really scared him that he could be these things and have such power and not fully understand how or why he was turning into them. He turned into a dragon one day before he managed to catch himself, he was found out by his parents, as well as the entire town, were not happy about a dragon appearing. And they immediately dubbed it a mutant and started to hurl insults at him and he could see the shame and fear in his parents eyes and it broke him inside. Kevin fled to New York City, the furthest his wings would take him, before he tried to start a new life alone on the streets. While in New York he took to the streets moving from homeless shelter to homeless shelter at first and committing some robberies to get new clothes to replace any he lost when he used his power, he would also steal some money while doing this so he could get a few nights in a Motel and fly under the radar a bit. Enough to live on but not enough to draw unwanted eyes to him.
DURING APOCALYPSE:
Kevin wasn't fully sure what was going on when the attacks all started. All he knew was crazy things were happening and he was getting attacked in a manner similar to a horror flick. And he did what any self respecting, super powered teenager would do... kill a crap load of people who tried to kill him, and he loved it. He even went as far as to swat a few of the normal humans by "accident". When the attacks ended and all the storms started to happen Kevin went for cover and took over a pent house who's owner was either dead or ran for the hills. He had no desire to save the people in the city, if they were strong they would live and evolve to something useful. If not well tough luck. He waited the storms out enjoying life in a rich families home and helped himself to more then his fair share of the things they had left behind. When everything calmed down a bit and people started to come home he slipped back to his normal way of life not wanting to upset anyone or find himself in un-needed trouble.
THE BROTHERHOOD'S KILLINGS:
When the news hit of the Brotherhood assassination of major Anti-Mutant haters Kevin was in heaven. He had found his heroes to idolize and try and be like. He watched the TV with his breath almost held as he watched the events unfold before him and he couldn't help but dream of being among them some day. After the attacks ended Kevin had a goal, a mission in life. Join the Brotherhood. He knew he would need to do something big and work hard to get their attention so he set about planning and re planning he wanted everything to be perfect so when it all went down he would turn heads and they would have no choice but to come and invite him into there fold so he could help in there glorious cause.
WWX:
Before he was able to put his grand scheme to action Kevin found himself having an outer body experience. He found himself in a city that was run by mutants. Ruled by mutants and the world feared. He at first thought he died and went to heaven or was given some kind of spirit quest vision or something. It was amazing. When he returned to his normal body and self he wanted and longed to go back to that place where the world seemed as it should be to him. He had a renewed sense of purpose in why he needed to join the Brotherhood to make that dream world come to be his reality.
But before he could go about that he stumbled on a few news blurbs and some youtube videos of creatures much like the ones he morphed into attacking humans in the subway as well as in central park. He could have sworn it was him but he could not recall it at all. It scared him a bit that maybe when he slept his body was doing things like this with out his knowledge. He was going to have to look into this and if it was so figure out how to make it stop. This has lead him to be a very paranoid sleeper since he is still clueless to the other world that was merging with the world he knew. And has made him a bit unwilling to go to sleep without his web cam pointed at and recording him so if he does morph and go out he knows about it the next day and has proof to work with. But once the first bit of shock wore off he got himself refocused and ready to put his plan to action to seek out the Brotherhood and join the ranks of his fellow Mutants.
SAMPLE RP POST:
July 7th 2010
Somewhere in the Atlantic
The taste of salt in the air on his tongue was something that Freakshow had missed since his untimely arrival in the big apple, and to taste it now in his present company only served to further cement the fact in his mind that he could no longer rightfully call himself Kevin Ellsworth. No, that individual had disappeared following the manifestation of his powers. But what he had lost in a flesh and blood family he would get back tenfold in his new family among the Brotherhood if this worked out, along with an actual sense of purpose. Currently he had absolutely no idea as to if they had heard about this, in all his wisdom, he never really planed how they would hear about this. But he figured a sea monster attacking a cruise ship as well as slaughtering a handful or so of the cruise goers would make the news somewhere. So till they got there he was going to enjoy his new cruise ship. He sat in one of the deck chairs in just a pair of borrowed jeans from one of the cabins kicking back enjoying the open seas while the ship glided slowly out to the middle of nowhere in the Atlantic Ocean. Only when the boat stopped did the young mutant rise from the chair, making his away to the front of the ship at the normal slow pace he took when walking. He gave his head a rub as it seemed he had gotten stuck on a rock or some other thing in the ocean. "One never knows what to expect when one is on a boat they can't drive" he stated,as he let a small laugh out to himself and then shrugged his shoulders, "I guess this will just make it all the easier for the Brotherhood to find the Freakshow."
Kevin's mind began to wander; not to the clouds or the expanse of ocean before him, but rather to the mystery reason as to why he was brought to such a strange location. The sea, from what he saw, at this location was just as barren as any other part of the ocean, a literal blue desert threatening to swallow anyone that dared venture into it. Fate was a funny thing. Something his mom and dad would often speak of when he was younger and he would laugh at the most inopportune times as they tried to get him to see why he needed to try harder. "Exactly why am I here," he asked after finally allowing his curiosity to win out. "there doesn't seem to be anything out here, I'm looking for my purpose. My fellow Mutants to be among and fight with. And it's just me and nemo in the ocean! I so needed a better plan..." His question, wasn't anyone but to everyone all at once. He made a habit of mocking the universe his science teacher of a mom was so in awe of. He ran his hands through his hair and walked back to his chair and sat himself down in it with his eyes closed as he took in some more rays. Maybe they would send some of the hotties with a bodies he saw on TV....be like a recruitment team from playmutant or something....his lips let a smirk creep out.
When mutants rule the world I am so starting Play Mutant. Riches for me Bitches!