Title: Kwsg 34: Minor Race
Colrouphobic - September 29, 2007 05:57 AM (GMT)
QUOTE
This Weeks mission, should you choose to accept it, is to sketch something that includes a Minor Race of the WHFB/WH40k world.

For fantasy this would be minor races included in armies (such as harpies, cold ones and others) for 40k this would be things like Hrudd, Jokaero and others...



This weeks subject brought to you by, ME baby! (going throuhg the topicsuggestion topic from the start, this was the first one I found that hasn't been done that could be done with both WHFB and WH40k)


KWSG RULES
*This is a sketchgroup. We do not expect you to tighten these ones up completely.
*This is not a stickfiguregroup. We do expect you to do more then just draw some stick figures. We appreaciate that not everyone feel confident with their skills to be a master artist, however, no matter how bad you feel you are at drawing, you will have an entire week to do this sketch-thingy. Atleast push it beyond the stick-figure part ;)
*This is no competition. We want the general task be to post sketches, to further our own ability to draw, paint, sketch and so on. Maybe in the future we will make a more "competition of the week" kind of topic, but for now, this is just for fun!
*Critique. Please give constructive feedback in this topic. We all know that alot of the stuff in here just looks very neat, but lets see if we can help eachother with making each week get better and better by improving our skills.

Easy E - September 30, 2007 11:42 AM (GMT)
sarabando - October 1, 2007 09:57 PM (GMT)
is that a minor race or a miner race? :P
StratoKhan - October 9, 2007 06:01 PM (GMT)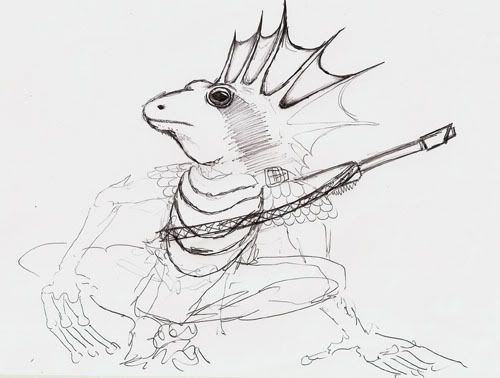 Horribly rushed Slann sketch. It's awful!
Yamez - October 11, 2007 05:54 PM (GMT)
MURLOC!


Sorry... couldn't resist :P

The head is shaping up nicley!
Easy E - December 3, 2007 11:50 AM (GMT)
Not a drawing, but a sculpt! Is that okay in the KWSG?
I decided to sculpt a Demiurg "Utilitarian" worker robot. These machines are very useful for a variety of purposes, and demonstrate a high degree of programmed awareness, including technical skills. They also come equipped with Ionic Multi-tools siuated in the faceplate. Ionic multi-tools can be seconded as weapons in an emergnecy.
and
Easy E - January 19, 2008 02:27 PM (GMT)
Stugmeister - January 19, 2008 11:47 PM (GMT)
That's coming along nicely EasyE!