Title: Chaos Dwarves
Description: ink graphic
igorvet - March 13, 2009 02:37 PM (GMT)
A fan fictioned fraction of Chaos Dwarves army B)
Black Axes of Hashut - are untouchable cast in chaos dwarves society (analogue of dwarves Slayers).
BAH are the last chansers who can prove their loyalty to Hashut with two handed axe. They don't have shields - cause they are already dead.
BAH are perfect warriors because they communicate with outer world only through their leader.
Oftenly, BAH are used as a body guards of chaos wizards.
So, here they are fatalistic warriors - Black Axes of Hashut. B)
IADM - March 13, 2009 03:47 PM (GMT)
Nice designs man!!!
They look mean.

Just one critic...They seem to be stuck one with the other...You can use some little white lights to separate them.
Thatīs all.

Regards and good luck.
Ignacio.
precinctomega - March 13, 2009 07:50 PM (GMT)
Great to see someone giving Chaos Dwarves some love. I rather liked the "Dark Babylon" reimagining of Chaos Dwarves in 4th Ed WFB and wish they could have had more love since then. The Daemon Cannon wasn't really enough.

This idea hits the right buttons, though. The concept is new but in tune with the existing canon (albeit, perhaps just a touch too close to Mountain Dwarf canon?) and the image is great.

The guy in the middle looks a bit weird with the pigeon toes. And perhaps you could go raid some source material on Babylonian armour and weapons, but those a minor quibbles.

Good job!

R.
Commissar Molotov - March 14, 2009 11:39 AM (GMT)
I really like the rendering in this piece, it works well to give it a very evocative style that reminds me of early GW work. Fitting for the subject matter! :)
schwager - March 18, 2009 02:56 AM (GMT)
Hi igorvet, I love Chaos Dwarves!

I also love the darkness they have about them and how you've bridged the gap between the old pointy hats and the new approach GW has taken.

The underlying anatomy needs a lot of work, though. Especially the way they are standing looks quite odd.

Keep it coming :)
igorvet - March 18, 2009 08:24 AM (GMT)
Thank you for your replies!
Really happy to hear your warm words about my Chaos Dwarfs, especially from such a great artists - it's mean a lot for me ;)
So, I've decide to show you some old Chaos Dwarf art, hope you'll like it as well :rolleyes:
Bevare of Chaos Dwarves - they are very tricky and cruel!!!
Their favorite trick - is strike from the back!
By
igorvet
igorvet - April 16, 2009 10:11 AM (GMT)
Colrouphobic - April 16, 2009 11:52 AM (GMT)
Never was much of a fan of the Chaos Dwarves, though I think it is a shame they seem to have been removed from canon.
That said, these are pretty nice. I like the last one also, though I would love to see you try on some more subtle and desaturated colours..I think that would look smashing!
Colrouphobic - April 16, 2009 09:04 PM (GMT)
Some paintovers to show what I'm referring to (though it isn't that good... sorry)
Just added a grey scale duplicate of the painting on top, then lessened the layer to 50% opacity, to show what happens if you lessen the saturation somewhat.
Added some overlay colours on top of that where I thought you could have stronger saturation going (mainly middle range of values)
Second overpaint, this is where I had the grey scale. Then I added some darker tones in a multiply-layer on top to make it slightly darker, remove the shaded lines somewhat and use as a good base for colours.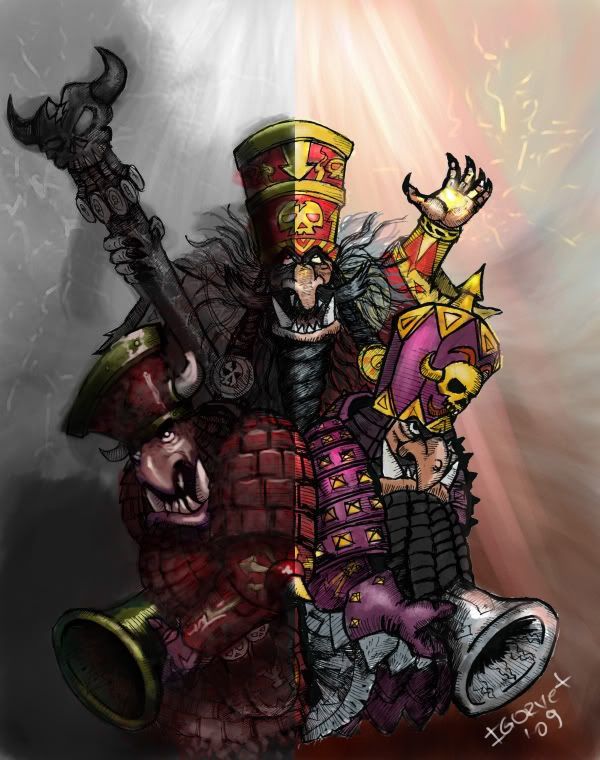 5-10 min colour overlay. Mainly worked on the red guy in the corner.
Added some texture to make it look a bit better. Notice how dark and bright goes more desaturated. but middle-range values keep saturated clours...
Sorry I couldn't d a better job on this...swamped, going abroad and all that...
igorvet - April 22, 2009 08:04 AM (GMT)
Many thanks to friendly Colrouphobic for overpaint and useful advices :)
Here is some more Chaos Dwarf stuff - Hobgoblin wolfrider vs Tzeench Marauder
it was made as a cover art for Chaos Dwars Online magazine Word of Hashut.
Now I see lots of things that I don't like in this pic but it's already done and issue is out :huh:
igorvet - June 2, 2009 12:26 PM (GMT)
My contest entry for "My Warhammer FB Alter Ego".
We've made this contest on russian biggest warhammer forum warforge.ru and we've got involved really good artists.
You are welcomed to check it out here
http://forums.warforge.ru/index.php?showtopic=53817&st=0
, unfortunately it's only in russian but if you'll have any questions do not hesitate to ask :)
Me, as a chaos dwarf slayer. I knpw, there is no CD slayers but this is just my imagination:
"He was a fearless Troll-Slayer, prisoned by tricky Dark Elves. After long tortures he asked for help to the dark gods and they've answered, giving him a great power and strenght to escape from prison and kill his wardens.
He He! Poor Elves, he made them a lit bit shorter"
Honestly, it's the best picture I've done so far
Hope you'll like it
malika - June 4, 2009 01:17 AM (GMT)
Very kick ass stuff! I prefer the black and white stuff though, it has a certain charm to it...as in that you should do more of those! :lol:
Forgefire - June 4, 2009 11:26 AM (GMT)
Good work this latest one! I think youve improved quite a bit since you started this thread if you compare the first to the last. And its always great too see chaos dwarfs!
malika - June 4, 2009 12:03 PM (GMT)
Now all we need are some new Chaos Dwarf models... :lol: