Title: Heavy Support Painting and Conversion Competition!
Description: Vehicle or a single model unit
blackcell8 - January 27, 2007 09:57 AM (GMT)
Right, following the sucess of the last competions, I think we need another!

Ok, the competion is:

1 Vehicle or single model Unit.
Heavy Support choice.
Conversion and Painting contests like before.
Deadline for entries is March 31st.
PM me entries.

Right, so you can enter any Heavy Support choices from any FoD army. This includes vehicles (Preadators, Defilers, Battlewagons, etc.), single models (Carnifexes, Zoanthropes, etc.) or a single model from a unit with a minimum unit size of 1 (so Broadsides if we did Tau).
dertranger - January 27, 2007 04:06 PM (GMT)
Do Traitor Guard still count as evil?
blackcell8 - January 27, 2007 08:48 PM (GMT)
Yeah, but they must obviously be Chaos.
Khargoth - January 29, 2007 01:36 PM (GMT)
Well, count me in. Forum-goers may have seen some teaser pictures and talk over on Work In Progress, but so far a finished Conversion picture does not exist. Not far from finishing, lets just say I'm aglow with eagerness ;)
blackcell8 - January 29, 2007 01:54 PM (GMT)
Theres a point.

Like before, you may send me as many images as you like, but only ONE will be used in the voting poll. And don't try to send me a collage of images like Khargoth did last time, I got round that! :D

Nice try though :thumb:
Khargoth - January 30, 2007 01:42 AM (GMT)
Ok, I thought you only wanted one pic because of issues with loading times. Plus the photos were not too crash-hot, so I figured if I showed them all I'd give some idea of the conversion :P

Innocent misunderstanding, I swear I'm not being naughty!
blackcell8 - January 30, 2007 01:33 PM (GMT)
Nah, it's so that the people who can only say take a few pictures wouldn't be at a disadvantage against those who can take loads, and give a good idea on the conversion.
blackcell8 - March 10, 2007 09:15 AM (GMT)
Remember that there is only 20 days to PM me your entries!
Khargoth - March 26, 2007 09:30 AM (GMT)
Five (or four? Time zones confuse me) day warning! Anyone near finishing their projects?
Dreachon - March 26, 2007 09:33 AM (GMT)
MIne is nearly done, just need to do some small details and then it'll be ready.
Should be done within the next 2 days.
blackcell8 - March 26, 2007 01:56 PM (GMT)
And I need a total of TWO entries, otherwise the whole things off, and considering I have... Well, none right now...
Jackety - March 26, 2007 05:20 PM (GMT)
..hmm..five or four days..spring break..paint brush..paints..10-man converted squad..

IT'S ON! I'll try to get a squad submitted ASAP. Five days is plenty enough time fer me-I'M INSANE!
Khargoth - March 27, 2007 08:36 AM (GMT)
Mine is on it's way, some bits are being cast for modification (the end result will only be one GW-IP part, as the original will be chopped up somewhat, and the replica pieces will be replacements), but otherwise I'm good to go!
Warsmith Varthrok - March 27, 2007 08:49 AM (GMT)
whens the deadline? May be able to gets havocs.
blackcell8 - March 27, 2007 01:10 PM (GMT)
The 31st March

But remember it's a single model unit, not a regular unit, think of vehicles and Carnifexes.
blackcell8 - March 30, 2007 11:49 AM (GMT)
THE DEADLINE IS TOMORROW!
And I haven't got a single entry yet :angry:
Khargoth - March 30, 2007 01:22 PM (GMT)
Ok, so the casting didn't go to plan, so that part will have to remain stock. Nonetheless, tomorrow is a Saturday, so I will spend it getting the rest of my entry ready.
Dreachon - March 30, 2007 03:11 PM (GMT)
Work delayed me alot, the model will be finished tonight, just some lenses and checrons, pics should be ready tomorrow.
blackcell8 - March 31, 2007 12:15 PM (GMT)
DEADLINE IS MIDNIGHT TONIGHT!

By GMT
blackcell8 - April 1, 2007 04:28 PM (GMT)
Right, I have only received an single entry. This means that the competition is cancelled. No extensions, no winners. But, my thanks go to Dreachon, who sent me his entry, a Daemonicly Possesed Vindicator.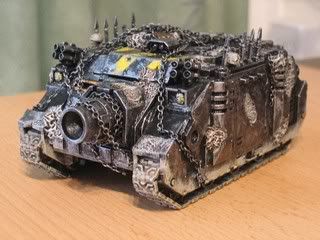 Dreachon - April 1, 2007 05:28 PM (GMT)
Such a pitty, was looking forward to this, ah well at least I got the vindicator done.
Khargoth - April 2, 2007 03:40 AM (GMT)
Congrats to Dreachon for getting himself organised. I must give my most sincere appologies, I'm actually writing this while on my lunch break at work. I'd planned to spend all saturday getting the LED's hooked up properly (that was my ace in the sleeve for the conversion competition :( ) and painting it to as good a standard as I could. Unfortunately my new job as a Civil Draftsman has a much more pressing deadline schedule, and I was called in to make some last-minute revisions before the plans were sent to council for approval. So much for my Saturday. Actually, so much for the entire month this competition was open for, I've been pretty flat-out, looking back.

Just to add insult to injury, I have the entire Easter Weekend off, so I probably will wind up finishing my Dreadnought then... Sorry to dissapoint folks, I was really looking foward to entering this competition.
blackcell8 - April 2, 2007 04:16 PM (GMT)
I can honestly say this competition was a bit of a flop. But, I hope it helped those who attempted to enter to get their entries done, or made them a priority. To me, this is what's important, like some weird bloke said in a recent White Dwarf, that deadlines help get an army finished.

I'm also thinking about the next competition. Only this time, the deadline will either be much sooner (to get you to hurry), or much later (to give you time to perfect).

Also, maybe this time it will be an Elite choice? I can't wait to see all manner of Possesed, Obliterators, Chosen and a certain Special Character *cough*Cypher*cough*

What do you think?
Dreachon - April 2, 2007 05:02 PM (GMT)
Sounds good to me, anything to get me finishing more stuff.
Khargoth - April 3, 2007 03:45 AM (GMT)
Oooh, that coincides perfectly with my plans for a squad of Cybernetic Abominations. Rules-wise they'll be Possessed with Daemonic Talons. Fluff-wise, they're lobotomised Space Marines that have been experimented on with all kinds of bionic 'enhancements'. Imagine an IW surgeon strapping a 'test subject' down to a table and thinking "Hmmm, now what effects would I get if I installed a bionic spine that gives you an electric shock every thirty seconds?" and you're getting close. Just to top it off they're then possessed or pumped full of combat drugs to make them REALLY crazy.

Now, if I can find some time to actually WORK on them...