Title: funny W40k pic
Description: also a question
BurnArt the Ravenbane - February 13, 2010 05:53 PM (GMT)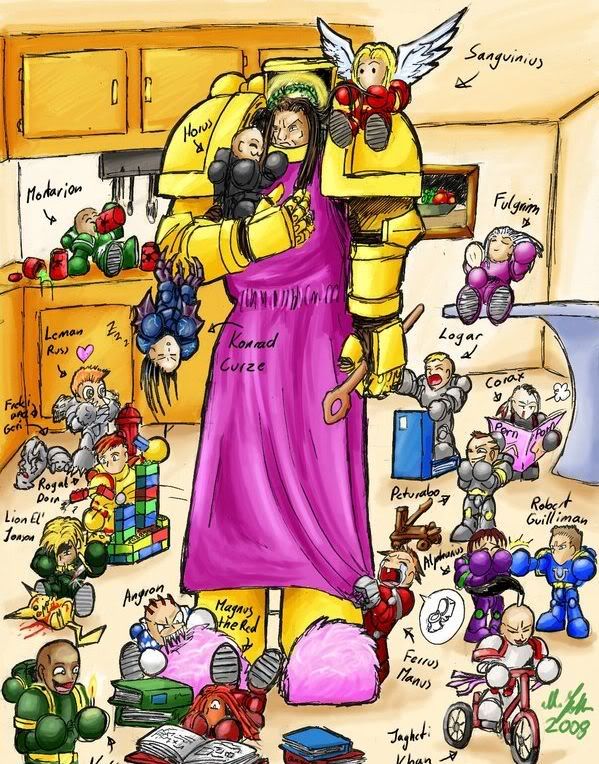 :lol:
Also, I don't get all the refferences, maybe they're just not there but as every Primarch is doing something that somehow reflects his personality or history, then:
- why is Mortarion drinking?
- why is Corax looking at pr0n?
Marshall_Brant - February 13, 2010 07:20 PM (GMT)
Mortaroin is drinking poison, he did grow up on a toxic death world after all.

Don't know about Corax, you'd think that Fulgrim would be the porn fiend. I'd of had Corax playing with a Raven or something like that.
BurnArt the Ravenbane - February 13, 2010 07:47 PM (GMT)
Also, what's with Lion El'Jonson killing a pokemon? :D
kelaino - February 13, 2010 09:15 PM (GMT)
Guess the porn is a reference toward Corax locking himself up in a tower and not coming out in a couple of weeks.

About that pokemon it sure does look like a choas spawn to me :P Jokes aside old Caliban apparently had large forests which held lots of chaos beasts, might be one of those.

But what about ferrus?!
BurnArt the Ravenbane - February 13, 2010 09:27 PM (GMT)
I think it might be tough to use bathroom without help if you have iron hands:)
IronWinds - February 14, 2010 11:51 PM (GMT)
I like how Perturabo is shooting marbles at Dorns lego castle.


Lion killed a lot of 'beasts' in the forests of Caliban. Later found out they were chaos monsters. So I guess Pikachu is a lesser demon.... a nurgling that shoots lightning?
ELIT3 217 - February 24, 2010 06:02 AM (GMT)
:lol: That is hilarious. Lorgar on his podium, Angron biting the slippers, Dorn getting his ass whooped by perturabo (again) that is so funny it has become my desktop background.
All hail the Iron Primarch

ELITE