Title: Is200/300 Fascia Plate
Description: Any ideas ?
slowfade - October 25, 2011 12:24 PM (GMT)
Hi
I be getting a new stereo one time next year, anyone else experience with Scosche fascia plate? i seen on ebay usa not seen anywhere in UK sell them, i had a Autoleads one on my old Altezza, was ok i guess however some wernt happy about the contrast in the colour, it didnt bother me back then, the JDM is out the question as i have heated seats, & there probably long discontinued/very rare anyway!! i did read a post E910 got one by scosche ?? any other brands out there??
wesley - October 25, 2011 01:14 PM (GMT)
I just bought a metra one, in all honesty i hate how the brackets are plastic. I'd say it's very similar to the scoche one.
alimac - October 25, 2011 08:36 PM (GMT)
I also have a Metra one. Colour is a match, but it has a slightly different texture to the factory one.
xnickx - October 25, 2011 09:00 PM (GMT)
Looked at perhaps a
Genuine Toyota
fascia perhaps?
There are spots for some buttons on the RH corner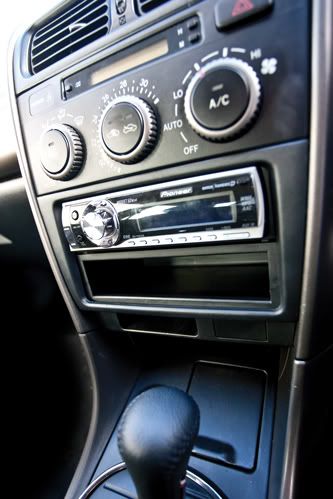 E910 - October 25, 2011 09:35 PM (GMT)
Yep I've got a Scosche in mine (& a genuine toyota one still sitting in the cupboard). It's probably the best aftermarket one out there. Much better than metra & autoleads
Excuses my greasy finger prints, I took this just after I'd finished the install
wesley - October 25, 2011 10:49 PM (GMT)
oh the scoche looks pretty good.
slowfade - October 26, 2011 04:27 PM (GMT)
Thanks, was about ask for pics :) i would love get JDM one & even pay bit extra for, the seat heater switches on mine, need bit work to make them fit :( Carl (E910) any reason you chosen not to fit the JDM fasia plate ?? hmm metra or scoshe....did have a idea of covering it in some sort carbon film no one on any forums seemed to done or mentioned,...
E910 - October 26, 2011 08:21 PM (GMT)
I'm lazy :lol: Need to sort out a genuine Alpine extension lead for my USB. I tried an aftermarket one & it didn't like it otherwise I would have put the JDM fascia in by now. Mind you I only got the JDM one as Nick had them cheap otherwise I'm pretty happy with the Scosche