Changing Rear Speakers DIY
So to get to the rear speakers, I HAD TO take the rear seats out.
It wont break so easily. Well it didn't break on me.
Optional: To make life easier, I took out my headrest. And for those who don't know how to take typical headrest out...
Ply out whats holding the rear side seatbelts. I can't use my finger for this (not pro enough with finger.........:ot:) so I had to use a flat screwdriver.
There are 4 bolts that are holding the top rear seats. 2 on each side. Can't remember the size of the bolt tho.
Now the top part of the top rear seats are hold by 3 big clips. It was very very hard to yank it out. (IGNORE THE PICTURE ARROW). Yank it parallel to the rear seats angle (Straight up, slightly back). Requires a lot of force
Put all that aside and dont forget to slide the mid-seatbelt from either end.
Now take the C-pillars out. (BOTH sides). These pop out easy. Then pull it slightly-up towards you.
Now the rear parcel tray is free to lift but still hold by the brake light cable harness.
It's easy to spot. Just pull out the harness and you can lift everything out.
The factory rear speakers were hold by 4 bolts each. And since I had the Super Live system, there were 4 cables to connect to the bigger bottom woofer and the smaller woofer on top. I cut the cables off because I will be running my 6x9 on my amp. Otherwise, they run just fine with the "bigger bottom" woofer cable.
The hole given for the speakers were bigger than any typical 6x9, so I needed something to hold them, yet will stay firm. I just cut myself spacers out of stiff cardboard box, enought to fit the 6x9, but big to be able to be bolt on to the body.
I remember seeing a template for MDF spacer somewhere. If you manage to find that, please post it here so that it'll be usefull for someone that's trying to do so.
Dont forget to wire up the speakers.
And THE OTHER SIDEEEE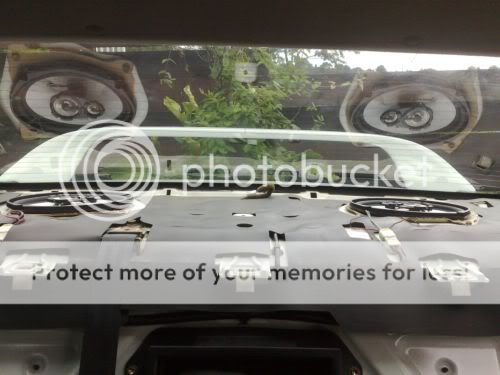 Put everything back together and sit back, relax, and enjoy the music.
---------------------------
Original DIY thread where I learnt this off and decide to make one :P :
http://z4.invisionfree.com/lexusaltezzaclu...?showtopic=5199