Title: Trd Clutch & Jun Flywheel Upgrade
Description: A review (for the IS200)
Thunderbird2 - December 29, 2005 11:29 PM (GMT)
As some may know, i have recently (at long last) had Indy install my new TRD clutch and JUN light flywheel.
My car's clutch was on it's way out, a rather then source OEM parts, i figured i would do an upgrade. The cost worked out the same anyhow.

Parts involved:
TRD clutch and TRD clutch cover
JUN flywheel
factory pressure bearing

The TRD clutch comes in two flavours, sport and metal (brass button). I have the sport varient, and it is suprisingly aggressive in it's action. There is little/no travel, by which i mean the clutch takes up almost instantly, and you cannot ride it much/at all. Takes a little getting used too. Clutch feel under foot is only a bit stiffer/heavier then stock, and a bit shorter. Overall, it feels much nicer under the foot then the stock item.

The JUN flywheel weighs in at around 6.5kg, which makes it about half the weight of the stock item (which weighs ~12.5kg). The stock item feels MUCH heaveir to pick up!

At installation, we also dropped in a new Trust Airnix panel filter, and gave the intake and throttle body a good clean out.

Driving impressions:
Wow - first impressions were how quickly the cltuch takes up. The car almost jumps off the line. Has taken some getting used to. Partners very well with the light flywheel though, which vastly improves throttle response. Really, for me at least, the flywheel is worth it just for the improvements in throttle response. Heel and toe changes are much easier to execute, rev matching is much easier. The car picks up much quicker, and just feels much quicker to drive. The clutch allows faster/snappier changes, and really, the whole package is just crying out for a short shifter, which will complement and really complete the upgrade.
Over the past few weeks, the clutch has become even snappier, and then as i got used to it, easier to use. You can ride it a little, maybe for a second on take off, which helps smooth things out. It's not as bad as a brass button clutch. What this means is that, with the light flywheel, you can't ride the clutch at low speed which makes the car more difficult to reverse park, as you can't ride the clutch at low speed in reverse, you have to just release it or push it back in. It's not as bad as it sounds, though. And the benefits are massive. On the OEM clutch, on hard launches i would tend to riiiide the clutch on take off. Now, as i discovered at one set of lights, you can just drop the clutch at 6 grand, the rear tires light up for a bit, car launches, hooks up and your gone! Relatively speaking, much faster!
The engine also sounds more rorty when under load, and is even smoother and happier at high revs. It's much quicker to 4000rpm/5000rpm and hence, on twisty back roads, it is easier to keep up there.
There is some rattle at idle, i had Indy check it out and he was explaining how with the new clutch and bearing, and the fact that the Altezza uses a hydraulic clutch, means there will be some rubbing.

Recently at one of our meet ups, Charlie (Black200), Brian_J and myself did some car swapping to try out each others suspension, Brians short shifter and my clutch/flywheel upgrade. I can definitely say i will NEVER go back to the stock clutch, i was shocked at how soggy and devoid of feel it was!!! It's funny how quickly you get used to mods.

So, in summary:

Benefits:
smoother, revvier engine
car feels much quicker to drive
faster gear changes
harder launches

Drawbacks:
some clutch rattle at idle
car is more difficult to drive in car parks/heavy traffic
jasestu - December 30, 2005 03:17 AM (GMT)
Great review! Nice work.

Maybe we should set up some sort of standard template that others can use when posting mod reviews. Headings like cost, time involved, initial impressions, impressions after 1 month, comparisions, etc

Hmmm, perhaps even create a specific section on the forum for mod reviews...
grinder - December 30, 2005 05:16 AM (GMT)
That was a good write up Matt..

:burnout: < Matt at the lights
black200 - December 30, 2005 12:45 PM (GMT)
good write up. sure is a much more exciting car to drive than one with stanard running gear!

did you mention how your car now sounds like some viscious knife sharpening when starting up :P

Brian_J - December 31, 2005 11:38 PM (GMT)
pretty much spot on
what these mods combine to do effectively "lightens" your car. not actually, but it makes the car behave like it did go through some weight reduction.

i was driving it at accidently launched at 4 grand and managed to get wheelspin - those of you who have the 1gfe will know that thats nearly impossible with stock clutch/flywheels


Thunderbird2 - January 1, 2006 01:45 AM (GMT)
"accidently" was it? :lol:
I'm due for new rear tires anyhow!

Happy New Year, Brian....posting from the Land of the Rising Sun are we?
RE99IE - April 4, 2006 10:34 AM (GMT)
Do you have by any chance the part number of the TRD parts?

I'm getting ISMR to upgrade my clutch and flywheel. Hopefully my clutch will last the waiting time of 4 weeks.
black200 - April 4, 2006 11:07 AM (GMT)
CLICK ME!!!
thank me later ;)
Brian_J - April 4, 2006 02:15 PM (GMT)
ooh that reminds me. i need to get my clutch bearing!
black200 - April 4, 2006 02:23 PM (GMT)
QUOTE (Brian_J @ Apr 5 2006, 12:15 AM)
ooh that reminds me. i need to get my clutch bearing!

how much are they brian?
Thunderbird2 - April 4, 2006 10:06 PM (GMT)
The clutch bearing cost $150.00 from the parts department at Sydney City. This is pricey... if you shop around you should be able to find it for less.

Reg, speak to Chris at ISMR, he should know what parts you require re: TRD Clutch, JUN flywheel. Don't let him show you the TRD catalogue though... or any other catalogue for that matter....!
RE99IE - April 5, 2006 12:37 AM (GMT)
We'll do

I'll be at ISMR on Saturday morning around 11:00 to give Chris my down payment for the clutch

Hopefully they can get the parts and install it in the car before my clutch and flywheel decide to go six feet under.
RE99IE - April 6, 2006 09:11 AM (GMT)
Can anyone tell me where can I get a short shifter to go with the TRDclutch/JUNfw upgrade? After being reminded by Brian and re-reading the original post ...I want one too...HELP
black200 - April 6, 2006 02:11 PM (GMT)
group buy is in progress! PM thunderbird 2 :D

almost there...
RE99IE - April 6, 2006 10:52 PM (GMT)
RE99IE - April 10, 2006 12:51 PM (GMT)
QUOTE (Brian_J @ Apr 5 2006, 02:15 AM)
ooh that reminds me. i need to get my clutch bearing!

Brian - Are you still getting the bearings? :) I also need one as the kit from ISMR does not come with it.
RE99IE - May 29, 2006 11:28 AM (GMT)
Well after six months of procrastinating on my clutch replacement and finding out how much a stock replacement from Lexus, I also got TRD and JUn combo installed thanks to the team at ISMR.
And a great timing it is!!
We found that I managed to drive the car to the workshop rubbing metal to metal
A closer look shows a faded indentation of what use to have in them clutch.
Stupid me, I ask where it all went...they just smiled and pointed here...powdered
As like TB2 and others like him...I also went for the TRD/JUN combo :woot:
A must to any IS 6spd owners and half the price of the stock replacement.
Jun LightWeight Flywheel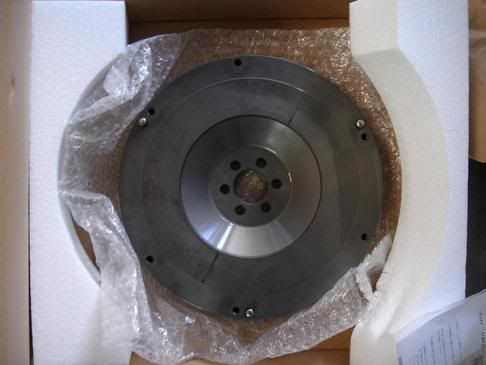 TRD Clutch Cover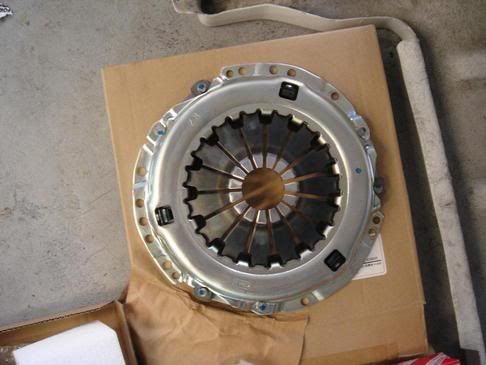 TRD Clutch and Toyota Clutch Bearing
I didn't know what it takes to replace them but now I know...I don't have the room and right equipment to do it at home.
It took the guys at ISMR 3.5 hours to install - Actually it took one person to do it.
And I didn't even notice it was finish as I was too busy helping Brian and TB2 install their HALO plate lights.
Before I got into the car, TB2 and Brian advised me what to expect and how should I best handle the new clutch...I know they mean well...but the moment I got in and tried to put it in gear...none of the good advise sinked in at all as I lunged the car forward ...stalled it...thought I'm gonna hit TB's car. rofl
Drove it around the block...stalled it at the corner before you enter WestBotany (not the last for that day). I think I've managed to stall the car more than the first time I learned how to drive manual. But on the other times I got it right...ooohhh its sooooo swweeeettttt!!!!!.
Can't wait to get the ShortShifter now!!! :woot:
Thanks to ISMRs Chris for getting the parts and Indy for accomodating me in the last minute even though I booked the car on Friday afternoon for a 10:30 install on Saturday morning. I'm also thankful that Toyota Part at Camperdown have stock of the bearing even though its more expensive to the one I ordered from NZ which will also be arriving soon (spare due to desperations rofl ).
TRD/Jun combo is highly recommened two tumbs up :woot:
To tell the truth, I found this club while looking for an aftermarket replacement for the clutch and flywheel to gain performance and save some mulla for other mods.
Next mods will be the ShortShifter, Panel Filter, then maybe the TRD Swaybar kit then Coilovers.
Thanks to TB2 and Brian for keeping me occupied for the day
Brian_J - May 29, 2006 11:34 AM (GMT)
YAY! Another happy customer of ISMR and the Club. Hang around long enough and you'll grow a big belly like me and TB2 eating our KK donuts all the time.

thanks for helping me with the lights..they were a bitch!
Sorry i coudlnt stay around, i had to run to training.
RE99IE - May 29, 2006 11:42 AM (GMT)
No worries!!! thanks for the drive to get lunch too!! :woot:

TB and I were already sorting out the swaybar kit as well with Chris but gotta wait till I get back from UK.

This clutch is awesome...it kicks and can spin the wheel a bit on second....but very hard to move from neutral to first to second...but the rest are alright...trying to get used to the reversing as well.

But I can feel a better acceleration and launch...very sold...If money was not an issue, I won't even hesitate ordering another set as a spare for later install just incase the part becomes hard to come by.





black200 - August 28, 2006 01:33 PM (GMT)
just got my clutch put in

i agree with everything that have so far been said. I'd say now, that ill be snapping at the heels of an is300 up to 100 with the shortshifter, snappy clutch and flywheel.

any challenges?!?! I know the car was doing 9sec to 100 (yeah, like that is impressive!) , will report back with new time once new clutch beds in :D


NineDragoNs - August 28, 2006 11:04 PM (GMT)
Hi, how much did u get the clutch for? and is there any other bearing availible? Thx!!
black200 - September 9, 2006 05:18 PM (GMT)
since installation, ive got a big clutch squeak now - and there is something wrong with the pedal! Towards the end of the travel it gets very coarse - ie there is a fair bit friction on the way down!

Faulty pressure plate perhaps? Or pedal box - i'm not so sure. Perhaps a clutch line has shat itself?

we will soon find out!
KinwayTRD - February 10, 2007 01:43 AM (GMT)
Do you guys have the parts number for the TRD clutch kit (cover and plate) you have for your IS200?

Thanks,

Ken
greeneyes - February 10, 2007 02:01 AM (GMT)
Charlie- My visitors from Ireland bought a Sentra (Pulsar) wagon like that a week back. It came from the Company they hired a car from to drive around Auckland looking for a car to buy!

The hire company said "We can sell you the wagon if you like, we don't get much use of it, but its not really for sale" They said the clutch was really stiff to push down so the hire company stripped the cable out and lubricated it. The told the girls that they had just put a new clutch in and it will bed in... That was in a car that has just done 80,000km!

When I drove it the clutch started to go down OK, but got progressively stiffer the more it went down. It released OK, and took up smoothly, just very hard to use. Very coarse.

It should be easy on the freeplay, then stiffer to halfway (when the pressure plate reaches max leverage) then easier for the rest of the way down.

I think it is a pressure plate problem, but as they only have 2months holiday here they figured it wasn't worth fixing unless it blows up!

I'll let you know if I hear anything.
icecrew - February 19, 2007 06:06 PM (GMT)
Guys,

Stupid question: Is this upgrade applicable for the GXE10 as well? Or is it SXE10 only? My clutch feels as if it's on its way out, I'm looking into an upgrade.

Thanks in advance.
RE99IE - February 19, 2007 08:30 PM (GMT)
This is the GXE10 clutch and flywheel conversion. The original clutch system in the GXE10 (and SXE10) are what is called a dual mass flywheel. It is not the commonly used clutch system and very expensive. Read the thread from the beginning to give yourself some background. I did mine and have not regretted . :)
pgauke - August 16, 2007 06:57 AM (GMT)
Hey guys,

I have just ordered this upgrade from ISMR. I was wondering though what the part number is for the bearing? Can anyone help me here?

Thanks


RE99IE - August 16, 2007 10:44 PM (GMT)
Sorry mate..I could not find the reciept of the bearing I bought from Camperdown Toyota but what I did is I went down to their Part Office and explained what I want and they just brought out the manual with the blown drawing of the shaft installation and found the part number there. So need not worry, unless they don't have them on stock - so try to get them early.

Although, I manage to zoom in on a photo I have with all the parts together and it shows (11230-53022) but to be sure I can email the photo to you if you like.

pgauke - August 16, 2007 10:57 PM (GMT)
Yeah if you could that would be great.

Email addess is p.gauke@uws.edu.au

Thanks
RE99IE - August 16, 2007 11:35 PM (GMT)
QUOTE (pgauke @ Aug 17 2007, 08:57 AM)
Yeah if you could that would be great.

Email addess is p.gauke@uws.edu.au

Thanks

done...its about 2.2mb
pgauke - August 16, 2007 11:59 PM (GMT)
Thanks Re99ie,
The Number is 31230-53022.
Did a google and found this.
Clutch Bearings
RE99IE - August 17, 2007 12:02 AM (GMT)
sweet...that is one handy pdf
pgauke - August 17, 2007 12:48 AM (GMT)
Ok i thought i would post this up for those who are looking to upgrade as well. I have just spoken to Repco and they have the bearing under a different supplier.

Repco part Number - GSB539 - $55
Toyota Part Number - 31230-53022 - $144.75

thanks

greeneyes - August 17, 2007 02:33 AM (GMT)
...and about $25 for the needle roller bearing that goes in the back of the crankshaft to support the gearbox input shaft....
pgauke - August 17, 2007 03:28 AM (GMT)
greeneyes - August 17, 2007 03:38 AM (GMT)
QUOTE
...and about $25 for the needle roller bearing that goes in the back of the crankshaft to support the gearbox input shaft....


The back of the crank is drilled and there is a small spigot bearing that goes in there to support the front end of the gearbox input shaft after it goes through the clutch plate.

I'll see if I can find a picture-

You can't beat Google Images... This is from an Austin Healy, but it is the same. The bearing sits inside the back end of the crankshaft and carries the nose of the gearbox 'first motion shaft'...

LOL! 4 bolts to hold the flywheel onto the crankshaft... not much power there!!
pgauke - August 17, 2007 03:43 AM (GMT)
The list just keeps going. Did Tbird and others need these?
greeneyes - August 17, 2007 03:52 AM (GMT)
Who knows... Its like the release bearing.. maybe it will last for another 5 years, or maybe not. But its such a pain to get to that it pays to do everything in there.

I put a new clutch in my old Sentra when I had the gearbox off to replace a $7 crankshaft oil seal. The clutch would have done another 30000km, but I couldn't face the hassle of pulling the FWD apart again!

This is a Honda one, the bearing mounts in the flywheel-


nutezza - August 21, 2007 10:31 PM (GMT)
K, this conversion was done on a GXE10, anyone has this same conversion on a RS200, SXE10 or are in the process of doing this conversion on the SXE10? Or is it basically the same set-up and would work the same?........Please give me some feedback because i am in the process of sourcing everything for this same conversion on my SXE10.
Thunderbird2 - August 21, 2007 10:50 PM (GMT)
Hey Phil!
My setup consisted of clutch bearing, clutch and flywheel. To date, still one of the best things i've done to the car. The engine sounds better, revs more freely, and it's still a joy jumping on the throttle at every opportunity. Makes the car much more fun to drive. My TRD clutch is also still going strong and still has plenty of snap to it.
Make sure Indy applies the high-temp silicon to the bearing, all but eliminates the idle. Mine has returned over time but it's never as bad or as noticeable as it was when it first went in.
Nutezza (Clark?), for the same upgrade on a BEAMS 3SGE / SXE10, you can go all TRD. Some threads on this upgrade here:
http://forum.altezzaclub.org.au/index.php?act=ST&f=15&t=550
http://forum.altezzaclub.org.au/index.php?act=ST&f=15&t=3734
I do believe some of the NZ RS200 owners on here did a group buy using a custom flywheel and the TRD clutch a while back - talk to Greeneyes about that.