Chestplate & Kibble: 95% Done
8 Feb
The front chest was one where the pattern idea was right, it just needed tweaking. So completely from scratch pattern but similar to what I had before.
The pink part narrows to the front and the front is also a little rounded/pointy where as the original was just a rounded rectangle.
IMAGE TO BE REPLACED LATER
Also made the white underbust a little wider which is what is displayed here.
And test run with all the velcro and the harness for the back kibble done. Also the end of my night (early at 11pm but I was tired). Sunglasses on because I didn't leave the house so I didn't put make-up on.
9 Feb
First thing done this morning: neck.
Here's what the back looks like before the kibble gets added. That black peeking through is the twill tape harness.
Figuring out what size I want the shoulders to be. The last ones were too big and I want them a little more rounded/with less seams.
And here is the pattern of the shoulders. Still an octagon sphere. Had to stop here for the day as I had work and I need more pink foam.
10 Feb
Starting on the kibble since I'm outta fabric. As I said in my tweet, this is a costume of many, but minor, changes.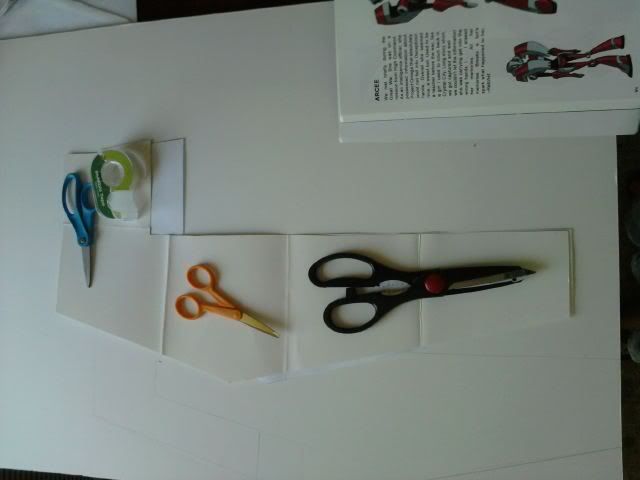 14 Feb
And cutting out the kibble. It is both fun and terrifying (kind of have one shot at cutting it).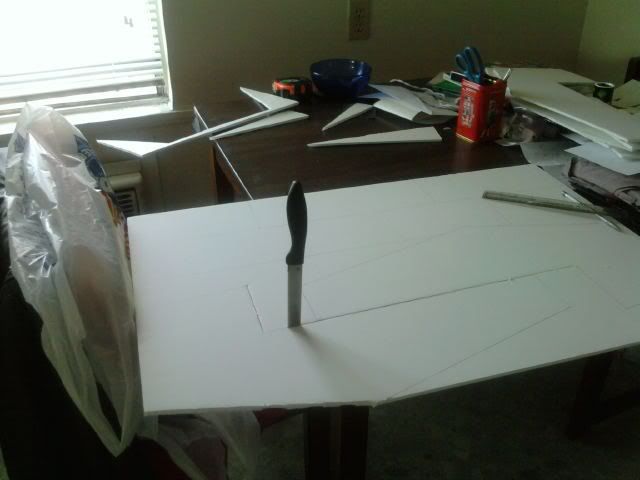 Noticed my nails were a lovely blood red... While stabbing my foamcore with a knife. lol.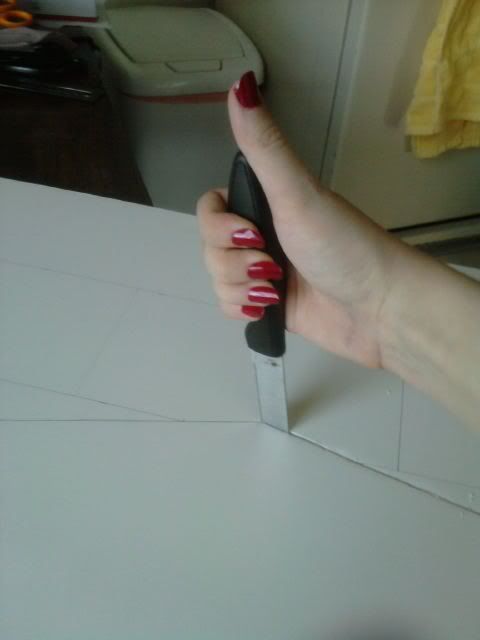 And here is what it looks like after cutting but before trimming!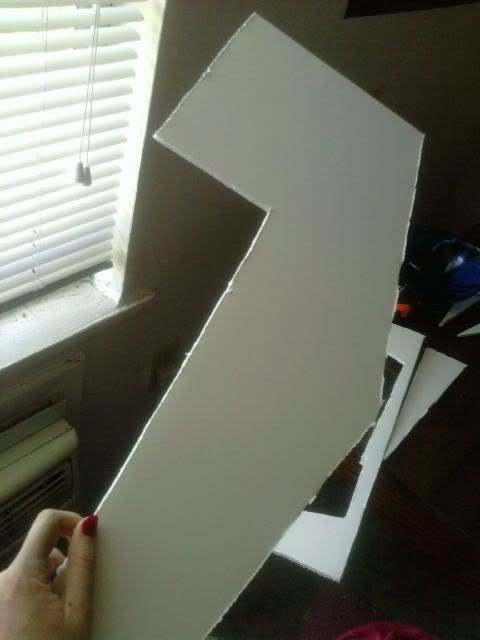 I finished cuting and trimming and glued it all together before bed (I think, mighta done it during the day on the 15th).
15 Feb
In the evening I did the pink base of the shoulders, cutting foam, gluing it together and covering it. Covering it was a punk. Freaking spheres.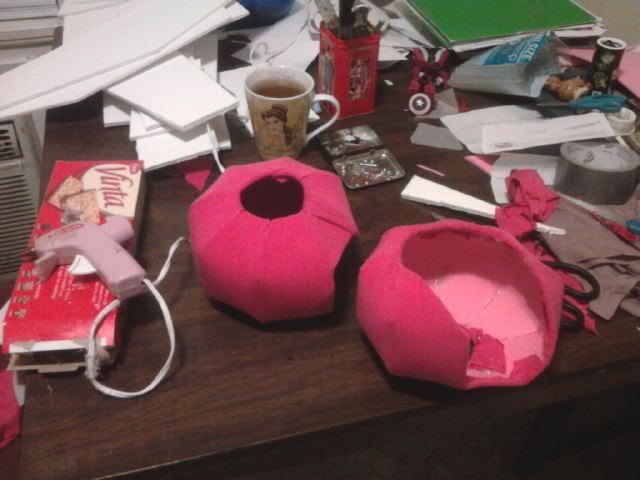 And guestimating the deco size...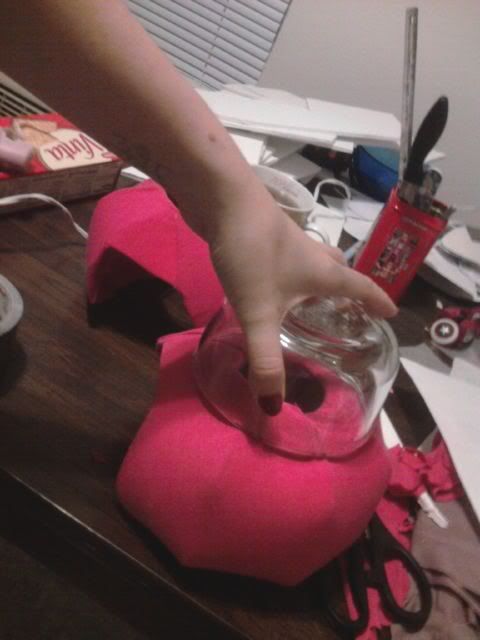 After that I forgot to take pics. Aha whoops. Don't even remember when I finished 'em. This is why you should update your worklog more often than me, kids!
16 Feb
Look who is helping me cover the kibble! FE Prime Cliffjumper! He's from Japan.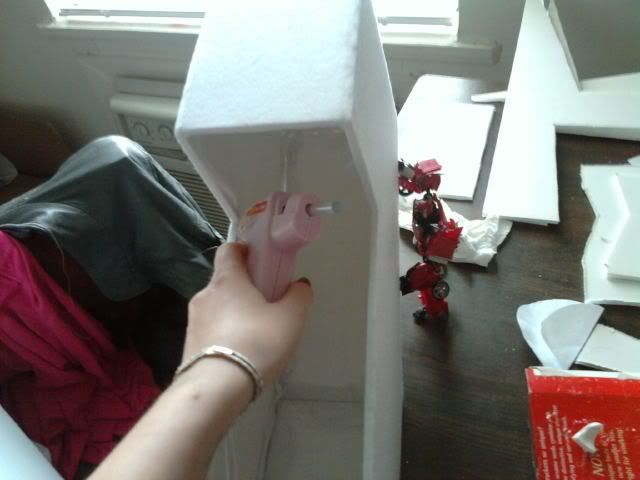 Finished covering these guys in white and the black deco which just left the pink deco.
19 Feb
Patterned out the kibble's pink deco, its base is posterboard which I covered in the jersey. While cutting out the posterboard there was a hilariously well timed explosion in my kitchen which happened a beat after the lightning strike in the movie, you know the one right after Rochester proposes and which is clearly an omen of shit being about to hit the fan? Yeah. My glue gun died and in its glorious death took out all the sockets on my exterior walls. That was the explosion. So I was stuck without light in my kitchen after dark and an extension cord draped in a way that dared me not to trip until I figured out how to reset my breaker (four days later).
22 Feb
But I pushed on and got the deco done and glued on.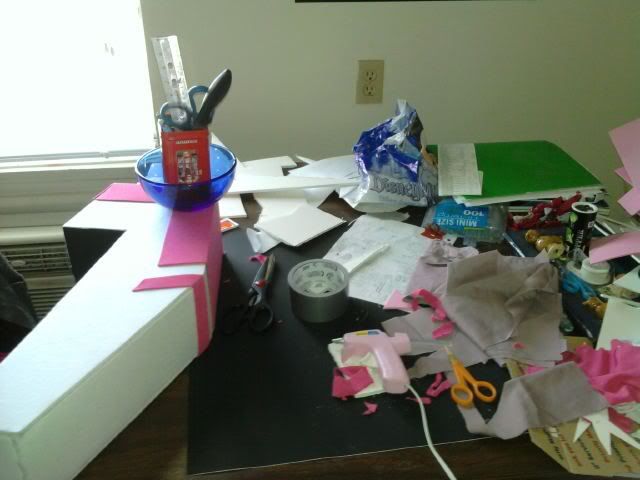 And so shoulders, kibble and chest are done except for gluing them all together... Not sure why I haven't done that yet. Maybe tonight.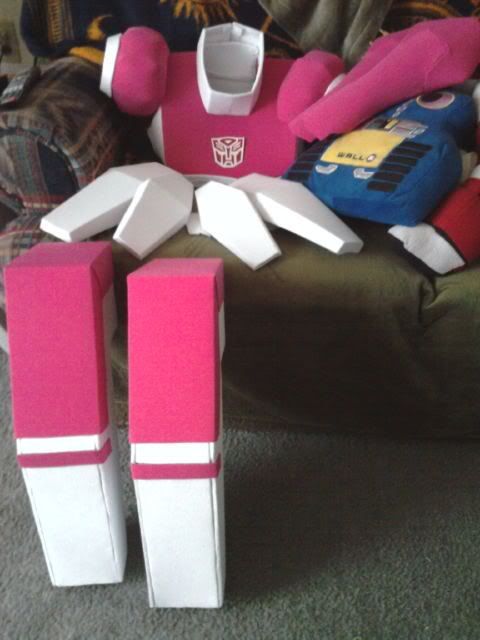 I added an extra pink stripe of deco on the kibble to cover a seam I fudged and for a bit more visual appeal.