Work Log
I wasn't going to say a single word here, but I feel the need to point out that I made adjustments between SDCC and the Concert Hall shoot. As a result, the shoulders, torso, and cod sit differently between the two, so I'll let you critique both of them: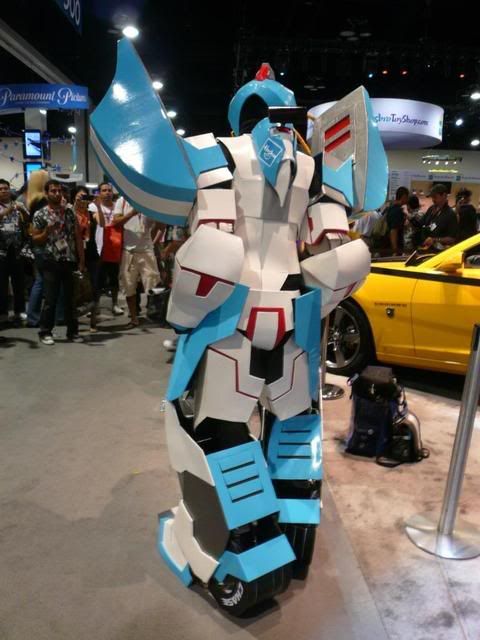 Starting with the difference of SDCC and the Concert Hall shoot and then from top to bottom.

The Shoulders looks a lot better in the concert hall shoot, they aren't pointing outwards as much (though I don't know if that is just the pose) and the color inside of them is a lot clearer and looks better.

Though the cod and torso seems better in the SDCC shoot, at the concert hall one it looks a bit strange and uneven, it looks nicer in the SDCC shoot and the cod seems to sit in a better position, in the CH it bulks out in a strange way. Other than that it's really great.

The lines is amazing, it's hard to see any flaws in them. The redesign is good aswell. The helmet is really good, and the face has it's own robot like personal touch to it. The expression also gives more life to the character!

The shoulders and chest is just perfect, it's very well done and looks flawless to me. For the stomach I would try get something that is a bit softer and doesn't bulk like that when you bend, or it looks like you got a car crash in your vehicle mode on your way there.

The arms and hands is nicely done, the red lines and text is a nice detail and looks really good.

For the feet, they seem a bit big compared to the rest of the body (just slightly though), but overall an amazing job! The design is unique and doesn't look overly styled or heavly redone, it's a simple and nice touch, at the same time it gets a bit more personal and stylish.

The details on the feet also looks very good. I also got to point out the joints on the arms are very nicely done and is just amazing. I would recommend doing the SDCC version of the cod setup or do it a bit differently since it looks a bit uneven in the later photos, a bit like hardened fabric.

Awesome and just simply a great masterpiece!
Alright, the critiquing period is over.

Thanks for the crit, anon! I don't think I really need to say anything else. ;]